June 13, 2023
Posted by:

Muhammad Shehzad

Category:

Blogs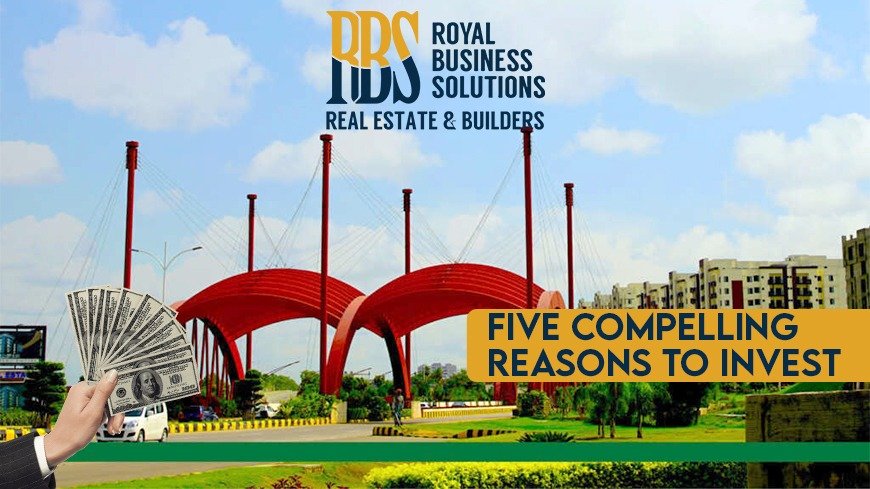 Introduction to Gulberg Greens Islamabad
When it comes to real estate investment opportunities in Islamabad, Gulberg Greens stands out as a prime destination. Boasting a strategic location, excellent infrastructure, and a plethora of amenities, Gulberg Greens offers immense potential for investors looking to capitalize on the city's thriving real estate market. In this blog post, we will explore 5 compelling reasons why you should invest in Gulberg Green Islamabad.
Prime Location and Connectivity
Gulberg Greens enjoys a prime location in the heart of Islamabad, making it highly accessible from all major areas of the city. Situated near the Islamabad Expressway, Gulberg Greens Islamabad offers excellent connectivity to Islamabad's major commercial and residential hubs. The proximity to the Benazir Bhutto International Airport further enhances its accessibility, making it an ideal choice for both local and international investors.
Gulberg Greens' central location also provides easy access to the city's prominent landmarks, including diplomatic enclaves, government offices, and educational institutions. The nearby presence of the Islamabad Expressway ensures a smooth commute to other parts of the city, as well as convenient access to Rawalpindi.
Thriving Real Estate Market
The real estate market in Gulberg Greens, Islamabad, has been witnessing steady growth over the years. According to market reports, property prices in Gulberg Greens have consistently appreciated, making it a lucrative investment opportunity. The demand for quality residential and commercial properties in Gulberg Greens is driven by factors such as the city's expanding population, improved infrastructure, and a growing economy.
Gulberg Greens' reputation as a premium residential area has attracted investors and homeowners alike. The housing scheme offers a range of property options, including plots, houses, and apartments, catering to diverse investment preferences. Additionally, the presence of reputable developers and real estate projects has contributed to the overall value and desirability of the area.
Planned Development and Infrastructure
One of the key advantages of investing in Gulberg Greens is its planned development and robust infrastructure. The housing scheme is developed by renowned developers, hence ensuring meticulous planning, modern amenities, and high-quality construction. Gulberg Greens features wide roads, well-laid sewerage systems, underground electricity, and a dedicated commercial area.
The well-designed master plan focuses on providing a sustainable and comfortable living experience for residents. It also provides with a conducive environment for businesses. The housing society's infrastructure is complemented by:
landscaped parks,
green spaces, and
Recreational facilities, promoting a healthy and enjoyable lifestyle for residents.
Abundance of Amenities in Gulberg Greens Islamabad
Gulberg Greens offers a plethora of amenities that cater to the needs and aspirations of its residents. The housing scheme features lush green parks, jogging tracks, playgrounds, and recreational facilities. Hence promoting a healthy and active lifestyle. Residents can enjoy leisurely walks amidst the beautifully landscaped gardens or engage in sports activities in dedicated sports areas.
Education and healthcare facilities are conveniently located within the vicinity of Gulberg Greens, ensuring easy access to quality services. The area is also home to a range of:
shopping malls,
restaurants and
Entertainment venues, providing residents with a variety of options for dining, shopping, and entertainment.
Furthermore, Gulberg Greens is surrounded by prestigious golf clubs, such as the Islamabad Golf Club and the Rawalpindi Golf Club. Golf enthusiasts can indulge in their passion for the sport and enjoy the tranquil ambiance offered by these renowned golfing destinations.
Future Growth Potential in Gulberg Greens Islamabad
Gulberg Greens is not just an investment for the present; it holds immense potential for future growth and development. The area is located close to major infrastructure projects that will further enhance its desirability and connectivity. One such project is the Rawalpindi Ring Road, which aims to reduce traffic congestion and travel time. This is done by providing an alternate route around the city. The Rawalpindi Ring Road will facilitate easy access to Gulberg Greens. It will also open up opportunities for further development in the surrounding areas.
Additionally, the planned extension of the Islamabad Metro Bus service to Gulberg Greens will significantly improve connectivity and accessibility. The metro bus system has already proven successful in providing a convenient mode of transportation for residents and commuters in other parts of Islamabad. The extension of this service to Gulberg Greens will not only enhance residents' mobility but also boost property prices in the area.
Conclusion
Investing in Gulberg Greens, Islamabad, presents a golden opportunity for individuals seeking a profitable and secure real estate investment. Its prime location, thriving real estate market, planned development, abundance of amenities, and future growth potential make it an attractive choice for investors. As always, it is crucial to conduct thorough market research, consult with reputable real estate agents, and evaluate your investment goals before making any investment decisions.
If you need a guide to invest in Gulberg Greens, make sure to read: Your Guide To Investing In Gulberg Green, Islamabad: Unlocking Lucrative Opportunities.
To further stay informed about the latest developments regarding 'Five Compelling Reasons Why You Should Invest in Gulberg Greens Islamabad', we encourage you to stay connected with Royal Business Solutions, your trusted source for timely updates and valuable insights.