June 12, 2023
Posted by:

Muhammad Shehzad

Category:

Blogs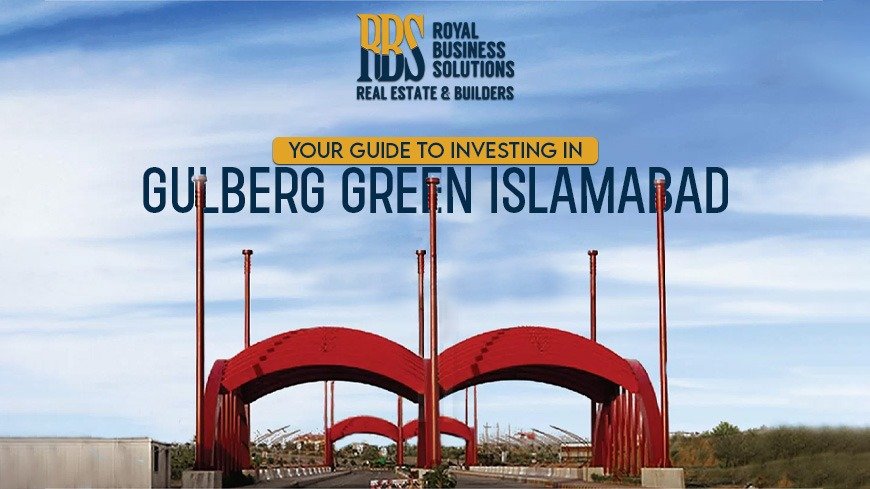 Introduction of Guide to Investing in Gulberg Greens
Gulberg Greens in Islamabad, Pakistan, has emerged as a prime real estate investment destination, offering lucrative opportunities for investors. With its strategic location, lush green surroundings, and promising developments, Gulberg Greens has become a sought-after area for those seeking high returns. In this Guide to Investing in Gulberg Greens Islamabad, we will explore the key aspects of investing in Gulberg Greens. Furthermore we will also provide valuable insights and tips to help you make informed investment decisions.
Location Advantage and Connectivity in Gulberg Greens
Gulberg Greens enjoys a prime location in the heart of Islamabad, offering excellent connectivity to major highways such as Islamabad Expressway and the upcoming Rawalpindi Ring Road. This strategic positioning ensures easy access to other parts of the city, making Gulberg Greens islamabad an attractive choice for both residential and commercial investments.
Gulberg Green's central location makes it highly accessible to key areas, including educational institutions, healthcare facilities, and recreational spaces. The convenience of transportation and proximity to important amenities contribute to the desirability and investment potential of the area.
Infrastructure and Development
Residential Projects: Gulberg Greens offers a diverse range of residential projects, catering to various budgets and preferences. From luxurious villas and apartments to affordable housing schemes, there is a wide range of options available. It is essential to conduct thorough research on developers, evaluate their track records, and visit model houses or showrooms to assess the quality and design standards.
The infrastructure development in Gulberg Greens is well-planned, with a focus on modern amenities and sustainable living. Developers have integrated green spaces, parks, and recreational facilities within the residential projects, creating a harmonious living environment for residents.
Commercial Opportunities: With the increasing residential developments, Gulberg Greens presents excellent commercial prospects. The growing demand for retail outlets, restaurants, and office spaces makes investing in commercial properties a potential source of substantial rental income and capital appreciation.
The commercial areas in Gulberg Greens are strategically designed to cater to the needs of residents and visitors alike. With the presence of commercial complexes, shopping centers, and business hubs ensures a vibrant economic environment, attracting businesses and customers.
Amenities and Facilities you get by Investing in Gulberg Greens
Educational Institutions: Gulberg Greens boasts reputable educational institutions, making it an ideal location for families. There are renowned schools and colleges in the vicinity, providing quality education to children of all age groups. The availability of educational facilities adds value to residential properties in Gulberg Greens. Hence making it an attractive choice for families looking for a holistic living experience.
Healthcare Facilities: Access to quality healthcare services is crucial in any residential area. Gulberg Greens has well-developed healthcare infrastructure, including hospitals, clinics, and pharmacies, ensuring residents have convenient access to medical facilities. So, the presence of reliable healthcare services enhances the livability and investment potential of the area.
Recreational and Leisure Spaces: Gulberg Green offers a range of recreational and leisure facilities, including parks, jogging tracks, sports complexes, and community centers. These amenities contribute to a vibrant and healthy community, enhancing the overall living experience. The presence of green spaces and recreational options adds to the aesthetic appeal and promotes a balanced lifestyle for residents.
Future Prospects and Return on Investment Potential
Investing in Gulberg Green holds immense potential for high returns on investment. The strategic location, ongoing developments, and increasing demand make it an attractive choice for both short-term gains and long-term appreciation. However, conducting thorough market research, analyzing trends, and seeking advice from real estate professionals are crucial to making informed investment decisions aligned with your goals.
Additionally Gulberg Greens is witnessing continuous growth and expansion, with planned infrastructure projects and upcoming developments. The commitment to urban planning and sustainable development ensures a positive outlook for property values and potential rental income.
Legal Considerations and Documentation
Before finalizing any investment in Gulberg Greens, ensuring all legal requirements and documentation are in order is essential. Engaging the services of a reputable real estate lawyer or consultant can help navigate the legal intricacies, including title verification, land records, and purchase agreements, ensuring a secure and smooth investment process.
Hence the legal framework and regulations governing real estate transactions should be carefully followed to protect your investment and avoid any potential disputes in the future.
Conclusion
Gulberg Greens in Islamabad presents a wealth of opportunities for real estate investors. Its strategic location, robust infrastructure, and promising developments make it a favorable investment destination. By conducting comprehensive research, considering future prospects, and adhering to legal formalities, you can make informed investment decisions and maximize your returns in Gulberg Greens.
To further stay informed about the latest developments regarding 'Your Guide to Investing in Gulberg Greens, Islamabad: Unlocking Lucrative Opportunities', we encourage you to stay connected with Royal Business Solutions, your trusted source for timely updates and valuable insights.