October 13, 2022
Posted by:

Muhammad Shehzad

Category:

Blogs
Grand City Kharian is an independent and self-sustaining housing project in the heartland of Punjab at Main G.T Road Kharian. Moreover, it is beautifully planned and executed to introduce a modern and exciting lifestyle for its residents. Furthermore, it is an elite, vivacious residential community that was created for improving your way of life. The residents will enjoy all the basic and modern amenities at Grand City Kharian housing scheme.
As we all know that real estate sector of Pakistan is growing rapidly. Moreover, many emerging developers have presented and introduced luxurious and ultra-modern housing as well as commercial projects in major cities like Lahore, Karachi, Islamabad, Rawalpindi, Gujrat, Multan Gwadar, etc. Furthermore, after such developments, these cities' infrastructure and living standards have also raised. Grand City Kharian is also developed to fulfill this purpose.
Developers of Grand City Kharian
Euro Biz Corporation Group is the developer of Grand City Kharian. Syed Rehan Gillani is the CEO of this group. Moreover, the main aim of this group is to satisfy their customers by providing better investment opportunities that optimize their financial returns. In addition, the designers were recognized for their excellent work, moral and transparent business conduct, and high standards of project administration.
The society is developing with modern urban town planning principles. Moreover, highly skilled professionals, interior and exterior designers, professional town planners, and civil engineers maintained the highest standards in the society.
Grand City Kharian NOC
The Grand City Kharian scheme is duly approved by Tehsil Municipal Administration (TMA) with the official designated number NOC#10-06-2014/135 (Top&C).
Grand City Kharian Map & Location
The project is located on the main N-5 National Highway or G.T Road Kharian Gujrat. Moreover, we can see the location of Grand City Kharian after reviewing Google Maps. Furthermore, it is located at New Bypass near Sarai Alamgir Road, Kharian. Additionally, it is one of the fastest-developing districts that lie next to Gujrat.
Accessibility Routes
Following are the quick access routes to Grand City Kharian.
It is located Right next to the N-5 National Highway, GT Road
15 min drive away from Kharian Cantt
Moreover, almost 16 min drive from Jhelum Cantt
It lies 15 min drive from River View Golf course, Jhelum Cantt
Furthermore, 12 min drive away from Sarai Alamgir
Almost 20 min drive from Jhelum City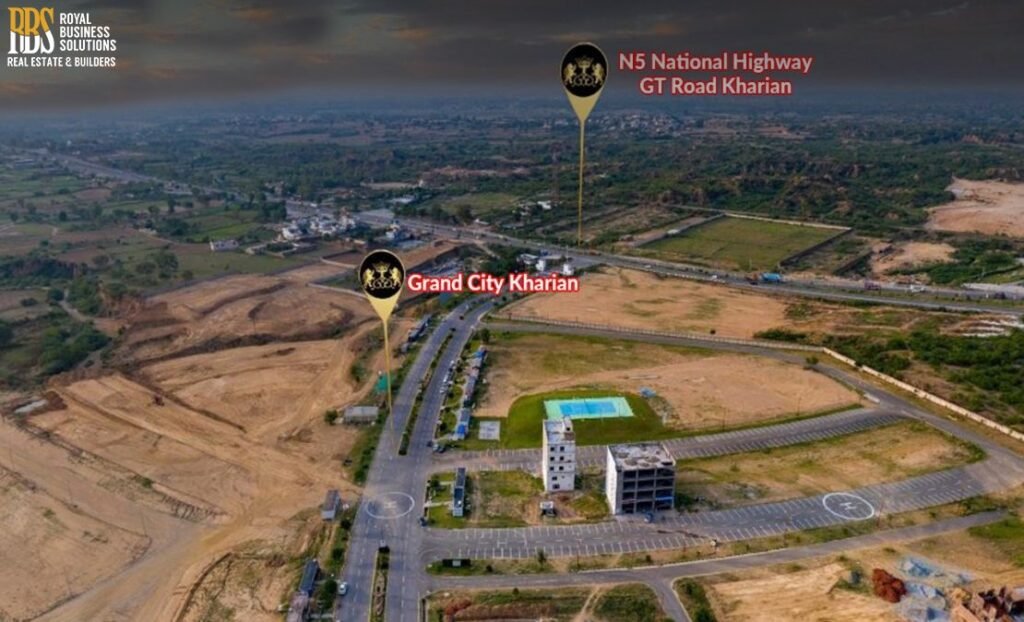 Grand City Kharian's Nearby Landmarks
The famous landmarks and places nearby Grand City Kharian are listing below:
Kharian City
Kharian Golf Club as well as Kharian Cantt
Jhelum City and Jhelum Cantt
River Golf Course
Sarai Alamgir
New Metro City Sarai Alamgir
THQ Hospital Sarai Alamgir
Army Public School as well as College
Military College Jhelum
Sarai Alamgir Railway Station
Model Town as well as Abdullah Colony
What is the Master Plan of Grand City Kharian?
The Grand City Kharian master plan is designed to make the luxurious living environment accessible by providing various families with every up-to-the-minute comfort and cutting-edge features. Moreover, the master plan of GCK spreads over a wide area offering both commercial and residential plots at affordable rates. Besides that, it's a perfectly designed gated community that provides a variety of Grand City Kharian houses for sale.
Blocks in Grand City Housing Kharian
Grand City Kharian consists of the following blocks, some of them are deliver and some are in progress.
Residential Plots
Phase 1
Overseas Executive Enclave
Safari Block
Overseas Enclave
Pakistan Sector
Tulip Sector
Tulip Executive
Furthermore, the property prices in each block vary because of its location and development status.
Residential Plots
The developers offer residential plots of various sizes.
5 Marla
10 Marla
1 Kanal
2 Kanal
Moreover, the Overseas Enclave block offers plots of 5 Marla, 7 Marla, 12 Marla, 14 Marla, 1 Kanal, 2 Kanal (Regular), and 2 Kanal (Mini Golf). Furthermore, the Pakistan Sector consists of 3 Marla, 5 Marla, and 10 Marla plots. In addition, Tulip Block includes 5 Marla and 10 Marla plots while Tulip Executive block offer only 10 Marla plots.
Commercial Plots
Grand City is developing with the thought of providing luxuriously plots of land area. Moreover, the commercial sectors are split into the following parts to better manage and offer different sizes of plots with miscellaneous business qualities:
The commercial Sector A offers plots of 6 Marla while Sector A-2 offers 2 Marla and 6 Marla plots. In addition, 06 Marla plots are also offering near Main Boulevard.
Phase-1 Houses
Phase-1 houses are also dividing into various sizes such as
5 Marla House
10 Marla House
Grand City Kharian Payment Plan
Prices and payment schedules fluctuate from time to time in accordance with the real estate property market's general trend. Moreover, each sector offers diverse luxuries and world-class amenities at budget-friendly rates.
Phase-1 Payment Plan
Grand City Payment Plan Overseas Enclave:
5 Marla(Rs. 1,175,000/-)
7 Marla(Rs. 1,550,000/-)
12 Marla(Rs. 2,350,000/-)
14 Marla( 2,700,000/-)
1 Kanal (Rs. 3,450,000/-)
2 Kanal, Regular(Rs. 6,250,000/-)
2 Kanal, Mini Golf(Rs. 8,000,000/-)
Payment Plan of Grand City Pakistan Sector:
3 Marla (Rs. 730,000/-)
5 Marla (Rs. 1,050,000/-)
10 Marla (Rs. 1,890,000/-)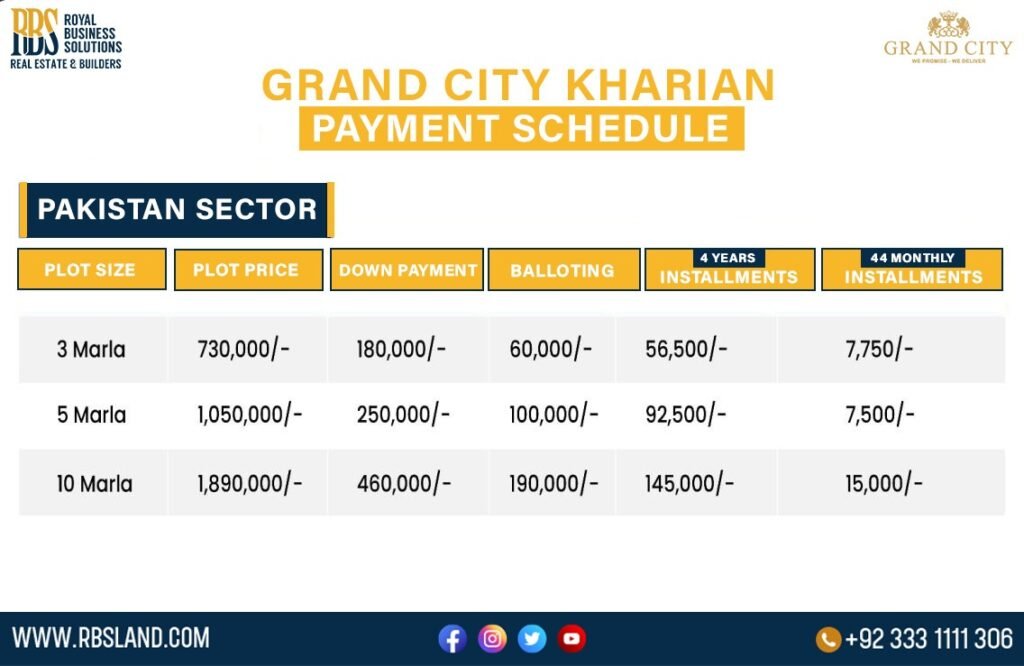 Grand City Payment Plan Tulip Block: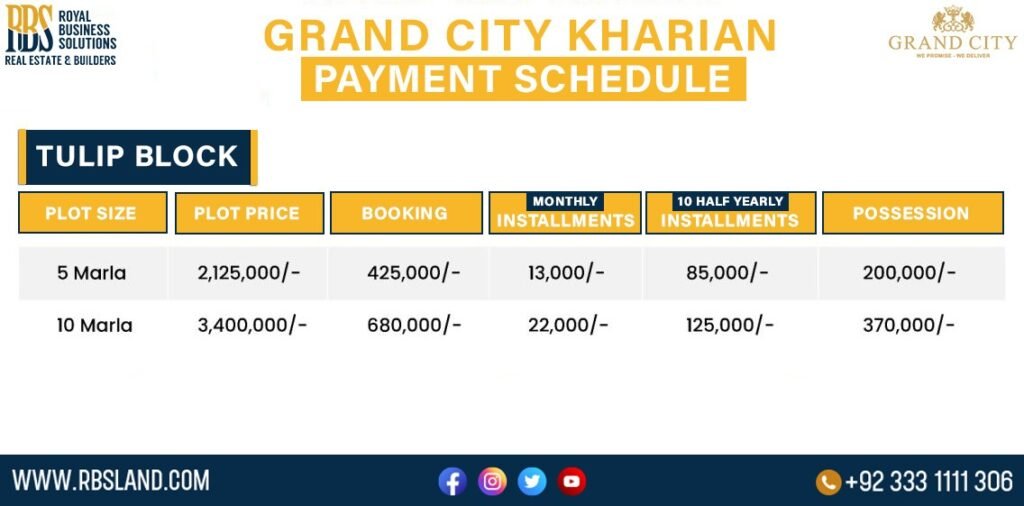 Payment Plan of Commercial Plots
The commercial plots payment plan is as follows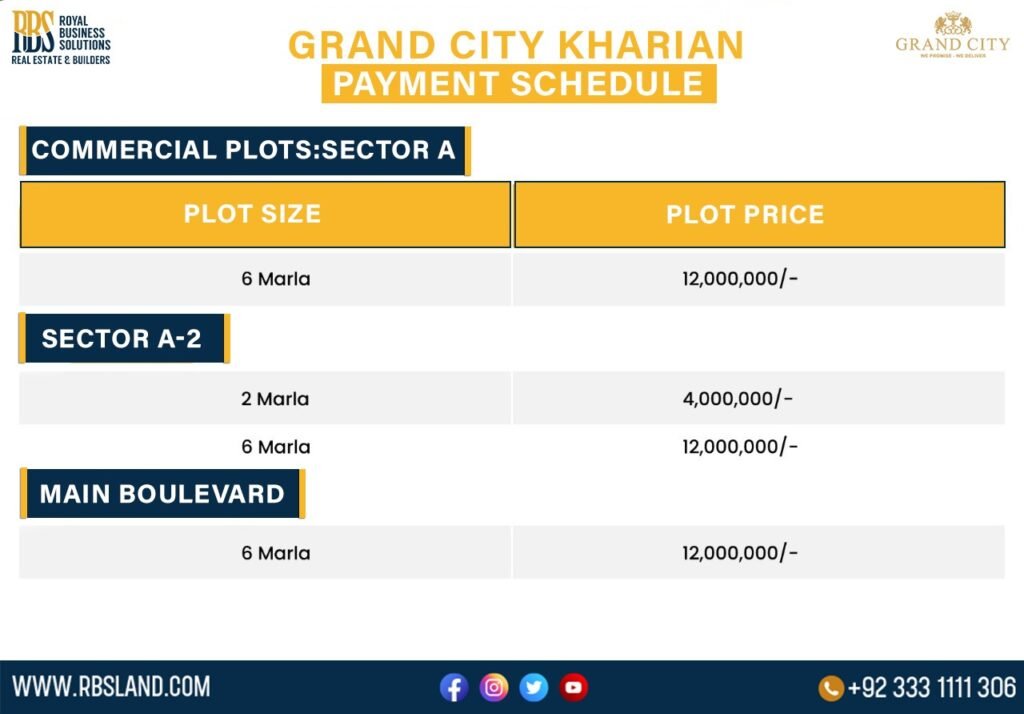 Exclusive Facilities & Amenities
Grand City Kharian is a well-planned project offering luxurious facilities that are matchless and rare in Asia. Moreover, this gated community is a true blessing for the people of Kharian. Let's discuss the countless facilities of Grand City Kharian.
Grand Mall
The society has a Grand mall which is a hub of shops, brands, food courts, etc. Furthermore, the goal of developing this mall is to fulfill its inhabitants' basic household and modern needs.
Gated Community
The developers strive to ensure that the society is fully secured with the latest security systems, walk-through gates, installation of CCTV cameras, and also hired armed security guards at the entrance of the society.
Musical Fountains
The society also has dancing fountains to amuse the residents. Moreover, these waterfalls produce an incredible pageant of three-dimensional phantasmagorias that perform an amazing water and light show in sync with the music.
3D Cinema & IMAX
People will have excellent opportunities to see brand-new films with friends and family in the 3D theatre. Furthermore, a once-in-a-lifetime movie experience is guaranteed due to the installation of the IMAX theatre mechanism in the theatre.
Community Club
The concept of developing the community club is also incorporate into the master plan. In addition, the Grand community club is a perfect place for family gatherings and a variety of joyous events such as fun fairs, festivals, art and craft exhibitions, recitals, etc.
Recreational Public Parks
Public recreation parks have been constructed with the intention of enabling people to enjoy opulent lives close to nature. Moreover, this is how society has been designed. In these parks, families, and kids can pass their leisure time while living happy, healthy lives.
Nova City Islamabad also offers similar luxuries at reasonable rates.
FAQs
1. Who is the owner of Grand City Kharian?
The Grand City Kharian owner's name is Syed Rehan Bin Waris Gillani.
2. What is the Grand City Kharian Legal status?
Its NOC is fully approved by Tehsil Municipal Administration (TMA).
3. Is it an affordable housing society?
Yes, the plots in both the residential and commercial sectors are very reasonable. Society has an immense range of plots to choose from.
Conclusion
Grand City Kharian is a high-quality residential project led by Euro Biz Corporation. Moreover, society is developing by using cutting-edge technologies to offer luxurious lifestyles to its residents. Furthermore, the project provides a lifetime opportunity to buy a large plot at lower rates. Moreover, people dreams to own a house or any real estate property and this stunning venture fulfill that dream at affordable prices.
So, this is the best time to invest in this Grand City. If you want to know more about such housing societies then please read about Nova City Peshawar and New City Paradise.