September 20, 2023
Posted by:

Muhammad Afzaal

Category:

RBS News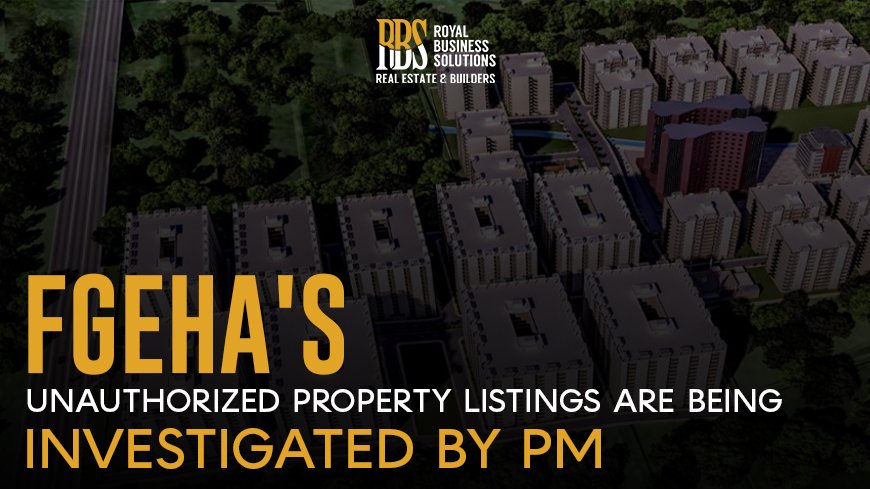 News Report
The Federal Government Employees Housing Authority (FGEHA) has unauthorized property listings being investigated by PM. According to the September 18 report, it was under investigation for using properties to advertise in the G-12 and F-12 sectors without getting prior approval from its Executive Board.
Unauthorized Listings
According to the details, the total number of 7,450 unauthorized residential and commercial listings concerned officials and led Caretaker Prime Minister (PM) Anwaar-ul-Haq Kakar, who works as the Housing Minister, to take notice of the issue. The Housing Secretary has charged by the PM to prepare a detailed report on the situation.
Initial Assessment
It is worth noting that an initial assessment of Built-Up Properties (BuP) in these sectors reveals a total of 6,500 residential properties and 950 commercial properties, with plot sizes ranging from 139 square yards to 500 square yards. The tentative prices for these properties vary from PKR 8,340,000 to PKR 30,000,000.
Read: Despite Soaring Electricity Bills, Citizens Rush To File Tax Returns
Government Sources
Top government sources have disclosed that the FGEHA hastily advertised these residential and commercial properties without obtaining approval from the Executive Board. Critics argue that the launch of the F-12 and G-12 sectors was lacking a viable financial model and seemingly intended to raise funds from the general public and overseas Pakistanis without adequate planning or a timeline for plot delivery.
FGEHA Appeal
This advertisement was released despite a judgment in the Intra Court Appeal of FGEHA, where a two-member bench, including the then Islamabad High Court Chief Justice Athar Minallah and Justice Mohsin Akhtar Kayani, declared on 03.02.2022 that the launch of F-12, F-14, F-15, and G-12 sectors was illegal and against the public interest.
Reportedly, FGEHA has challenged this decision in the Supreme Court of Pakistan, and the matter remains sub-judice.
Read: FBR Announces Relief From Taxation On The Transfer Of Immovable Property To Overseas Pakistanis
Conclusion
FGEHA faces a major issue with unauthorized property listings in the G-12 and F-12 sectors. Caretaker PM Anwaar-ul-Haq Kakar, also Housing Minister, uncovered 7,450 unapproved properties (6,500 residential, 950 commercial). Concerns arise about financial models and planning deficiencies. Unauthorized ads, against a judicial ruling, raise worries about fund solicitation without a clear plot delivery timeline. Urgent need for transparent investigation and resolution to restore housing sector integrity and public trust.
Visit RBS Real Estate and Builders for more updates.