September 15, 2023
Posted by:

Muhammad Shehzad

Category:

RBS News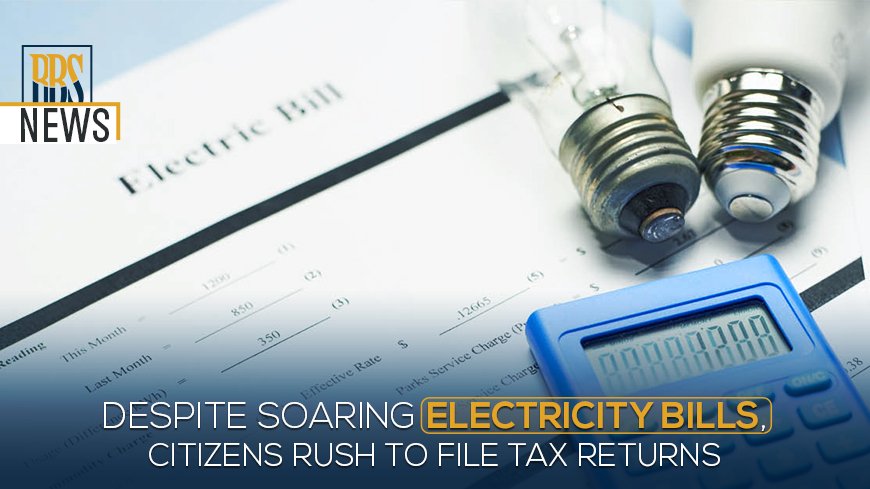 News Declaration
According to the news published on 28 August, a notable trend has been seen despite soaring electricity bills, citizens rush to file tax returns and secure their spot on the Active Taxpayer List (ATL) in a bid to counter the unprecedented increase in electricity bills.
FBR Report
The Federal Board of Revenue (FBR), Pakistan's apex tax authority, recently unveiled the updated ATL for the tax year 2022, reporting an unprecedented inclusion of approximately 4.5 million individuals and businesses. This significant rise is attributing to citizens proactively filing annual declarations to mitigate the impact of higher income tax rates.
ATL Strategy
The strategy behind the increased withholding income tax rates for those not on the ATL has led individuals to actively seek recognition by tax authorities. The recent electricity bills, carrying substantial tax components, especially for non-ATL individuals, have provided added impetus for this movement.
Read: During The Fiscal Year 2022-23, Tourism Surges By 87% While Construction Lags
Weekly Update
The names of organizations that submitted tax returns for the tax year 2022 up through August 27, 2023. They were included in the FBR's weekly update to the Active Taxpayers List (ATL), which was published on Monday. Well-executed programs that forced non-compliant firms into the official tax documentation framework are to blame for the rise in active taxpayers. This accomplishment made possible by government-led initiatives that encourage tax compliance while avoiding non-filers.
Finance Act 2023
The FBR received an astounding 70,000 returns in the previous week, according to the most recent ATL report, which included returns submitted until August 27, 2023. The Finance Act of 2023, which introduced a key measure, was crucial in increasing the number of tax return submissions.
FBR Efforts
Positive results have produced by the FBR's persistent efforts to promote tax compliance through tools like the ATL and digital tax systems. These approaches have improved the tax collection process while also increasing tax structure clarification.
Read: Real Estate Market In Punjab Benefits From FBR's Assistance
Conclusion
Experts predict that over the following months, the number of active taxpayers will continue to rise given the FBR's persistent dedication to timely ATL updates. The government's commitment to despite soaring electricity bills, along with efficient enforcement methods. Furthermore, it serves to support Pakistan's comprehensive tax-collecting efforts, resulting in long-term economic prosperity for the country.
Royal Business Solutions (RBS) is one of Pakistan's leading Real Estate Corporations in the industry.