November 7, 2022
Posted by:

Muhammad Shehzad

Category:

Blogs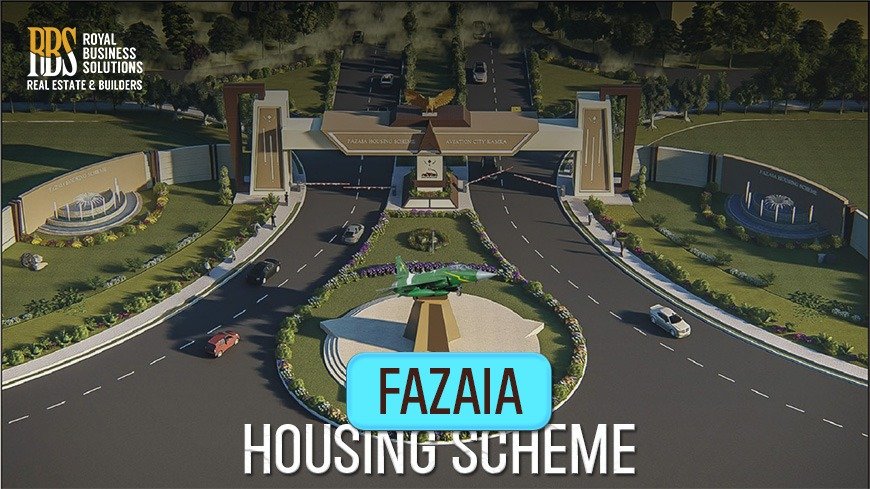 Fazaia Housing scheme is located in the major cities of Pakistan including Rawalpindi, Karachi, Lahore, Tarnol, Gujranwala, and Aviation City Kamra. Moreover, it starts from Rawalpindi, 2km from Koral Interchange on Islamabad Expressway. All these housing schemes are fully equipped with top-notch facilities and offering at budget-friendly rates. There is a wide range of residential and commercial Fazaia Housing Scheme plot for sale at affordable prices. . Let's discuss these Fazaia Housing schemes in detail.
1. Fazaia Housing Scheme Tarnol
It's a premium living area situated just 20 minutes away from central Islamabad. In August 1989, Fazaia Housing Scheme Islamabad was officially launch by the Pakistan Air force. In addition, land purchasing, possession, and settlement of conflicts continued for quite some time. Moreover, all these possession processes take almost 4 years. Therefore, it was properly launched in 1995.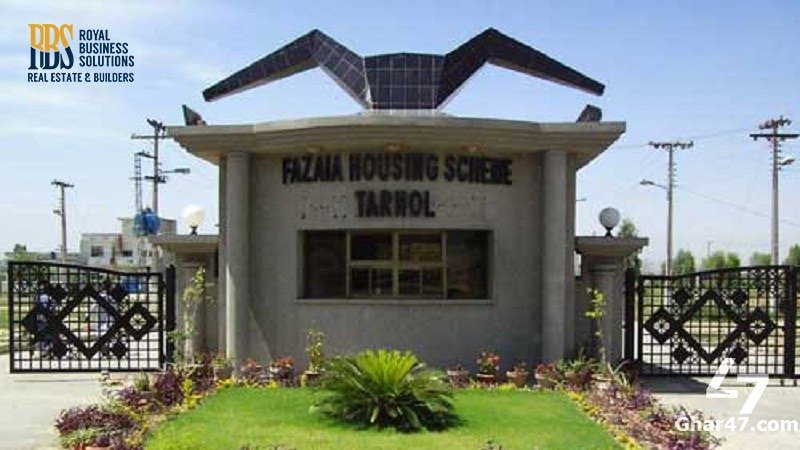 The society spans over 5000 Kanal of land. Some new pieces of land have been append later on. Resultantly,  Tarnol scheme now consists of 8000 Kanal of land. Furthermore, the society has various blocks such as Block A, B, C, D, E, F, and Block G.
Location of Tarnol Fazaia Housing Scheme
The Fazaia Housing Scheme Tarnol map gives quick and easy access to the society. It lies at the extended limits of Islamabad Capital Territory (ICT) in front of the Tarnol Interchange at Islamabad Peshawar Motorway (M1). Moreover, it is close to New International Airport Islamabad and has a long front of 4 kilometers on Tarnol Fateh Jang GT Road.
Developers & Designers
The scheme was designed by well-known designers namely M/s NESPAK (Pvt) Limited which is Pakistan's leading consultancy firm. Moreover, National Engineering Services Pakistan (NESPAK) was established in 1973 as a Private Limited Company by the Government of Pakistan.
NESPAK's aim is to create a pool of brilliant engineers, achieve self-reliance in engineering consultancy, and substitute foreign advisors. Furthermore, they have a good reputation and become one of the top engineering consultancy firms in Asia and Asia.
2. Fazaia Housing Scheme Gujranwala
Fazaia Housing Gujranwala is a well-planned society developed in the main city of Gujranwala. Moreover, it is establishing to provide high living standards and develop harmony among the residents of society. It's a modern venture, a skillfully designed and exquisitely planned welfare project recently launch by the Pakistan Air force.
The location of the Fazaia Gujranwala is ideally positioning close to University Town and Nawab Chowk. Additionally, it is also located close to Alipur Chowk and Pindi Bypass. Besides that, Punjab University Chowk also exists close to the housing scheme.
3. Fazaia Housing Scheme Lahore
Fazaia Housing Scheme Lahore began under the Private Housing platform for the employees of Pakistan Air Force to offer them comfortable, modern living and world-class facilities. In December 2003 Pak Fazaia Housing Scheme Lahore was launched and its designing and planning were completed in July 2005. Furthermore, the housing Scheme is livable since the year 2010. An extension of 424 Kanals was added to the Fazaia Housing Scheme Lahore Phase 1 as a joint venture with M/S Zaamin by the name of Zaamin Villas on the land-sharing model in August 2011.
Lahore Smart City is another profitable investment opportunity you can consider for higher ROI.
Location Map
The society is located on Raiwind Road Lahore, 12.5Kms away from Thokar Niaz Baig Chowk as well as Multan Road, Lahore. Moreover, it is easily accessible from various major housing projects such as Valencia, Lake City, AWT Phases 1 & 2, and DHA Rehbar. Due to the construction of Ring Road Lahore, the housing scheme is now easy to access from the main city.
Accessibility Routes
Following are the easy-access routes to the society.
Nearly, 38Km and approx. 35 min drive from Allama Iqbal International Airport.
Nearly, 12.5Km away from Thokar Niaz Baig Chowk
Furthermore, almost 45 min drive away from Multan Road Lahore
Blocks in Fazaia Housing Lahore
The master plan of Fazaia Housing Scheme Lahore is duly approved by Lahore Development Authority (LDA). Moreover, the society accused 4319 Kanals of land in October 2003.  It's a legal housing scheme consisting of 10 residential blocks such as blocks A, B, C, D, E, F, G, H, J & K with the availability of central parks and green areas of appropriate sizes.
4. Fazaia Housing Scheme Karachi
It is an international real estate project offering modern and luxurious facilities. Moreover, it's a pinnacle of urban planning and contemporary infrastructure. It's a welfare project developing by Pakistan Air Force. Additionally, the the housing scheme in Karachi is not only for PAF employees but also offers residential plots to civilians.
Fazaia Housing Karachi location
The location of Fazaia Housing Karachi is the most appealing factor that grabs the investors' attention. Moreover, the housing scheme is accessible from a major location in Karachi City. Furthermore, the Fazaia Housing scheme Karachi map is easy to understand by everyone. The society comprises two sites Fazaia Housing Scheme Karachi Site-1 and Fazaia Housing Scheme Karachi Site-2.
5. Fazaia Housing Scheme Kamra
Fazaia Housing Scheme Kamra is a component of Aviation city lace with contemporary facilities offering a luxurious lifestyle to its residents. The society is planning to be a state-of-art venture, located at Attock Hattiyan Road, and enjoy close proximity to PAC Kamra. Moreover, the society spans over 10,000 Kanals of land and offers the Fazaia Housing Scheme Kamra plot for sale at pocket-friendly rates.  The society will be secure with a proper security system and professional security staff. Furthermore, the Fazaia scheme Kamra has 4 entry points one from the adjoining golf course.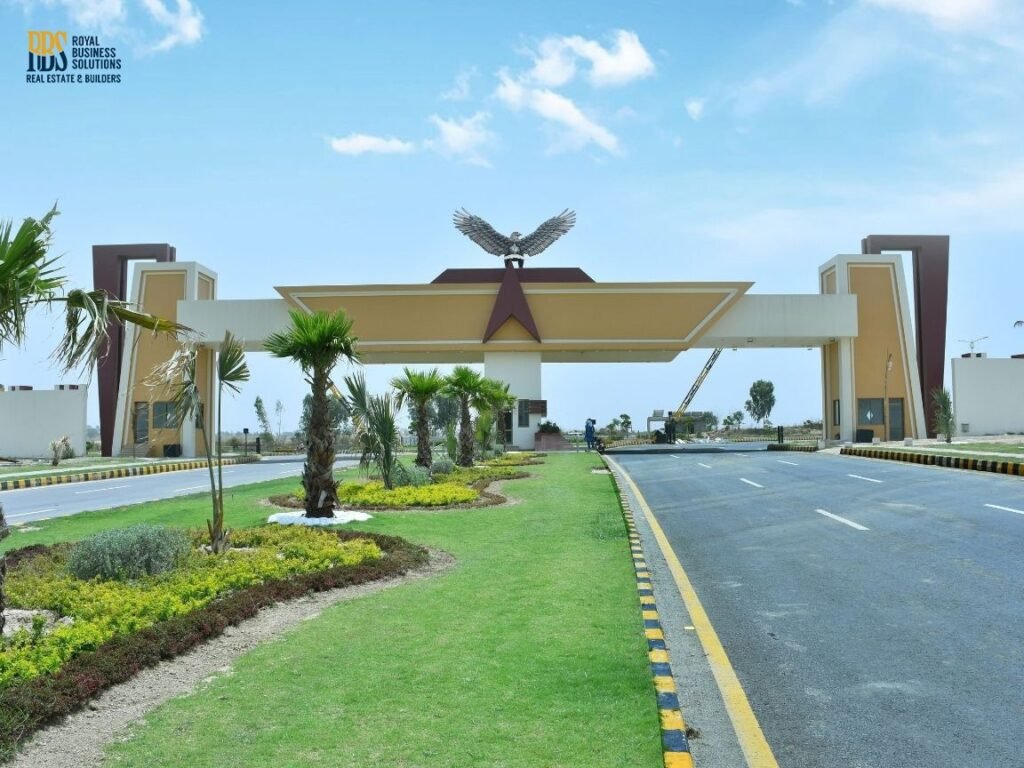 Facilities & Amenities
The housing scheme offers top-notch facilities at cost-effective rates. Following are the amenities available in Fazaia Housing.
Gated Community
All Fazaia Housing schemes are fully equipped with 24/7 security systems and trained staff to ensure the safety of residents. Moreover, the whole society is surrounded by boundary walls and walk-through gates are installed. These security barriers authorize secure entry and exit points.
Road Infrastructure
Roads are constructing with state-of-the-art infrastructure machinery. Moreover, to avoid traffic jam issues, roads & streets are wide and well carpeted.
High-Quality Educational Institutes
Education is a basic right of every individual. The developers ensure the provision of high-quality education to its residents by developing top-quality educational institutes such as colleges, schools, and universities. Furthermore, teachers are highly qualified in their respective fields.
Theme Parks and Playgrounds
The society also has a theme park where you can spend your leisure time. In addition, play areas are also available for children, as well as green parks provide healthy environments for residents.
Conclusion
Fazaia Housing Scheme is a luxurious project which is developing according to international standards. In addition, it is designing with one sole purpose; to provide a high level of living standards. This is a golden opportunity for investors to make their future bright. Investing in this housing venture could prove to be one of the best decisions of your life. Moreover, the price of your investment will surely improve with time. We highly recommend you avail this worthwhile opportunity as soon as possible.
If you want to know more about such modern housing societies you can read Nova City Islamabad and Hawks Melbourne City Rawalpindi.