June 14, 2023
Posted by:

Muhammad Shehzad

Category:

RBS News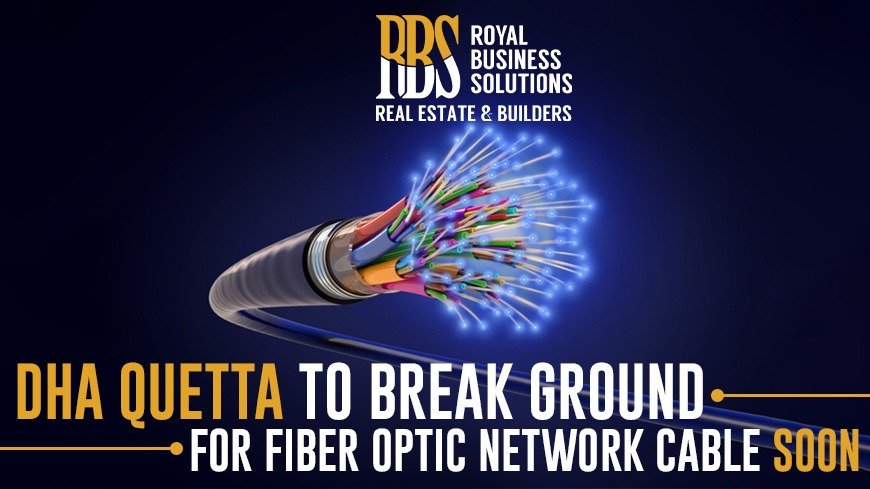 The official Facebook page of Defence Housing Authority (DHA) Quetta recently announced an upcoming earth-breaking ceremony for the installation of an advanced fiber optic network line. The organizers have scheduled the event, which symbolizes the commencement of this vital infrastructure project, to take place soon.
While no further details have been provided by the authorities regarding the ceremony, anticipation is building among residents and stakeholders.
A Revolution in Connectivity for DHA Quetta
The introduction of a fiber optic network cable promises to revolutionize the landscape of connectivity in the area. With this cutting-edge technology, residents will experience enhanced communication capabilities, seamless streaming, and reliable connectivity for a wide range of digital services, all powered by high-speed internet access. This significant upgrade will elevate the quality of life for residents. It will also pave the way for a more digitally connected community.
Read: DHA Quetta Expected To Hold Earth-Breaking Ceremony Of Electric Feeder
Advancing Residential Development in DHA Quetta
The Fiber Optic Network Cable installation will benefit residents and drive residential development. It showcases the authority's commitment to modern technologies and state-of-the-art amenities. Hence this proactive approach underscores DHA Quetta's vision of creating a vibrant and future-ready community.
Conclusion
The upcoming earth-breaking ceremony marks a new era of connectivity in the region. Improved communication, seamless streaming, and high-speed internet will enhance residents' digital experience. DHA Quetta's commitment to embracing technology enhances residents' quality of life.
For further updates on 'DHA Quetta Soon to Break Ground for Fiber Optic Network Cable' stay tuned to RBS Real Estate and Builders.
Gulberg greens islamabad is elevating urban living with innovative amenities. You can visit and can get a chance to live in a facilitated community.