October 28, 2022
Posted by:

Muhammad Shehzad

Category:

Blogs
Defence Housing Authority stands among the prestigious projects of Pakistan. DHA has launched many successful projects. Initially, DHA launched its projects in Islamabad, Lahore, and Karachi. Now, the project is launching in other major cities in the country.
The establishment of DHA is completed in Multan, Gujranwala, and Bahawalpur and now it has begun in Peshawar. DHA Peshawar will be the only modern society in the province.
The project is stretching over an area of almost 17,000 acres with world-class infrastructure. In addition, it is equipped with the modern and luxurious facilities that residents require to have a better living.
DHA Peshawar Owners and Developers
The companies FWO and NLC are in charge of developing DHA Peshawar. World-class engineers, town planners, and architects are working day and night to fulfill the premium standards of the Defense Housing Authority. The project is expected to be delivered on a given deadline. In addition, developers are working to maintain luxurious standards and provide a better living for people.
DHA Peshawar Location
The society is located at the prime location adjacent to Nasir Bagh road near Askari 6. Many housing societies like Regi model colony, Yaseen town, and Hafiz town are located in their surroundings. The society is also equipped with all necessities that make it one of a kind in Peshawar.
Defence Housing Authority Peshawar will also connect to Islamabad–Peshawar motorway as well as with the N5-National Highway. The society also has junctions with the Eastern and western routes of CPEC. Following is DHA Peshawar Map:
Accessibility
The society has access to the following points:
It is a 29 minutes drive from Warsak Road.
It is a 39 minutes drive from Charsadda Road.
It is approximately 51 minute's drive from M-1 Motorway
It is a 9 minutes drive from Bad e Zai Road.
It is a 17 minutes drive from N-5 National Highway.
It is a 5 minutes drive from Nassir Bagh Road.
It is a 10 minutes drive from Warsak Dam Road
It is a 29 minutes drive from Peshawar Ring Road.
It is almost a 35-minute drive from Bacha Khan International Airport.
In addition, the society has Nasir Bagh, Agricultural University Farm, Shai Bala, Askari 6, Zoo, Peshawar Development Authority, Karkhano Market, Khyber Medical Complex, and Police Colony in its surrounding.
Master Plan
Phase 1 of  the society spans the land of 2,600 acres and divides into nine sectors which are as follows:
Sector A
Sector B
Sector C
Sector D
Sector E
Sector F
Sector G
Sector H
Sector I
Sector J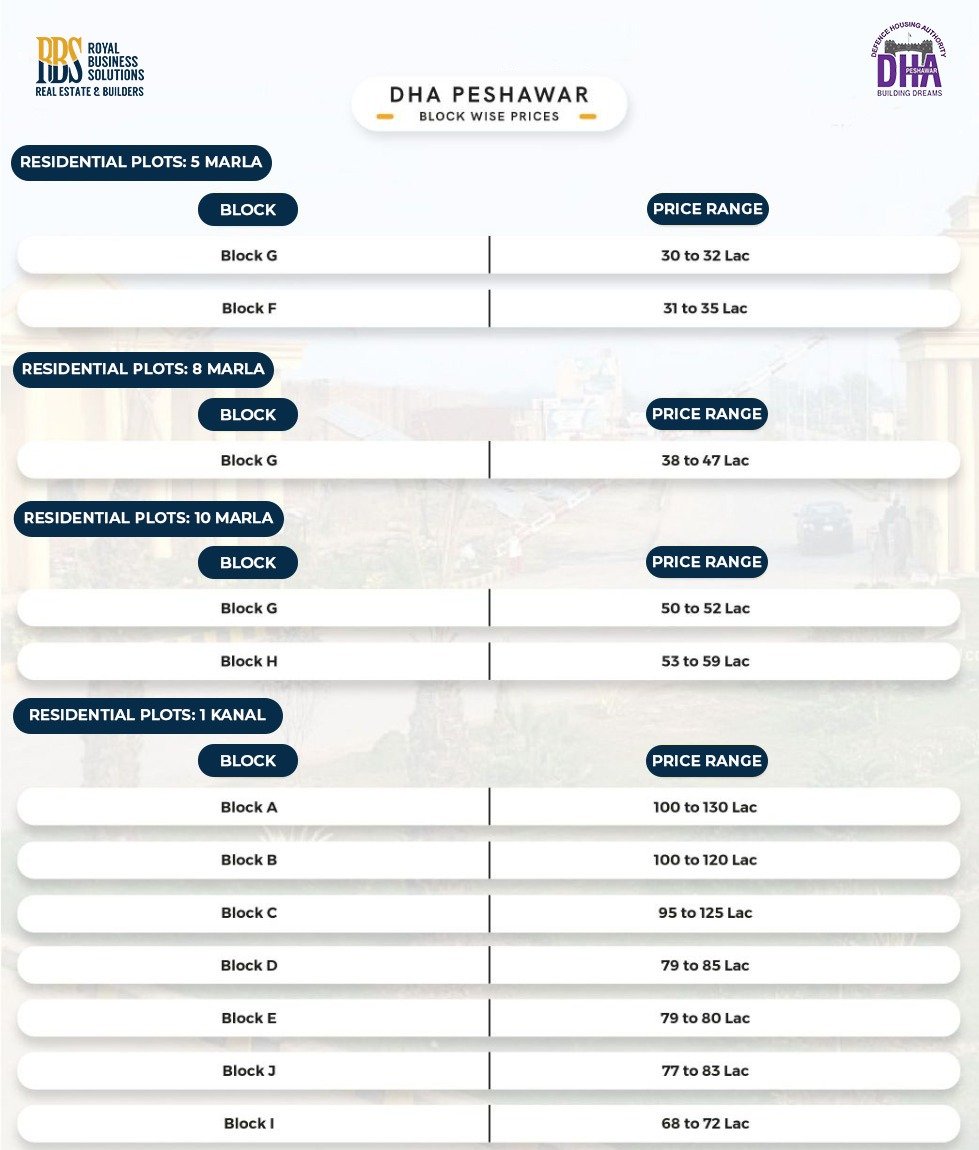 Development Status
The construction of sector A will be completed soon and you can already book DHA Peshawar Sector A plots for sale. All these sectors are equipped with state-of-the-art facilities with an outstanding natural view.
Development work carried out by NLC and FWO in sectors, B and C is going on in full swing. Furthermore, the development work in sectors D, E, and F are starting soon. The possession in sectors A, B, and C is opening soon.
Since FWO and NLC have taken the charge of development and intend to incorporate world-class features and outstep the lifestyle of residents through a master-planned community like DHA Peshawar.
Get more details about Capital Smart City.
DHA Peshawar Plots for Sale
If you are looking for plots for sale in DHA Peshawar it contains residential plots of the following sizes:
5 Marla Plot for sale in DHA Peshawar
8 Marla Plot for sale in DHA Peshawar
10 Marla Plot for sale in DHA Peshawar
1 Kanal Plot for sale in DHA Peshawar
2 Kanal Plot for sale in DHA Peshawar
4 Kanal Plot for sale in DHA Peshawar
In the Commercial category of Sector A, there are plots of the following sizes:
4Marla
5 Marla
8 Marla
10 Marla
There are some large plots of 1Kanal, 2 Kanal, and 4 Kanal available in another sector. In addition, DHA Peshawar plots in installments are also up for sale.
 Amenities
The post-modern amenities offered by the DHA are as follows:
Modern sewerage system
The society contains a properly managed underground sewerage system with modern equipment including conduits and pipes that collect the discharge from the origin point to the treatment site and a final discharge to the water bodies.
Medical complex and surgical centers
The project will have an international standard medical complex and surgical centers for the convenience of residents. Medical facilities will be open 24/7 so that residents can take advantage of the highly qualified staff.
Modern infrastructure
This society will have international quality infrastructure and well-maintained roads. The main roads in here will be 130 feet wide while internal roads will be 80 feet wide.
The streets where 1 Kanal plots are located are 50 feet wide. Moreover, the streets where 10 Marla plots are located are 40 feet wide. Furthermore, the streets where 5 Marla plots are located are 30 feet wide. Developers are working on international quality infrastructure to provide a comfortable space.
Recreational areas and parks
The housing scheme also plans to have various green spaces, parks, and recreational areas where residents can relax and enjoy peaceful living.
Quality educational institutions
The housing venture plans to provide its residents with high-class educational institutes so that residents could get a good education.
Commercial areas
Also, there will be a designated commercial area where the residents can fulfill all their daily life necessities.
HEC Registered Public Libraries
The housing society will have HEC-approved public libraries in almost all phases of the society. The libraries will be helpful in educating the residents. In addition, people can visit and enjoy the books according to their taste.
Graveyard
DHA has spared specific areas to provide the residents with the facility of a graveyard so that the deceased could be buried inside the society.
Jamia Masjid
Peshawar DHAis also provides the facility of Jamia Masjid to its residents in all its sectors. Each sector contains the proper facilities so that residents would not have to face any problems.
Wide roads
Roads in the society are approximately 130 feet wide while the width of internal roads is kept at almost 80 feet.
DHA Peshawar Payment Plan
DHA Peshawar offers a flexible payment plan where plots are available on an easy installment plan. There are various plots for sale in the society available for booking. You just need to contact the RBS team which is among the DHA Peshawar authorized dealers. We will provide you with the best consultation of profitable DHA Peshawar houses for sale which can get you a High Return on Investment. Following is the payment plan of DHA Peshawar:
DHA Peshawar Contact Number is provided if you want to get any additional information: (091) 5613814
Why invest in DHA Peshawar?
There are many reasons to invest here. First of all, it's the best opportunity to invest in KPK because it is going to be the first society of DHA where smart facilities are being offered.
Secondly, the society is all set to upgrade your lifestyle with a secure living that is not offered in any other society.
In addition, its prime location, attractive landmarks, and advanced facilities attract investors to invest here.
Conclusion
Defence Housing Authority Peshawar is a lavish society that offers unique facilities that you require for a better living experience. With the best educational institutions, medical facilities, gyms, green spaces, parks, as well as libraries the society offers every facility that you dream of.
Read about other projects that are expected to be more profitable, such as Countryside Farms and Nova City Islamabad.