November 2, 2022
Posted by:

Muhammad Shehzad

Category:

Blogs
Citi Housing Gujranwala is a GDA-approved housing society developing in Gujranwala. The marvelous project is the deliverable of Citi Housing Pvt Ltd. Moreover, Gujranwala Citi housing is a well-developed housing project offering a unique experience and a luxurious lifestyle at affordable rates.
Gujranwala is the 7th populous city in Pakistan and is known for giving top wrestlers to the country. Citi Housing Gujranwala is one of the thriving ventures in Gujranwala city. Additionally, it's one of the fastest growing cities in Pakistan and currently become an important industrial city. Furthermore, Gujranwala is also known for its wide production of melons, sugarcane, and grains for international export.
Citi Housing Gujranwala Developers
Citi Housing Pvt Ltd is the developer of City Housing Gujranwala. Moreover, developers are working in the real estate sector for so many years. They are very famous all over Pakistan for their quality of work. In addition, the developers have a very good reputation in the real estate market. This increases the trust of investors in developers. Moreover, they have built many houses and a lot of families have been shifted there already.
NO Objection Certificate (NOC)
The NOC of City Housing Gujranwala is approved by Gujranwala Development Authority (GDA). Moreover, the society has two phases and both have total approval from the concerned authorities for investors. NOC approval is crucial for every real estate project. Furthermore, the legal status of the land enhances the authenticity of the project.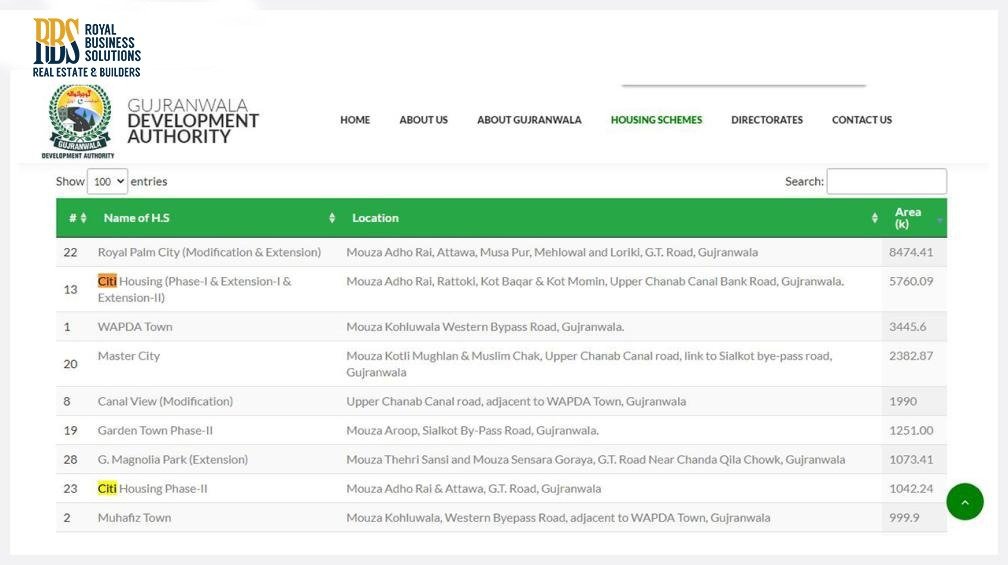 Citi Housing Gujranwala Map & Location
The developers select an ideal location for developing the Gujranwala Citi Housing scheme. The location of City Housing Gujranwala is located on the N-5 National Highway (GT Road). Moreover, it lies close to Sheikhupura Road and Gujranwala Road. The society developers have chosen an excellent location to provide a central point so that famous landmarks could be accessed easily from the Gujranwala City Housing project. Hawks Melbourne City Rawalpindi is also located in an excellent location.
Accessibility Routes
There are several easy & quick accessibility routes to Citi Housing Gujranwala:
It lies Right next to the GT Road
Nearly, 11 min drive away from Gujranwala Road
Furthermore, it is situated 13 min drive from Sheikhupura Road
Nearly, 15 min drive away from Sialkot Eminabad Road
Nearly, 18 min drive away from Kamoke to Ghumanwala Road
Landmarks nearby Gujranwala City Housing
Following are the famous nearby landmarks & places from Citi Housing Gujranwala:
Maqbool Shaheedabad
More Eminabad
Eminabad
Kamoke and Attawa
Civil Lines
WAPDA Town as well as Satellite Town
Bilal Housing Scheme
Kotli Mughlan, Gujranwala
Master Plan of City Housing Gujranwala
City Housing Gujranwala master plan is designed with the help of highly professional experts. Moreover, the society consists of two phases. The developers recently launch a new phase named Wafi Citi, offering various attractions such as parks, playland, and much more.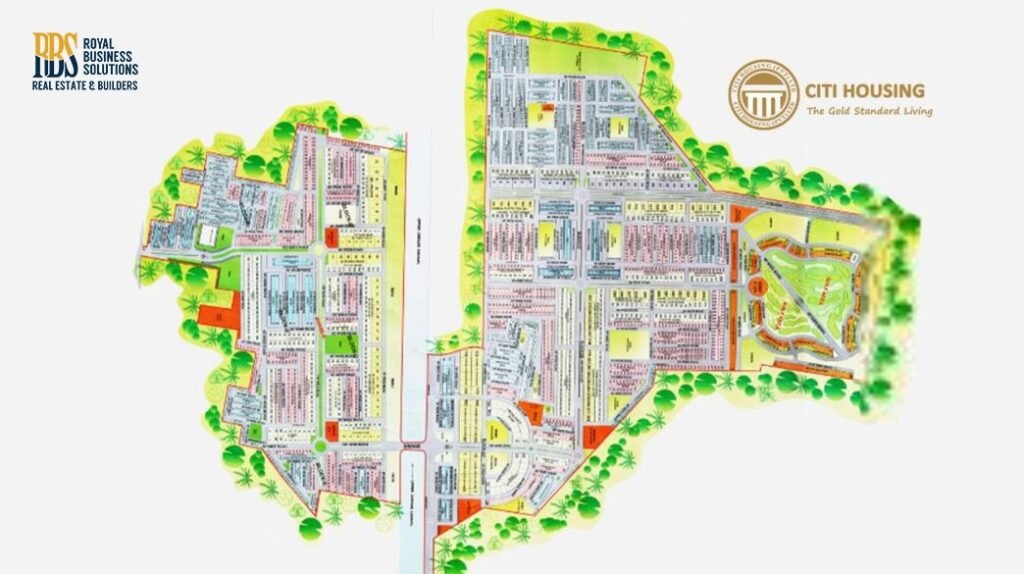 Phase I of City Housing Gujranwala
Phase I of City Housing Gujranwala has developed ahead of phase II. Additionally, phase I offers all basic and modern amenities at budget-friendly rates. Residential and commercial plots are fully developed and offering plot for sale in City Housing Gujranwala. Moreover, the phase I has The Opera Cinema, Citi Parlour, Fitness center, Main Boulevard, green streetscapes, green parks as well a playground.
Phase II of City Housing Gujranwala
The society phase 2 has an exceptional location easily accessible from G.T Road surrounded by scenic Upper Chenab Canal on the other end. Besides that, the phase is mapped on self-sustaining strong structure and function of natural eco-system. Moreover, roads are fully carpeted and construct according to the latest town planning.
Wafi Citi Gujranwala
Citi Housing has truly remodeled streetscapes and lifestyle inclinations in its Star project of WAFI Citi. Moreover, it has an extraordinary and magnificent entrance gate that draws the attention of residents and visitors correspondingly.  Gujranwala residents now travel to the place with their families for picnics and photo shoots to capture special moments. In addition to other attractions, WAFI Citi is home to a theme park.
Blocks in City Housing Gujranwala
The society offers these plots for sale in the following blocks:
Block A
Block B
Block BB
Block C
Block CC
Block D
Block DD
Block E
 Residential Plots
The developers offer a wide range of City Housing Gujranwala plot for sale at cost-effective prices. Moreover, residential plot sizes are as follows
5 Marla
10 Marla
1 Kanal
2 Kanal
Commercial Plots
Citi Housing Gujranwala Payment Plan
The payment plans of Citi Housing Gujranwala are offering at affordable prices with an easy installment schedule. Moreover, to stay informed about any recent changes in the prices of residential and commercial plots, we strongly advise requesting the most recent prices from the society's administration. The payment plan is as follows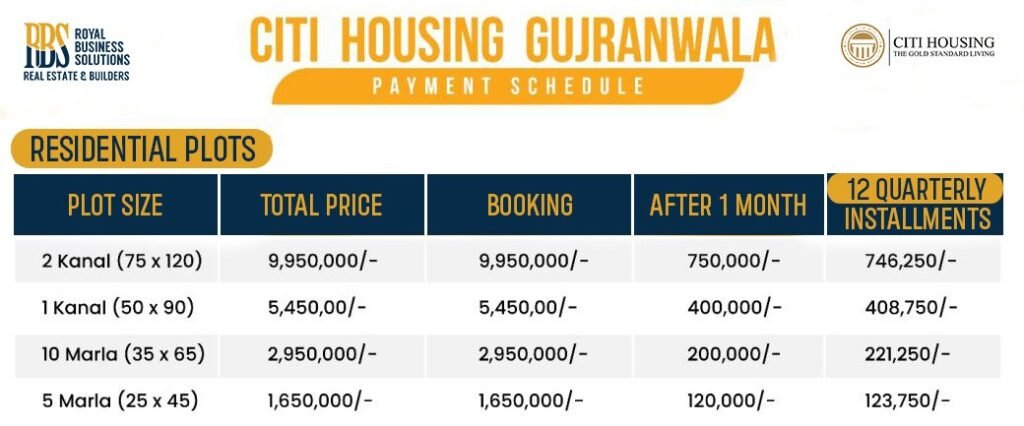 Facilities & Amenities
The facilities are part of any modern housing society that could be termed a complete residential scheme. Following are the facilities offering in Citi Housing Gujranwala.
Eco-friendly
The society offers close to a natural lifestyle with all contemporary amenities. Moreover, Citi Housing Gujranwala will provide a unique experience that could not be found in any other housing society.
Grand Mosque
The developers have taken care of the spiritual or religious needs of residents. For this purpose, they develop or construct a Grand Jamia mosque. Moreover, this will be an intelligent mosque construct with all modern technologies.
Graveyard
Life and death is the part of life so the society also has a graveyard where the residents can buy their deceased ones and pray for their eternal life's success. Furthermore, they may also visit the graves of their loved ones while living in society.
Community Center
The society has a community center that helps to keep the residents socially active. Here they may enjoy participating in social activities.
Educational Institutes
Education is an essential need of every individual. For this purpose, the society has high standards of schools that provide quality education to their residents. Moreover, the teaching staff is highly qualified and experts in their specific field.
Business & Commercial Hub
The society also has a business hub to meet the commercial needs of residents. From these areas, they can fulfill their business as well as commercial desires.
High-Quality Road Infrastructure
Roads are developed with a high degree of professionalism to ensure the perfect development of roads. Furthermore, roads are wide and spacious which gives a beautiful look to society.
Frequently Asked Questions (FAQs)
Q1: What is Citi Housing Gujranwala?
Ans. The society is a complete residential project offering a luxurious lifestyle to people.
Q2: Is it a legal housing scheme?
Ans. Yes, Citi Housing Gujranwala is a GDA-approved housing society.
Q3: Is it an affordable or cost-effective scheme?
Ans. Yes, it's an affordable society because of flexible installment plans.
Q4. What is the location map of Citi Housing Gujranwala?
Ans. The society lies at Main G.T Road.
Q5. Who are the owners of Citi Housing Society Gujranwala?
Ans. Citi Housing Pvt Ltd is the developer of this housing scheme.
Conclusion
Citi Housing Gujranwala is a legal residential housing society developed to upgrade the living standards of residents. Moreover, society also gives a unique experience and comfort at budget-friendly rates. Luxurious features and location are the most appealing features of the society. Furthermore, this is a golden opportunity for investors to invest in Gujranwala City.
If you want to know more about such housing societies, you can also read about Lahore Smart City and Capital Smart City.