November 24, 2022
Posted by:

Muhammad Shehzad

Category:

Blogs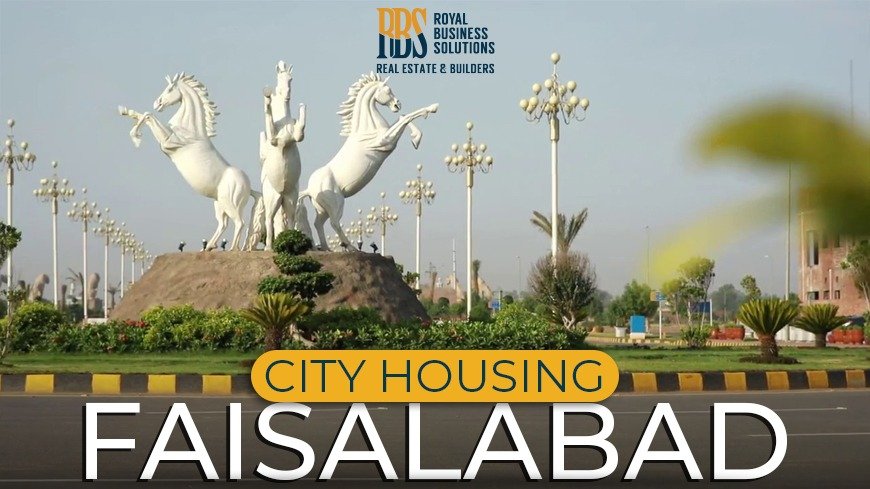 Citi Housing Faisalabad is a luxurious housing society located at the M4 Lahore-Faisalabad and Sargodha Road Junction. It is a legal society that has received the approval of the Faisalabad Development Authority. In addition, Citi Housing Group is building this top-notch housing project, which offers lavish features and services at reasonable costs.
Citi Housing Faisalabad Phase 1 and Citi Housing Faisalabad Phase 2 are two major divisions of the society. Both phases provide a variety of residential as well as business plots at reasonable rates. The builders are offering a Gold quality of living, which is being offered in Faisalabad for the first time.
Developers and Owners of Citi Housing Faisalabad
The owner and developer of Citi Housing Faisalabad are Citi Housing Pvt. Ltd. The chairman of Citi Housing, Amir Malik, is a visionary who has put a lot of effort and passion into the company's operation.
Due to their top-notch housing developments, they are soon going to lead the real estate market. The company's CEO, M. Zoraiz Malik, and COO, Maj. Gen. (R) Rashed Javeed, is equally involved in carrying out the outstanding Citi Housing projects.
Following are the other outstanding housing projects of the company in other different cities of Pakistan:
Citi Housing Multan
Citi Housing Gujranwala
Citi Housing Jhelum
Citi Housing Sialkot
Citi Housing Faisalabad NOC
The Faisalabad Development Authority has already given its approval to Citi Housing Faisalabad's No Objection Certificate (NOC). It is a legal housing society in Faisalabad with all the necessary paperwork being authorized by the relevant parties. Also, investors and residents have complete faith in the housing society and the developers because of their legal standing with the respective authorities.
Also, get information about Capital Smart City which offers the most profitable investment opportunity.
Citi Housing Faisalabad Location
The Citi Housing Faisalabad location is on Chak No. 234-RB, Samundari Road Faisalabad, which is a high-demand area. The location is ideal as it is easily accessible from all the main points of the city. The housing society has access to the M4 Motorway on one side while the Faisalabad Bypass Road on the other.
This society is located in the middle of all the important sites, making it convenient to go there. In addition, its lavish facilities have made it a real representation of a successful residential community in Faisalabad that offers a Gold quality of life.
The housing scheme is one of the most easily-accessible projects in Faisalabad.
It is adjacent to M4 Motorway.
In addition, it is right on the Faisalabad Bypass.
Moreover, it is almost 11 minute drive away from Faisalabad Road.
Furthermore, it is nearly 13 minutes away from Millat Road Faisalabad.
Citi Housing Faisalabad Master Plan
With the assistance of highly qualified and experienced engineers and architects, Citi Housing Private Limited has created a master plan to construct this community in accordance with the most contemporary as well as universally used urban development concepts. The society has two phases including Phase 1 and Phase 2.
Phase 1 of the society divides into the following blocks:
Also, phase 2 of the society divides into the following blocks:
Block A
Block B
Block C
Block D
Plots for Sale in Citi Housing Faisalabad
The society is offering a range of residential plots in various size ranges:
Plot Size Phase I
5 Marla plots for sale in Citi Housing Faisalabad
10 Marla plots for sale in Citi Housing Faisalabad
1 Kanal plot for sale in Citi Housing Faisalabad
2 Kanal plots for sale in Citi Housing Faisalabad
Plot Size Phase II
In addition, the society is also offering commercial plots for sale in the following sizes:
Citi housing Faisalabad Payment Plan
The society offers affordable property with extraordinary facilities. Through payment plan of the society is as follows:
Facilities & Amenities
The Citi housing Faisalabad offers all modern amenities at cost-effective prices. The following is the list of facilities that the society offers:
Eco-friendly
The community will offer a sustainable, close-to-nature lifestyle as well as all the modern conveniences.
Grand Mosque
The society will also take care of all the citizens' requirements, including their religious requirements. The developers are building a beautiful, large Jamia mosque for this.
Water Resources
Society has taken the residents' demand for water into consideration. To do this, enormous amounts of water will be stored in water reservoirs that the residents may utilize for everyday tasks. To guarantee that the residents have access to clean drinking water, filter plants will also be a part of society.
Graveyard
A society's graveyard is a necessary component. The locals may choose to bury their departed loved ones because life and death are a part of life. They may also pay a visit to loved ones' graves in the community.
Community center
Community centers will serve as the hub of social activity to maintain inhabitants' social engagement. They will also be part of the society where residents may take part in and enjoy social events.
Health Facilities
The developers have given special consideration to the social context's health facilities. The developers will build cutting-edge international hospitals and clinics for this reason. The emergency room will be open round-the-clock, and personnel and physicians will be on call.
Educational Complex
To provide students with the greatest education possible, the teaching team will also be qualified and trained in their specialized disciplines. Moreover, there will be state-of-the-art colleges and universities.
Economic & Commercial Hub
Moreover, residents', economic, and commercial demands have been met by the developers. Because of this, society will offer a comprehensive business space. The locals can satisfy all of the society's business demands from these regions.
Safe Community
People are also given complete security by a security system that has 24/7 CCTV cameras and other surveillance equipment. To provide a high level of safety, the society will also be surrounded by a boundary wall with a fool-proof system.
High-quality Road Infrastructure:
To ensure the best quality, the roads and other infrastructure are built with the utmost professionalism and technology. In addition, the main boulevard and surrounding streets are broad and wide enough to create a lovely appearance.
Bookings for the Citi Housing Faisalabad
The booking procedure of the society is very simple. All you need to do is follow the instructions given below:
Fill out your booking application.
Attach the CNIC copies of the applicant's down payment made by check or money order payable to "Citi Housing Faisalabad," but be sure to double-check the management procedure in case there are any new modifications.
Cash payments are also accepted with the management's approval.
Submit the necessary documentation, make payment, and get a receipt.
Frequently Asked Questions
The following are the most frequently asked questions about this society:
Q1: What is Citi housing Faisalabad, and how is it different from other housing societies?
Ans. Citi Housing Faisalabad is an ideal example of a high-tech residential society. Expert architects and town planners are in charge of developing it.
Q2: Is it an approved and legal housing society?
Ans. Yes, it is a legal society as FDA approves it. Also, it has got its NOC.
Q3: Is it an affordable housing society?
Ans. Yes, the society is affordable as it offers plots at reasonable prices. Also, it has a flexible installment plan.
Q4: Does this society has the potential to yield a high return on investment?
Ans. Yes, the society has a high potential of yielding a high return on investments as installment methods are flexible to families and small investors. Hence, increasing the chance of high-yield investment returns.
Q5: What is the location of the Citi housing scheme?
Ans. Citi Housing Faisalabad is located at a premium location on M4 Lahore-Faisalabad and Sargodha Road Junction.
Conclusion
Citi Housing Faisalabad aspires to achieve a distinguished living environment for its residents. Investors believe that the housing project's location is one of its best features. In addition, as numerous facilities are offered at reasonable costs, the affordability element is especially appealing to investors. Furthermore, there are other residential and business plots available in this area. The ability to live in this area will be a great benefit for achieving a good level of living.
Also, read about luxurious housing societies including Countryside Farms.