October 2, 2023
Posted by:

Muhammad Afzaal

Category:

RBS News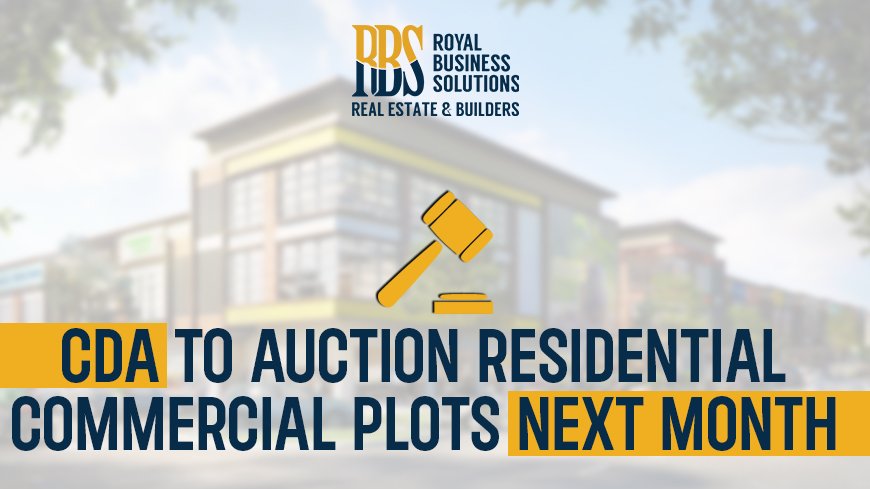 The Capital Development Authority (CDA) is preparing to initiate a sale of both commercial and residential plots, offering a diverse range of sizes and categories. This auction is set to take place at the Jinnah Convention Centre from October 17 to 20, as reported on September 28. The main aim of this auction is to enhance revenue for the authority and attract investors to engage in this appealing opportunity.
An official from the CDA emphasized the encouragement for potential investors to participate in this auction, highlighting it as a valuable chance to obtain both commercial and residential plots within the federal capital while ensuring complete legal protection. The auction will cover different sectors within the Islamabad capital territory and will conclude on October 20. The CDA has already distributed the auction schedule for different plots through multiple newspapers and social media platforms.
Read: CDA Requests The Reformation Of The Islamabad Master Plan Commission
Investment Option for both Local and International Investors
As per the official, real estate experts have endorsed this opportunity. This acts as an essential investment option for both local and international investors. The available plots cover a wide array of categories, including those located in the Blue Area, Marakaz, E-11 Northern Strip, Park Enclave, and Class-III Shopping Centres. Also, Agro Farms, commercial IT centers, apartments, industrial properties, hostels, residential areas, and markets in I-11. Interested parties can acquire brochures starting October 2nd from the CDA's one-window directorate and designated branches of HBL, UBL, MCB, Askari Bank, and Bank of Punjab.
Moreover, this information is readily available on the official CDA website. The official highlighted the existence of a specialized facilitation team to assist potential investors throughout the entire process. Successful bidders need to submit an initial payment of 25% of the bid amount within 30 days of bid acceptance. The official also emphasized that advance tax would collect proportionally following the initial payment. After the full payment, the approval of building plans and commencement of construction work can proceed.
Read: CDA Distributed 7,000 Seed Balls In Islamabad As Part Of Its Efficient Afforestation Campaign
Additionally, the CDA is providing a 10% discount for payments made in full within 30 days. These payments receive the bid acceptance letter. An extra 5% discount is applicable for payments made in US dollars.
For further details, check out RBS Real Estate and Builders.