March 20, 2023
Posted by:

Muhammad Shehzad

Category:

RBS News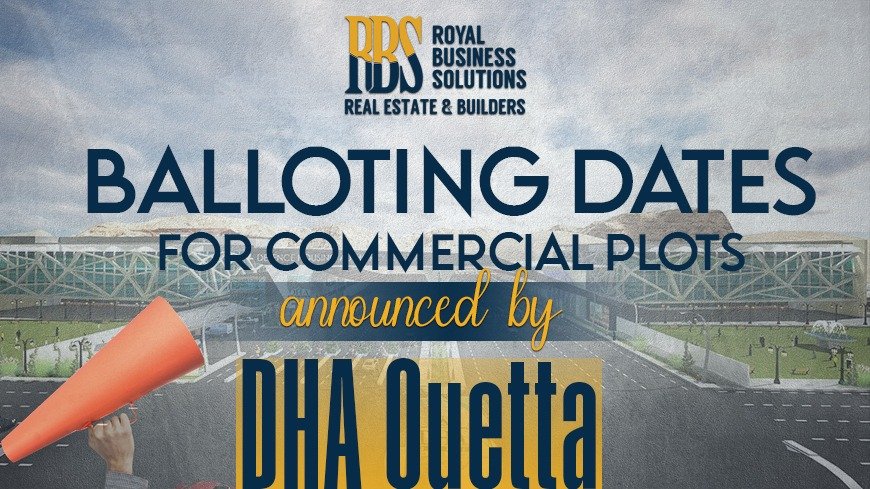 DHA Quetta, a top real estate developer in Pakistan, has revealed its Quetta project's commercial plot balloting dates. This announcement has sparked enthusiasm among buyers and investors waiting to know the outcome of the balloting process. The news 'balloting dates for commercial plots announced by DHA Quetta' is fantastic.
DHA Quetta is a beautiful society in Quetta, the provincial capital of Balochistan in Pakistan. Further, the society will include residential and commercial properties, as well as educational and medical facilities.
Modern Living and Business Opportunities in Quetta's Newest Development
The developers are trying to finish the development process in the next several years. Further, they will create a contemporary living and business environment for the people of Quetta. Moreover, due to their ideal location and good potential for investment and business opportunities, the commercial plots in DHA Quetta are in high demand. Further, all investors should have an equal chance of acquiring the plots due to the fair and effective balloting procedure.
For better investment opportunities, you can visit Countryside farms.
Secure Your Future with fair ' Commercial Balloting in DHA Quetta's Prime Location
The allocation of commercial plots will be done by the balloting process, which is a crucial step in the project's development. There are expectations that DHA Quetta's commercial balloting will be fair and transparent, with equal opportunities for all investors. Further, the balloting will take place on March 20, 2023, and they will complete the process of transferring commercial properties by April 30, 2023. Moreover, due to the favorable market circumstances and strategic location, hopefully, the commercial plots will be in great demand.
It will be interesting to observe how the voting goes and how the project progresses after that.
For further updates on 'Balloting dates for commercial plots announced by DHA Quetta, stay tuned to RBS.