October 6, 2022
Posted by:

Muhammad Shehzad

Category:

Blogs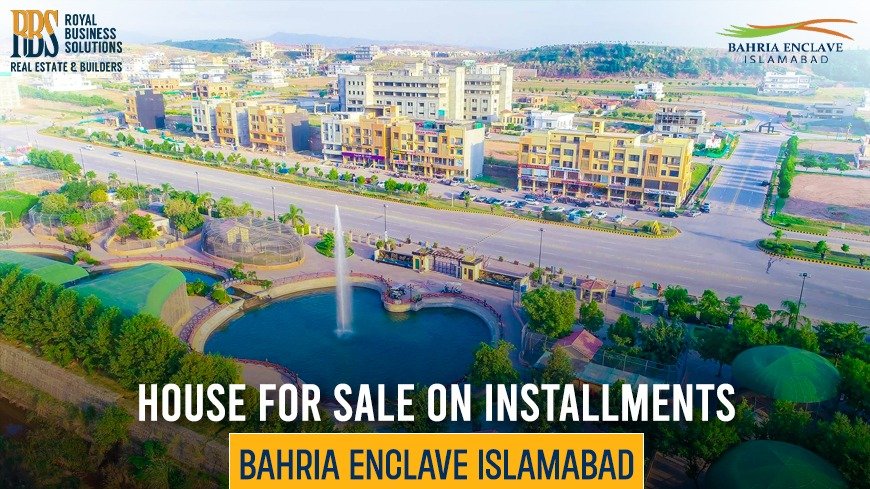 Overview of Bahria Enclave Islamabad
After the remarkable success of Bahria Town in Pakistan's main cities, the developers introduced Bahria Enclave Islamabad in 2011. This home development in Islamabad mixes nature and elegance to provide a world-class living experience at a reasonable price. Multiple prominent sites are easily accessible from Bahria Enclave Islamabad. In addition, the society is roughly a twenty-minute drive from the heart of Islamabad.
The developers of Bahria Town are upgrading to a beautiful neighborhood in Islamabad; their next target is again the twin cities. People are certain that they will deliver a perfect peaceful venture again. The project is one of the smallest ones that Bahria Town is attempting to build. Therefore it will get all of the developer's focus, making it exceptionally successful and well-organized in this arena.
Developers:
The Bahria Town Pvt. Ltd. is a prominent Rawalpindi-based real estate administration in charge of various upscale real estate developments in Pakistan's major cities. They delegate construction duties to Habib Rafiq Pvt. Ltd, the leading construction firm in Rawalpindi as well as Islamabad, handles the Defence Housing Authority projects. Habib Rafiq Pvt. Ltd. has also unveiled its ground-breaking Capital Smart City housing project in Islamabad.
Location of Bahria Enclave, Islamabad
It is situated close to Jinnah Avenue in Zone IV of Islamabad Capital Territory, close to Chak Shahzad, Park Road, and Kuri Road. It is one of the most nearby and accessible sites in Islamabad, with several routes leading to and from Bahria Enclave. Phase-I of Bahria Enclave is located close to Mouza Molat, while Phase-II is located close to Mouza Phulgraan.
Total Area:
The Bahria Enclave consists of two parts, namely Phase 1 and Phase 2. Phase 1 includes an area of 836 Kanal, Phase 2 covers an area of 1180 Kanal, and Phase II's Agro Farming Scheme covers an area of 2047 Kanal.
Access Points:
Chak Shahzad, the Park Road, and the Kuri Road are roughly 8 kilometres (15 minutes) from the access points, which are accessible through the Kashmir Highway, the Lehtrar Road, and the Islamabad Highway. Bahria Town is receiving a new four-lane road, which will also provide another route through Kuri Road.
Accessibility
Bahria Enclave Islamabad accessibility routes:
The Kashmir Highway is about 25 km long.
Lehtrar Road is about 19.2 kilometres
Park Road is around 12.6 km
About 12.7 KM from Chak Shehzad
Park View is about 8.1 Km away
About 13.7 KM from PTV Colony
Gulberg Greens about 31 Km away
Lake View Park 20 Km away approximately
Bani Gala approximately 17.2 Km faraway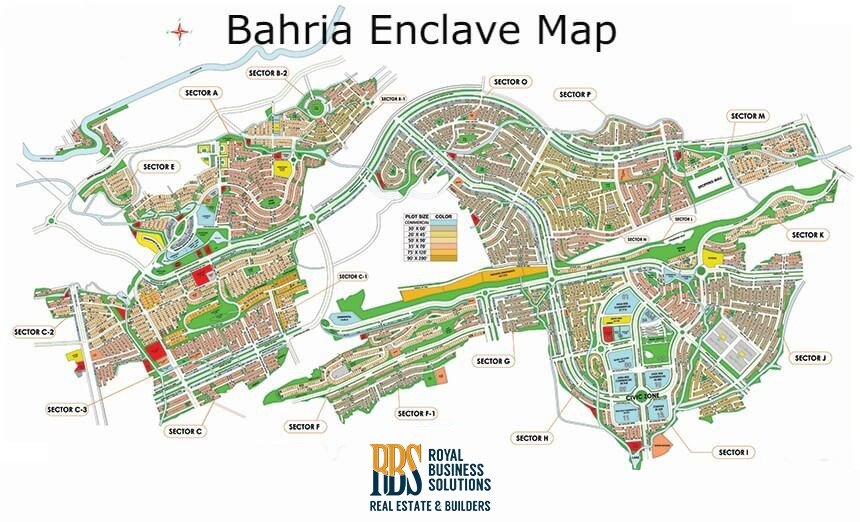 The location of Bahria Enclave is great for living in and making high-yield investments.
Bahria Enclave NOC:
The Bahria Enclave-I Islamabad is a CDA approved housing complex. This contemporary and magnificent housing society with a land area of 12,543 Kanals has a bright future not only because of its location, but also because its NOC has been properly granted. The Capital Development Authority (CDA) approved the Bahria Enclave layout design on 29 December, 2020.
In addition, the NOC for Bahria Enclave-II, which is 1,180 Kanals, was given on February 11, 2021. Investors as well as the citizens are breathing a sigh of relief due to the latest development. This is due to the fact that the CDA has now also approved the NOC for Bahria Enclave-II in Zone-IV (B).
Development Status
There are already a lot of families living in Bahria Enclave Islamabad who are happy to call it home. Bahria Town Pvt. Ltd. worked very hard and in a professional way to build this housing society. Even though the society is very hilly, Bahria Town has been able to build about 80% of the places where people live in just a few years.
Moreover, most parts of Bahria Enclave Islamabad have finished building their infrastructure. Parts of society that are more developed have all the basic as well as modern amenities. Residents also have access to important things like education, health care, and much more. In all parts of Bahria Enclave Islamabad, construction is going on quickly. As well as newly constructed regions feature residential in addition to business plots for sale.
Prices of Bahria Enclave
Since Bahria Enclave Islamabad is a nearly finished housing development where more than eighty percent of the land is fully developed and ready for building, prices are likely to keep going up at the same rate as construction goes on.
Bahria Enclave Islamabad still has prices that are competitive with the market, and they offer more value and amenities for the money. Even though the prices of Bahria Enclave are a bit higher than those of other Bahria Town projects, the prices are well worth it when you consider the location, the high standards of development, and the countless amenities that will be available to residents.
The estimated costs of residential plots in Bahria Enclave Islamabad are as follows:
| | |
| --- | --- |
| 5 Marla | 50 lacs – 1+ Crore. |
| 8 Marla | 80 lacs – 1.40+ Crore. |
| 10 Marla | 1 Crore – 2.20+ Crore |
| 1 Kanal | 2.40 Crore – 3.50+ Crore. |
| 2 Kanal | 5.50 Crore – 6.50+ Crore. |
| 4 Kanal | 11.00 Crore – 11.50 Crore. |
Estimated prices for commercial plots in Bahria Enclave Islamabad are as follows:
| | |
| --- | --- |
| 4 Marla | 2.20 Crore – 4.00+ Crore |
| 5 Marla | 2.80 Crore – 4.50+ Crore |
| 8 Marla | 3.80 Crore – 7.00+ Crore |
Bahria Enclave Islamabad house for sale on installments is as well available for the would-be investors.
The Master Plan For Bahria Enclave In Islamabad
Sector A is the first residential sector in Bahria Enclave Islamabad; Sector B is the second, and so on.
Number of Plots:
8828 Residential Plots
684 Commercial Plots
Bahria Enclave Sectors Diversity
This society has made a lot of progress in terms of development, as a result, many areas are now ready for people to move in.
Here is a detailed look at all of the sectors:
Sector A:
Furthermore, the most expensive part of Bahria Enclave Islamabad is the  A sector, which is mostly because it is 100% finished and has high-end amenities. Along with apartments, this area has places to live and places to work. It's already been lived in, and it has a fully built mosque, parks, open spaces, and all the basic services that people need.
A high-end apartment building called CUBE is being built, as well as people should be able to move in about 6 months. This area has plots that are 10 Marla and 1 Kanal.
Sector B:
This area is also built up, and many families already live here. About 60% of this area is occupied. Also, the owners of the remaining plots will soon be made public.
Because of depression, the value of a plot is lower than average. Plots are lower than the level of the road, so extra construction costs are needed for piling. Here, plots cost a lot, but investors are likely to make a lot of money in the future. It has five, eight, ten, as well as one kanal plots.
Sector C:
The Bahria Enclave's Sector C has three more parts, called C-1, C-2, and C-3. C sector is done being built, as well as all of the property has been given to its rightful owners. This block has plots that are 1, 2, and 4 kanals.
Here are the different parts of Sector C:
Sector C-1:
It is the main extension of Sector C, and 90% of the development is already done. Furthermore, people can move in, and construction is still going on in the other 10%. The rest of C-1 is still being built, and possessions are not yet available there. There are 10 Marla and 1 Kanal residential plots in Sector C-1.
C-1 Extension:
Afterwards, this is an extension of Sector C-1. About eighty percent of it has already been built, as well as the rest is going up quickly. The plots in the C-1 extension are given back to their owners. Subsequently, there are 10 Marla plots and 1 Kanal plots for sale here.
Sector C-2
C-2 is having cuttings of ten Marla plots and one Kanal plot. Seventy percent of the development in this area has been finished, and more development is still going on.
Some plots have been given back to their owners as of late. Here, too, prices have gone up a lot because there aren't as many plots and the market needs them more.
Sector C-3:
This part of C Block has plots that are 10 Marla and 1 Kanal. Rapid building is going on here, and sixty percent of the land has been developed.
Sector E
This part of Bahria Enclave Islamabad is well-known because it is right next to Sector A, which is a great spot. It is finished, and customers can own their own parts of it.
As well as one of the biggest problems with Sector E is that the land is lower than the ground level, so a lot of filling has to be done there. It's one reason why investors and buyers don't pay attention to this sector: it makes construction costs go up.
Here, you can buy 1 Kanal plots at reasonable prices, but their prices will go up in the future, which could be good for investors.
Sector F
Sector F is in a beautiful place on top of a hill with great views of the other sectors of Bahria Enclave. It is a great place to live because it has everything you could want. This area is in the final stage of development right now, with ninety percent of the work already done.
Because the ground is hard and rocky and prices are low, the commercial sector is taking longer to grow. Therefore, it's the perfect chance to invest in the future. There are plots of 5, 8, and 10 Marla and 1 Kanal here.
Sector F-1
Sector F-1 is an extension of the back of the hill's Sector F. This area is linked to Sector C by a road, and it can also be reached from Sector G. Almost sixty percent of the development work is done, and more work is still being done.
Sector G
Sector G is in its final stages of development and will be finished soon. Because the land is flat and level, prices are higher. Likewise, Sector G has both residential and commercial real estate, and prices are expected to go through the roof when construction is done. Plots are put into two groups: 8 Marla and 10 Marla.
Sector H
This area has already been completely built up. Since it is next to CIVIC Zone, the commercial area of Sector H is a very nice place to live. In this sector, 5 Marla residential plots are for sale.
Sector I
There are 5, 8, and 10 Marla plots in Sector I. But this part is below ground level and needs to be raised. Even though it isn't fully built up yet, many streets are already done.
Sector J
Moreover, It is one of the most popular areas in Bahria Enclave because of how nice it looks and how much people want to live there. It has a lot of buyers and investors interested in it. Some of the 8 marla residential plots area is fully built up as well as possessions are available, but the rest is not yet built up. In the same way, the 10 Marla plots area is finished and ready for use.
Sector K
It is another part of Bahria Enclave Islamabad that hasn't been built out yet, and plots are cheaper than in other parts. Residential plots of 10 Marla are available in Sector K. This block is near Simly Dam Road, so it has a much better chance of doing well in the future. Also, some streets in K Block are almost done being built, and work is still going on in the other streets.
Sector L
Sector L only has a small number of residential plots that are 1 Kanal. This area is only partly built up, but it is in one of the best spots in Bahria Enclave Islamabad.
Sector M
Sector M is another building block in Bahria Enclave, Islamabad. About half of this building block is ready to move into, additionally, the other half is still being built.
As well as the most anticipated Bahria Enclave City Center, a huge shopping mall by Bahria Town, is one of the best things about this block. Sunset Homes is also in Sector M. It is in a developed triangle area with a lot of houses.
There are 10 Marla as well as 1 Kanal residential plots in Sector M. The area of 10 Marla is mostly built up, while the area of 1 Kanal is mostly not built up.
Sector N
Half of Sector N  is delivered and work is still going on the other half. It's on solid land at a higher altitude, which gives it great views and beautiful features.
In addition with that. there are 5, 8, and 10 Marla plots in Sector N. Some parts of 5 Marla and 8 Marla streets are for sale, and 10 Marla plots are in the process of being built. The last steps of a building are being done on 5 Marla plots, as well as 60% of people now own them.
Sector O
Sector O is under construction. A big part of this block is in court right now, so if you want to invest here, you should think carefully about your choice. Residential plots come in sizes of 5 and 8 Marla in Sector O.
Sector P
Residential plots come in sizes of 5 and 8 Marla in Sector P. The pace of development is slow, as well as only 25 to 30% of Sector P is built up so far.
Bahria Enclave Islamabad Features
Here are a few of the most important features of the society.
Restaurants
Cine Gold Plex Cinema
Parks & Zoo
Commercial Areas
Complete Gated Community
International Standard School & Hospital
Great Jamiah Mosque
Underground Provision of Electricity, Gas, Water, telephone
100 feet wide roads, landscaped with Green Belts & Footpaths
Conclusion
Residents of Bahria Enclave have access to a lot of open space, family activities, sports and games, as well as amazing homes. Also, this project meets all of the needs of consumers today. Bahria Enclave Islamabad is by far one of the most expensive places to live in all of Islamabad. It is better than other projects in Bahria Town because it is so much smaller. Also, it is among the most elite private housing projects in Islamabad. When it first came out, you could buy a Bahria Enclave house in Islamabad on instalments, but now you have to pay for it all at once.
Additionally, Bahria Enclave is an incredibly well-thought-out housing community with modern amenities that are in line with international living standards. It is a peaceful place to live that offers modern amenities. It is also a great place to make investments that pay off. Bahria Enclave Islamabad is the best choice for people who want high-end luxury as well as a modern way of life. Even though Bahria Enclave Islamabad's property prices are higher than average, the high-end living standards and luxurious way of life are worth it.
As of now, thousands of families live in Bahria Enclave Islamabad. Residents not only have top-notch security, but they also live in a healthy place. Also, this society is one of Bahria Town Developers' most successful projects. On the other hand, since it first opened in 2011, Bahria Enclave Islamabad has grown very quickly. Residents of this housing society can live at an international standard.
Another reason for this housing society's success is the developers of this housing society are Habib Rafiq Pvt. Ltd, one of the renowned names of Pakistan in real estate development, who's also developing Lahore Smart City.
FAQs:
Is Bahria Enclave Islamabad house for sale on installments available?
In short Bahria Enclave Islamabad house for sale on installments is not available yet while some sectors of Phase 2 of Bahria Enclave Islamabad house for sale on instalments are obtainable.
Disclaimer
The entire information about Bahria Enclave Islamabad is taken from their official website. Furthermore, the aim of this content is to deliver information about the project. We are not (and will not be) responsible for society's legitimate or illegal actions.