October 18, 2022
Posted by:

Muhammad Shehzad

Category:

Blogs
ARY Laguna Gujranwala is a first-class signature project of ARY Digital located close to Gujranwala city. Moreover, after the immense success of ARY Laguna Karachi, ARY Laguna comes to Punjab in collaboration with DHA Gujranwala. This venture will introduce top-notch facilities and a unique living experience for the residents of Gujranwala and other surrounding cities. Furthermore, ARY Laguna Gujranwala is a collection of luxury, villas, apartments, and residential plots around a beautiful beachfront.
Overview of ARY Laguna Gujranwala
ARY Laguna is no doubt one of the most anticipated real estate projects in Pakistan. Moreover, this project not only follows international standards but also aims to introduce Laguna's living style for the first time in Punjab. ARY Laguna Gujranwala is intended to transform living into a beach paradise by bringing together international living standards, modern architecture, and a unique master plan. Furthermore, this project offers affordable living, providing access to world-class amenities and several business opportunities.
Owners & Developers
ARY Group developed the ARY Laguna Gujranwala project in accordance with international standards. Moreover, it's a joint venture between ARY Group and Defense Housing Authority. This project is launch after the success of DHA Karachi.
Furthermore, as we all know that DHA is a renowned developer and deliver many successful projects in the past. ARY Group has joined hands with DHA to develop this masterpiece.
NOC (No Objection Certificate)
The NOC of ARY Laguna Gujranwala is approved by Defense Housing Authority (DHA) Gujranwala. Moreover, this approval gains the investor's trust and ensures them that their investment is safe in ARY Laguna.
ARY Laguna Gujranwala Location
The project lies adjacent to G.T Road near Gujranwala city. The ARY Laguna Gujranwala location map is easily accessible. Moreover, the location plays an important role in the success of any real estate project. The project features an ideal location and is easily accessible from multiple areas of the city. New City Paradise also features a prominent location surrounded by various landmarks.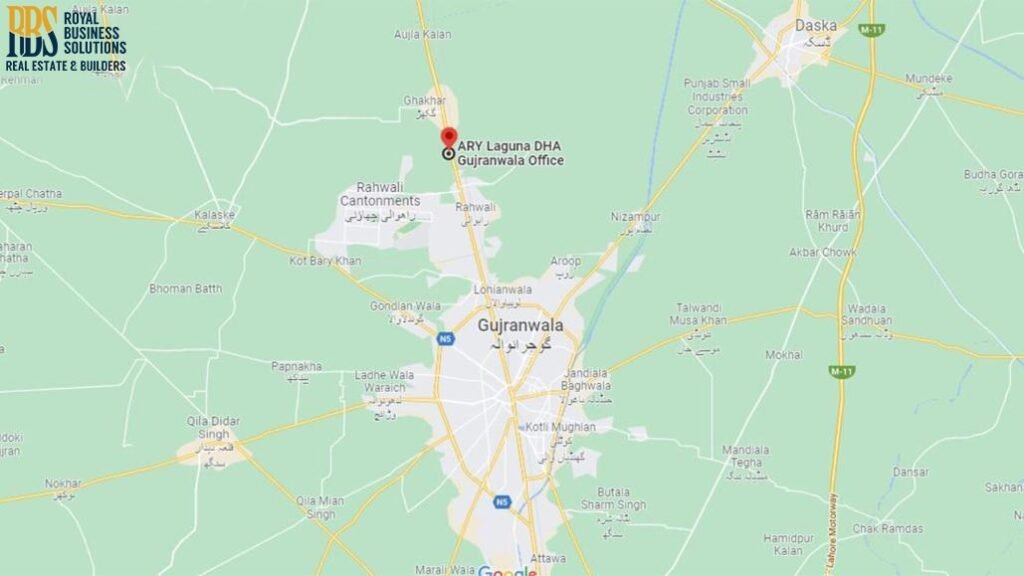 Accessibility
Besides, DHA Gujranwala is surrounded by various famous places and landmarks. Therefore, it's an admirable society to live in and the existence of ARY Laguna is the cherry on top! Following are the accessibility routes of ARY Laguna from different places.
Almost 1-hour drive from Muridke City
1-hour drive from Sialkot City
Moreover, 1.5 Hour's drive from Jhelum City
Nearly, 15 mint drive from Gujranwala Old City
2-hour drive away from Islamabad's capital
Furthermore, almost a 2-hour drive from Lahore City
Almost 30 mint drive from Wazirabad and 35 Mint drive away from Gujrat City
Approximately 35 mint drive from Kamoke City
ARY Laguna Gujranwala Nearby Landmarks
The society is surrounded by various landmarks such as
Gakhar
Civil Lines
Wazirabad
Satellite Town
Gujranwala City
Rahwali Cantonments
Punjab University Gujranwala Campus
Layout Details
The master plan of ARY Laguna Gujranwala is designed by well-skilled professionals. Moreover, the project spans over 400 acres of land. In addition, the master plan includes a beach, villas, Laguna apartments, penthouses, and an artificial beachfront. An ultrasonic water filtration plant is also incorporated into the master plan. Aside from these, the layout plan also includes shopping malls, clubs, parks, restaurants, beachside dining, and much more. Furthermore, the property is offering in the following categories:
Residential Plots
Villas
Hotel Villas
Apartments
Mansions and Island Mansions
Size Ranges
5 Marla
10 Marla
1 Kanal
2 Kanal
4 Marla Mansions and Island Mansions
8 Marla Mansions and Island Mansions
ARY Laguna Gujranwala Payment Plan
The payment plan of ARY Laguna Gujranwala is affordable with an easy installment plan. Moreover, the plots for sale in ARY Laguna Gujranwala are open for booking. The payment plan is as follows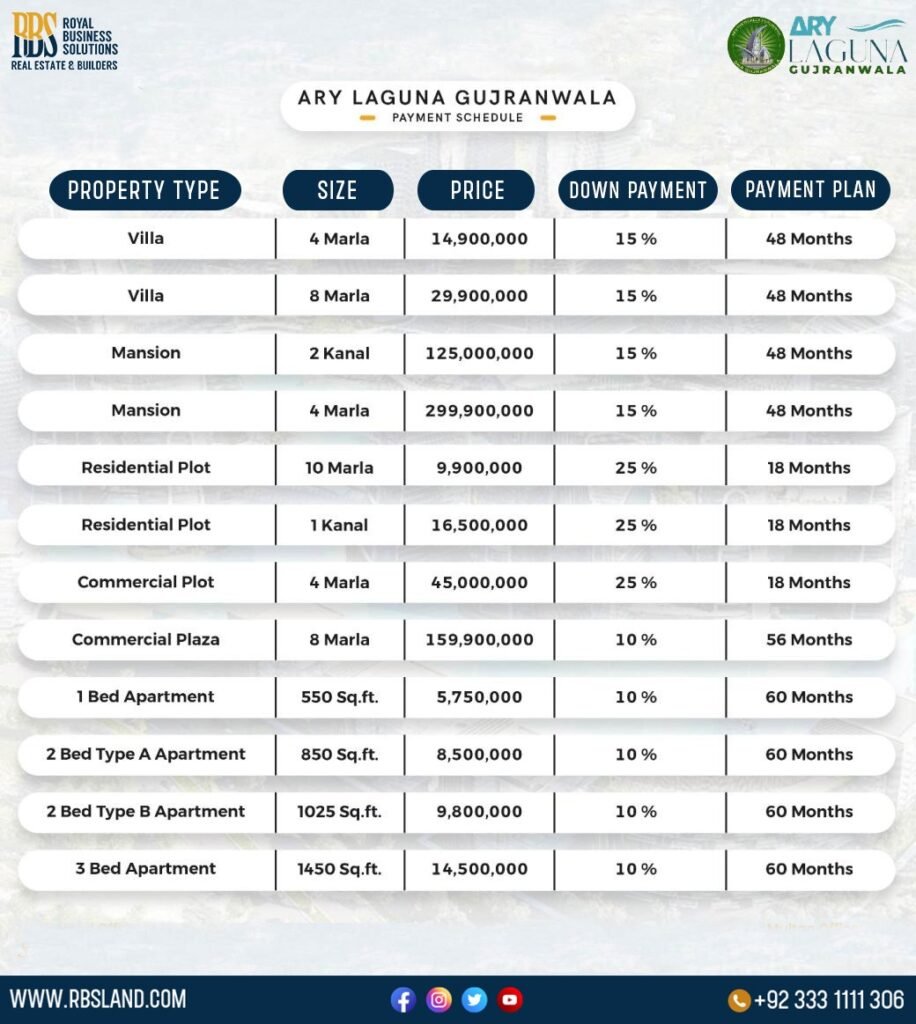 Exclusive Amenities and Features
This astonishing project offers all basic and modern amenities at budget-friendly rates. Moreover, the developers occupied a large area for developing parks; playgrounds, family clubs, etc. It is considering the most lavish society that fulfills the modern needs of people. Furthermore, the facilities offering in this project are as follows
Eco-friendly Environment
The society will offer an environment-friendly and natural lifestyle with all ultra-modern amenities. Additionally, it provides a unique experience that could not be finding anywhere in Pakistan's housing schemes.
Water Resources
An ultrasonic water filtration plant is installing to ensure the provision of clean drinking water. Moreover, water reservoirs are used to store a large amount of water for residents' daily use.
Business & Commercial Hub
The society offers a community club for fulfilling the commercial needs of residents. For this purpose, the developers offers all in one commercial area.
Secure Community
Security and safety is the essential need of any individual and a gated community ensures safety. Moreover, the society is surrounded by boundary walls, and CCTV cameras are also installed to provide a high safety level.
High-Quality Road Infrastructure
The roads are constructing with a high degree of professionalism to ensure perfect development. Moreover, the streets and Main Boulevard are wide which gives a beautiful look.
Health Facilities
The developers also pay particular attention to health facilities and develop various international hospitals and clinics in society. Furthermore, the emergency will open and staff is available 24/7.
Is Laguna Gujranwala a good investment?
The society is considering as a magnet for investment. Moreover, the project offers a high standard of living for you and your family. It's a world-class community that offers a clean and green environment to its residents. Furthermore, all kinds of properties such as villas, plots, and mansions are available for sale in ARY Laguna to facilitate the buyers. Another interesting aspect of ARY Laguna Gujranwala is the affordable prices and feasible installment plan. In addition, the society is developed and designed by well-trusted developers so you can invest there without any insecurity. Furthermore, you can also book a villa of your choice to make your dreams true.
You can also book residential as well as commercial plots in Blue World City, and Nova City Peshawar.
Frequently Asked Questions (FAQs)
Q1: Is it an approved housing society?
Ans. The DHA authority approved the NOC of  Laguna Gujranwala.
Q2: Who are the developers of Laguna Gujranwala?
Ans. It was developed by ARY Group.
Q3: Is it an affordable housing scheme?
Ans. Yes, the plot prices are affordable due to the availability of a feasible installment plan.
Q4: What is the ARY Laguna Gujranwala location?
Ans. The society is located at main G.T road.
Q5: What was the ARY Laguna Gujranwala completion date?
Ans. The society was officially launched on 9th January 2022.
Q6: What kind of property is offering in this society?
Ans. It offers villas, apartments, Mansions as well as Commercials.
Conclusion
ARY Laguna Gujranwala is a luxurious project develops with just one aim: to provide world-class amenities and a standard lifestyle to its residents. This project is introduced after the success of ARY Laguna in Karachi. Moreover, the main features of this society are the best facilities, a beach view, an ideal location, as well as affordable rates. Furthermore, if you are looking for a place to enjoy a beach view and modern amenities then ARY Laguna Gujranwala is the best option for you. So, RBS Land, highly recommends you avail this golden opportunity.