October 4, 2023
Posted by:

Muhammad Afzaal

Category:

Blogs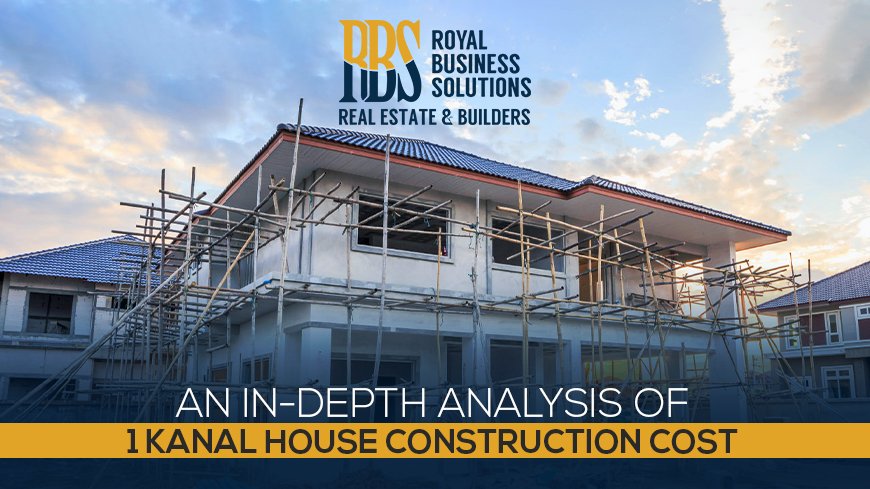 Building your ideal home is a difficult task. Effective planning and a team of professionals to guide you through the journey are essential. Understanding the financial requirements of the construction process before embarking on your dream home project is crucial. This is precisely why we have outlined a budget to assist you in managing your resources. In this blog post, we'll discuss an in-depth analysis of 1 Kanal house construction cost.
What is the Construction Cost for a 1 Kanal House?
Before getting into further details, it's crucial to understand the fundamental aspect— the covered area of a 1 Kanal house. A double-story 1 Kanal house encompasses an area of 5,950 sq. ft., with 3,000 sq. ft. allocated for the ground floor and 2,700 sq. ft. for the first floor. Additionally, there's a mumtee (an outdoor structure) of approximately 250 sq. ft.
In terms of layout, a 1 Kanal house typically comprises 5 bedrooms with attached baths, a kitchen on each floor, and a powder room.
Cost of Constructing the Grey Structure for a 1 Kanal House
Constructing the grey structure of a 1 Kanal house involves obtaining essential materials such as rebar, gravel, kassu, wiring, cement, and bricks. Additionally, the grey structure cost covers the main gate of the house, plumbing, complete electric wiring of the house, and the construction of the tank.
However, in calculating the overall cost, it's essential to consider the labor required for these tasks. Understanding the labor charges for each service is crucial in ensuring a comprehensive budget for the grey structure construction.
Cost for Labor
It's important to note that laborers charge on a per square foot basis. Therefore, for constructing a 1 Kanal house, the labor cost is set at 395 PKR per sq. ft. Now that you are aware that the double-story house includes an area of 5,950 sq. ft., the total labor cost amounts to approximately 2,350,250 PKR.
Bricks, Crushed Stone, Gravel, and Sand
Before knowing the pricing details, understanding the necessary quantities of materials for building the house is crucial.
To begin, it's essential to determine the number of bricks required for construction, which amounts to approximately 135,000 bricks. The price for good-quality bricks in Pakistan stands at 11 PKR per brick. Consequently, the total cost for the bricks is approximately 1,485,000 PKR.
Both sand and gravel are fundamental for establishing a robust foundation for the house. Given the substantial size of a 1 Kanal house, you'll need approximately 2,100 cubic feet of Chenab sand and 5,250 cubic feet of Ravi sand. Chenab sand is priced slightly higher than Ravi sand.
In the market, Chenab sand price is at 37 PKR per cubic foot, bringing the total to 77,700 PKR. On the other hand, Ravi sand is available at a rate of 21 PKR per cubic foot, requiring a total payment of 110,250 PKR for the entire quantity.
Gravel is utilized for the roof construction, necessitating about 2,200 cubic feet. The market rate for gravel is 75 PKR per cubic foot, resulting in a total cost of 165,000 PKR.
Lastly, Sargodha crush is essential for the flooring. You'll need a minimum of 1,200 cubic feet, priced at 76 PKR per cubic foot, totaling 91,200 PKR. Additionally, rori, used in the construction of the grey structure of the house, incurs a cost of 65,000 PKR.
Overall Total for Bricks, Crushed Stone, Gravel, and Sand = 1,994,150 PKR.
Sarya, Kassu, and Cement
The main question here is what is kassu? It's a blend of sand and soil, a significant material in the construction of a house. To establish the foundation of a 1 Kanal house, a minimum of 200,000 PKR worth of kassu is essential.
Sarya is another essential material, and at least 9 tons of 60-grade Sarya is needed for the one Kanal house available in the market at 105/kg making a grand total of 945,000 PKR.
It isn't possible to build a house without cement. The total number of cement bags needed to build a Kanal house is 1,600 which are available in the market at the rate of 570 PKR. Hence, the costs attributed to cement amount to 912,000 PKR.
Total Cost for Rebar, Kassu, and Cement = 2,057,000 PKR
Plumbing and Electrical Wiring
Regardless of the house size, be it a 5 Marla residence or larger, plumbing holds immense importance. If the plumbing system's design is incorrect or subpar materials are used, the structural integrity of the entire house can be compromised swiftly. Essentially, a robust plumbing system is a cornerstone for the long-term functionality and stability of the house. Therefore, compromising on quality is not a viable option.
It's crucial to engage a professional for this task, with a recommended minimum budget of 210,000 PKR to ensure a high-quality plumbing system.
Additionally, proper electrical wiring is equally vital, as a single spark or an incorrect wiring move can result in significant property damage or pose risks to nearby individuals. The estimated cost for expert electrical wiring services is 200,000 PKR.
Consequently, the total cost for plumbing and wiring amounts to 410,000 PKR.
Grill, Gate, and Other Items
Steel holds significant importance in the construction of a house. Approximately 94,500 PKR worth of steel is necessary for a 1 Kanal house. Additionally, the building and installation of the main gate require an estimated 150,000 PKR.
Let's not overlook the significance of safety grills, as they are a vital necessity, incurring a cost of around 133,000 PKR.
Furthermore, it's imperative to consider elements that could potentially harm the house, such as termites. Taking preventive measures in this regard is crucial. Employing a high-quality chemical spray is the best solution to mitigate this issue, with a total cost of at least 45,000 PKR. Additionally, a minimum of 25,000 PKR is required for the construction of the septic tank.
Now that you have a comprehensive understanding of each element required for the grey structure and its associated costs, it's time to calculate the cumulative price and determine the total cost.
Total Grey Structure Cost for a 1 Kanal House = 7,519,900 PKR
Read: Why Is High Rise Construction So Important To The Skyline Of A City?
Cost of Finishing for a 1 Kanal House
The finishing phase for a 1 Kanal house is just as intricate and time-consuming as the grey structure. Therefore, becoming overly neglecting attention to detail is not advisable.
Detailed information regarding the finishing cost for the construction of a 1 Kanal house is provided below.
Tiles and Marble Costs
Tile installation is a skill that not everyone possesses. Therefore, when selecting a team for this task, it's essential to ensure they have extensive experience. Moreover, the careful selection of the right tiles is a crucial step to be taken by the individual.
Various types and quantities of tiles are required for the entire house. The specifics are outlined below.
To cover the house floor, excluding the terrace, garage, and bathroom, a minimum of 465 tiles is required. The market price for quality tiles is 2,500 PKR per sq. ft. Therefore, the total cost for this amounts to 1,162,500 PKR.
For the terrace, 75 tiles are necessary, priced at approximately 1,200 PKR per piece. Additionally, to cover the garage of a 1 Kanal house, 700 tiles are needed, each costing 75 PKR. The combined cost for both areas totals 142,500 PKR.
Marble is a widely utilized material in Pakistan for home construction. Primarily, it is used to construct staircases, amounting to around 162,500 PKR. Additional expenses of 50,000 PKR may required for kitchen countertops and other areas.
After calculating the aforementioned prices, it's important not to overlook the labor cost. The labor charges for this task would be approximately 375,000 PKR.
Thus, the overall cost for tiles and marble is approximately 1,892,500 PKR.
Electrical Materials
After the wiring is completed, it's important to note that the work doesn't end there. Installation of switchboards and other related components is equally critical to ensure safety and prevent electrical mishaps.
For a 1 Kanal house, a minimum of 35 switchboards is required, with each board priced at approximately 850 PKR. Additionally, plugs and sockets are essential, with 35 of them costing around 475 PKR.
The installation of lights and lamps will entail an expense of 240,000 PKR.
Furthermore, for a 1 Kanal house, at least 14 fans are needed. A high-quality fan in the market price at approximately 5,500 PKR. Additionally, a minimum of 8 exhaust fans is required, each priced at 2,500 PKR.
The circuit breaker used in the house is priced at approximately 100,000 PKR.
Lastly, hiring a professional for this task is advisable, incurring an expense of around 50,000 PKR.
The cumulative total for all the aforementioned electrical components amounts to 533,375 PKR.
Bathroom and Kitchen Accessories
Both areas are pivotal in a house and necessitate the right accessories to achieve a polished appearance.
Beginning with the kitchen, two kitchen hoods are essential, with each hood priced at 50,000 PKR, totaling 100,000 PKR. Likewise, two kitchen sinks requires, and each sink costs approximately 15,000 PKR, bringing the combined cost to 30,000 PKR.
Shifting focus to the bathroom, six commodes are a must. Each commode in the market price at approximately 15,000 PKR, resulting in a total of 90,000 PKR. Additionally, mirrors, vanities, and other bathroom accessories are necessary, with the overall cost amounting to 200,000 PKR.
So, achieving the desired look for both the bathroom and kitchen will require an investment of approximately 450,000 PKR.
Painting and Ceiling Work
Once the light fixtures, tiles, and all other components installs, attention turns to the crucial steps of painting and ceiling work. This marks a significant phase indicating the nearing completion of the house.
Exercise caution during this step, as it can greatly influence the overall appearance of the house. Opt for timeless colors that impart an elegant look to the space. Engage a specialist for this task as it involves intricate work. The entire process, encompassing painting and the fees for the painter, will require an investment of approximately 630,000 PKR.
For the exterior of the house, Rockwall is a popular choice in Pakistan. Not only does it require minimal maintenance, but it also enhances the structural strength. The cost for this application amounts to 130,000 PKR.
The ceiling process entails an expenditure of 362,375 PKR.
So, the total cost for painting and ceiling work is 1,122,375 PKR.
Windows, Mirrors, and Woodwork
Windows play a crucial role in safeguarding the house from dust and potential intruders, while mirrors add a distinctive touch to the overall aesthetics.
The installation of aluminum windows and glass panes throughout the house entails an expense of 575,000 PKR.
Staircase railing installation comes at a cost of approximately 125,000 PKR.
For mirrors, a budget of 75,000 PKR is needed.
Shifting the focus to woodwork, it serves in constructing wardrobes, cabinets, and various fixtures within the house. Neglecting investment in this area may result in separate purchases from the market later, incurring similar or potentially higher costs.
Wood, especially quality wood, comes at a notable price. For a rough estimation, factoring in doors with polish, handles, kitchen cabinets, built-in wardrobes for each room, and an LCD rack, the total woodwork cost amounts to approximately 1,340,000 PKR.
In total, the collective finishing cost for a 1 Kanal house is 6,113,250 PKR.
Check out How Can You Maintain The Value Of Your Home?
Conclusion
After concluding the total costs for the grey structure and finishing, the overall construction cost for a double-story 1 Kanal house is calculated as follows: 7,519,900 PKR (grey structure) + 6,113,250 PKR (finishing) = 13,633,150 PKR. Now that you possess proper guidance on the construction cost for a 1 Kanal house, it's the opportune moment to commence the home-building process.
For those contemplating the construction cost of a single-story 1 Kanal house, simply halve the total amount to obtain the grand total. Lastly, it's important to note that the provided prices are based on information sourced from the market, and there may be variations based on multiple factors across different cities.
A peaceful environment with a variety of amenities may be the type of environment you are searching for if you have ever considered Capital Smart City Islamabad as an option.