December 24, 2022
Posted by:

Muhammad Shehzad

Category:

Blogs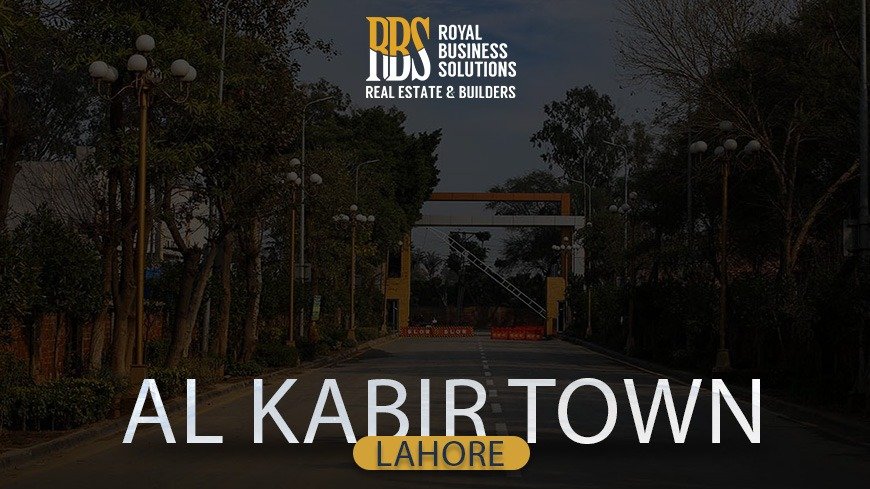 Al Kabir Town Lahore is a well-designed aesthetic community located in the ideal location of Lahore, Main Raiwind Road. It was begun in 2016 by an emerging development firm Al Kabir Developers. Moreover, the society is offering a beautiful and modern lifestyle at cost-effective rates.  This society is the initiative to provide luxury and modern living space to the people of Lahore. Furthermore, the project is located at a promising location near all central locations of Lahore.
Al Kabir Town Lahore Developers
The developers of Al Kabir Town Lahore are Al Kabir Developers. They began their journey in 2016 by launching phase I of Kabir Town. Moreover, after the immense success of Phase, I of Kabir Town, phase II and phase III have been launched.
Furthermore, the company owner is Chaudhry Aurangzeb. Lt. Col (R) Pervaiz is the Senior General Manager and Major (R) Tariq Manzoor is The Chief Engineer of Al Kabir Developers. All of them are professionals and highly experts in the real estate field.
In March 2017, Al Kabir Developers launched Al Kabir apartments. Moreover, after Phase II Blocks A, B, C, and D were hand out to the investors. Later on, Block E was launched in July. Such quick development has built an irreversible bond between developers and investors.
Al Kabir Town Lahore NOC
Rawalpindi Development Authority (RDA) gives the NOC approval to Al Kabir Town Lahore. Additionally, all other important documents are approved too. NOC approval plays a very important role in real estate projects. Moreover, it increases the authority of the project and its legal status attracts investors a lot. Furthermore, it's the priority of every residential society to acquire NOC, so the developers have got all LDA approvals.
Location & Map
Al Kabir Town Lahore is located on Raiwind road Lahore. Moreover, the society is divided into three phases. Al Kabir town Phase 1 lies on one side of Raiwind Road Lahore while phase II is situated on the other side of this road.
Accessibilities
Following are the quick and easy access routes to Al Kabir Town Lahore.
It is located right at Raiwind Road Lahore
Nearly, almost 5 min drive away from Lahore Ring Road
Nearly, 3 min drive from Sharif Medical City Road
Nearly, 19 min drive away from Multan Road
Nearly, 9 min drive from Defense Road
Almost, 14 min drive away from Canal Road
Nearby Landmarks
There are various landmarks and famous places close to Al Kabir Town such as:
Lake City
Bahria Town
DHA
Valencia
WAPDA Town
Kot Araian
Bahria Orchard
Master Plan
The master plan of Al Kabir Town Lahore is strategically planned by well-known developers and architects. Moreover, the master plan is design with absolute attention to detail by high level professionals.  They ensure to provide a classy and comfortable living space.
According to the project timeline and design, Phase I was launched in 2016, and apartments were launched in March 2017. Furthermore, Phase II blocks were made available to investors after two months, including A, B, C, and D blocks. Later in July, Block E was launched, followed by Phase III, also known as Kings Town.
Al Kabir Town Phase I
In phase, I of Al Kabir Town Lahore, residential plots of various sizes are offering such as 3 Marla, and 5 Marla and commercial plots are also offering of 3 and 4 Marla in Block A. Moreover, the plot prices are very affordable as compare to other nearby societies. You can buy a plot in full cash payment as well as in installments.
Al Kabir Town Phase II
The developers are offering 3 Marla, 5 Marla, 7 Marla, and 8 Marla residential and commercial plots at reasonable rates. Moreover, bookings are now open for the Al Kabir Town phase 2 plot for sale. Phase II lies at a most strategic and ideal location exactly at Raiwind Road opposite the Main Boulevard of Lake City.
Al Kabir Town Lahore Blocks
The society is splitting into various blocks such as
Ali Block
Usman Block
Umer Block
Abu Bakar Block
Apartments in Al Kabir Town Lahore
The society offers a wide range of luxurious apartments at budget-friendly rates. Following are the apartment sizes offering in Al Kabir Town Lahore.
450 square feet (Studio Apartment)
650 square feet
700 square feet
750 square feet
900 square feet
1050 square feet
1100 square feet
Al Kabir Town Lahore Houses
Developers are also offering Al Kabir Town Lahore houses for sale at cost-effective rates. The sizes of luxury homes are as follows
5 Marla house for sale in Al Kabir Town Lahore (Ground floor)
First Floor (25 X 45)
Second Floor (25 X 45)
Payment Plan
Al Kabir Town Lahore's payment plan is statistically design by experts. Moreover, developers have ensured to label this society as luxurious and affordable by offering easy payment plans. Capital Smart City also offers feasible installment plan at cost-effective rates.
Facilities and Amenities
The society offers a wide range of world-class amenities at affordable rates. In addition, following are the exclusive amenities in Al Kabir Town that have no match in Pakistan.
Hotels & Restaurants
The society offers luxurious hotels that constructs according to international standards. Moreover, to satisfy the hunger cravings of residents, various restaurants are available.
Health Facilities
Modern hospitals are constructing in society to fulfill the medical needs of residents. Moreover, doctors and staff are available 24/7.
Climate Friendly Environment
The society provides close to nature eco-friendly environment at budget friendly rates. Nature's closeness gives peace and a unique lifestyle that could not found in any other housing societies of Pakistan.
In addition, people's health suffers as they become more isolated from nature as they live in increasingly congested cities. Greenery in society ensures a healthy and environment-friendly lifestyle.
Power generation & Electricity Backup
The housing society has its own power plant. Moreover, the society also has a power backup generator that ensures an uninterrupted supply of electricity.
Educational Complex
To fulfill the educational needs of residents, the society has various schools built with modern technologies and international infrastructure. Furthermore, teaching staff will be very professional and well-trained in their specified field to have the best education.
Business & Commercial Hubs
The society management has taken care of all kinds of residents' needs such as residential, commercial, and social. For this purpose, business and commercial centers are developing so the residents may fulfill their commercial needs while staying in the premises of society.
Safe & Secure Community
CCTV cameras are installing to keep society secure. Moreover, a Gated community ensures safety. The society will be surrounded by boundary walls with a foolproof system to ensure a premium security level.
Frequently Asked Questions (FAQs)
Q1: What is Al Kabir Town Lahore & how is it different from other housing societies?
Ans. It is a more advanced version of a residential society in the development stage, also complete with high-tech equipment.
Q2: Is it an approved or legal housing society?
Ans. Yes, it's NOC is approved by LDA.
Q3: Who are the owners and developers of  the project?
Ans. Al Kabir Developers owns this masterpiece.
Conclusion
Al Kabir Town Lahore is an LDA-approved housing scheme developed with just one single aim; to provide residents top-notch amenities and a luxurious living experience. Moreover, location and Luxurious facilities are the crucial features of this society. We highly recommend availing of this golden opportunity as soon as possible.
Furthermore, if you want to know more about such profitable housing societies please read about Lahore Smart City and Countryside Farms.