March 22, 2021
Posted by:

Muhammad Shehzad

Category:

Blogs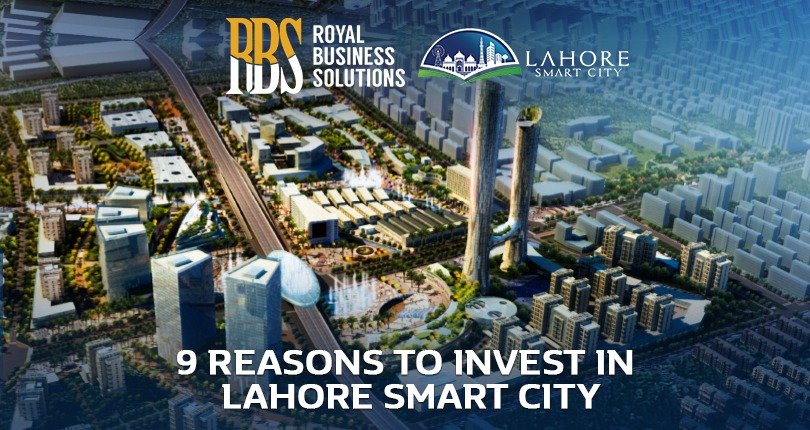 9 Reasons why to Invest in Lahore Smart City
Lahore Smart City is located in the heart of Punjab called Lahore, A city famous for its ancient but world-class infrastructure giving an antique look to the city and presenting a picture of great Mughal emperors. Lahore Smart City will also keep the cultural heritage alive and it will bring an amusing sight but not just that it is also going to be Pakistan's second smart city. Here are 9 reasons that why investment in Lahore Smart City will be beneficial in near future:
NOC:
Living in a country like Pakistan, the investor is always curious about whether the project is authentic and safe or no? People normally don't trust such projects which have no solid approval. So, We got GOOD NEWS! Approval request for Lahore Smart City with Lahore Development Authority (LDA) has been approved, and NOC has been already acquired by the authorities. Now we can call it an investors paradise.
Location:
After getting mentally stress-free from a legal point of view investor then thinks of where he is investing? Location plays an important role in such projects. Lahore Smart City enjoys a prime location of Lahore with a large number of benefits. As, it is located on Kala Shah Kaku Railway station, and closely connected to Lahore bypass and N-5 National Highway. This clearly describes that why investment in Lahore Smart City will provide fruitful results.
Access:
The city has access to four of the top five richest cities in Pakistan which are:
Lahore
Faislabad
Sialkot
Gujranwala
Whereas central Lahore city is just 8km from Lahore Smart City.
Fertile Land:
Thinking from an investor's point of view, project should not take too long to complete, and money should not be stuck in for a long period of time. So, it wouldn't! Land for Lahore Smart City is quite fertile and it will not take too long to develop the land. Machinery working on Lahore Smart City as compared to Capital Smart City is 30% and
the development has already started and the developers (HRL) are renowned for delivering to project on time.
Durability:
Investment should go in such a place which is durable and long-lasting whereas Lahore Smart City is led by world-famous developers Habib Rafiq (PVT) Limited.
If we take a look at Habib Rafiq developers they have completed many state-of-the-art projects like Royal Orchard Multan/Sahiwal, DHA Lahore and Rawalpindi, Motorways all across the country, and Islamabad Convention Centre. Habib Rafiq Developers are famous for delivering Projects within the Given Time Frame.
Unique Project:
Real estate is an emerging industry in Pakistan. People have enormous options to sneak in. but, what makes Lahore Smart City a different place from all other ongoing projects?
Lahore Smart City is a one of its kind project in the provincial capital. As It is featuring an eco-friendly environment and many other smart features like:
1. Smart Street Lights
2. Intelligent Buildings
3. Smart Traffic Management System
4. Wireless Public Announcement Systems
5. Smart Parking
6. Open Theatre
7. Smart Hotels
8. Sports Complex
The city is going to be Pakistan's second smart city with many future approaches and answers us that why we should do investment in Lahore Smart City.
Economic Hub:
Lahore Smart City is going to be a commercial hub in few years as the master plan includes economic zones, silicon valley, and health care districts which will not just facilitate the residents but also make the city an economic hub. Various job opportunities will also be provided and it will be a quite business-friendly place. Moreover, Lahore Smart City is located near Peshawar-Karachi Railway station which is a trade route for game-changer project CPEC, hence it will attract traders towards its immense structure and anatomy.
Elegant Design:
Lahore Smart City has a keen interest in developing the city like non other city in the country. The city will present a true picture of a modern, graceful pleasing, and iconic atmosphere while the city's master plan is designed by the world-renowned Surbana Jurong (SJ), If we take a look at what (SJ) have done in past it takes us on a voyage of few masterpieces like:
1. Beijing Capital International Airport
2. Brisbane Airport
3. Toronto Pearson International Airport-Terminal 3
4. Dubai International Airport
5. King Khalid International Airport
6. Gaya Island
7. New Clark City
8. Rizhao International Ocean City
9. Rwanda Secondary City's Master Plan
10. North Bali Airport
Hundreds of other projects are also in part of Surbana Jurong's excellency.
Theme Park:
Lahore Smart City also gives a complete leisure facility to its residents to enjoy the weekend as well as vacations. The city's most iconic leisure facility includes a theme park consisting of a street food truck park, Birds Park, Food and Beverages, and International Standard holiday resort, furthermore, the theme park is distinctively designed to provide all comforts after a hectic week at work.
Education:
Education is an important pillar in building nations as it helps people to distinguish between good and bad, Moreover, it helps people to get highly skilled and get better jobs.
Lahore Smart City is paying great attention to the education department and there will be a whole district for the Education department.
Educational District includes a university, multiple colleges, and a medical college and National Defence University is most expected to serve the residents of Lahore's smart city.