August 18, 2023
Posted by:

Muhammad Shehzad

Category:

Blogs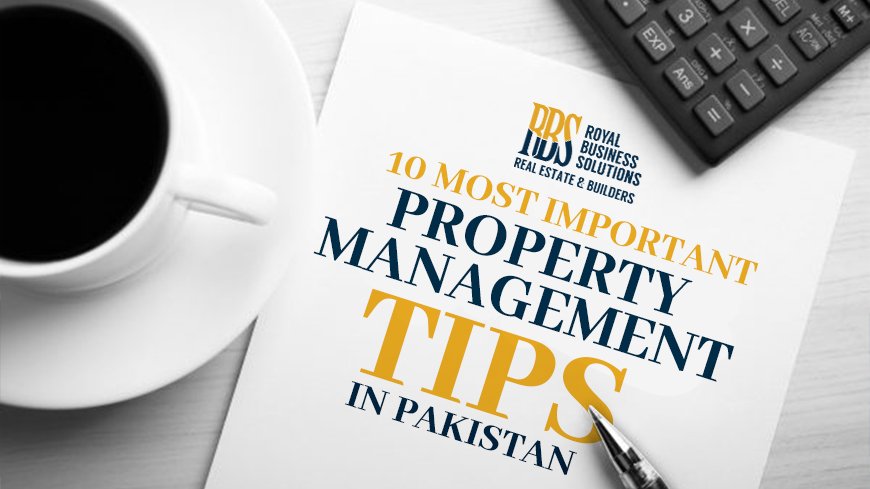 Property management tips for Pakistan is a crucial component of real estate that is frequently overlooked by those working in the industry. One of the most important aspects of property ownership is making sure that properties are kept up, occupied, and generating revenue. Successful property management requires a delicate balancing act of interpersonal abilities, expertise in business, and operational knowledge.
We'll talk about its importance, key responsibilities, and best practices in this blog.
Property Management Significance
On behalf of property owners, property management is the activity of managing residential, commercial, and industrial real estate. Property ownership has its share of obligations even though it can be financially lucrative. Property managers step in to serve as a link between landlords and tenants in this situation. Their responsibilities include keeping the premises, ensuring tenant joy, organizing rent collection, and fixing any problems that may arise.
Kohistan Enclave 3.2 Marla is an excellent option for investors who are looking to invest in residential or commercial plots
What are the challenges faced by the project manager in project management?
Tenant Relations
Managing disagreements and dealing with a wide diversity of tenant personalities can be difficult. Skills in effective conflict resolution and communication are crucial.
Maintenance Coordination
It can be challenging to plan and manage maintenance and repairs while avoiding tenant interruptions.
Regulatory Changes
Real estate rules and regulations are subject to rapid change. To prevent legal problems, property managers must keep up with the times.
Market volatility
Both property owners and managers may be impacted by changes in the real estate market's effects on rental demand and property values.
Time management
Property managers handle a number of jobs at once, from advertising open positions to responding to maintenance requests. Time management skills are essential.
Moreover, if you are willing to know new prospects for generating sales check out the link below:
Identifying New Prospects In Pakistan And Generating Sales
What are the 10 most important tips for property management in Pakistan?
Everybody who has worked in the property management profession is aware of how competitive it is. That is why we are talking about property management tips. It demands a diverse variety of skills that novices might not anticipate.
In spite of being a rewarding and lucrative profession, property management has a difficult and lengthy learning curve. If you want to reach your destination, you must be informed and prepared for the journey. It is aware of the distinction between being a property manager in Pakistan and having a track record of success there.
Think about using these ten property management suggestions to help you deal with different situations and issues in Pakistan.
1. Complete tenant screening
Selecting trustworthy tenants is one of the key components of effective property management. Perform exact background investigations, including inquiries into your credit history, your employment history, and your earlier landlords. Afterward, this will reduce the possibility of future financial default, property loss, or legal troubles.
2. Detailed Lease Agreements
It is essential to create a thorough leasing agreement to prevent misunderstandings and legal issues. Clearly state the terms of the tenancy, such as the due dates for rent, and the guidelines for using the property. Both the landlord and the tenant are protected by valid lease agreements.
3. Maintaining a property regularly
For your property to remain in good condition and attract quality tenants, routine property maintenance is essential. Repairs should be made right away, and regular inspections should be done to spot possible problems before they get worse.
4. Stay Updated with Local Laws and Rules
The laws governing real estate in Pakistan are difficult and dynamic. To guarantee that your property management procedures remain in compliance, stay proficient on local laws, rent control requirements, and tenant rights.
5. Effective Communication
Keep the lines of communication with your tenants open and productive. If they have any issues or questions about the conditions of the contract respond to them right away. Positive communication between tenants and landlords promotes that connection.
6. Rent Collection with Reactivity
Rent collection that is reliable and timely is essential to property management. Implement effective rent-collecting strategies and also hold late payers accountable. Take into account digital payment options to speed up the procedure and minimize delays.
7. Security Measures
Tenants place high importance on safety. Moreover, consider establishing security measures for the property along with adding safe locks. In order to attract tenants and provide them peace of mind, emphasize the security measures that are in place.
8. Rent Pricing Driven by the Market
For your investment to continue to be profitable while attracting tenants, choosing the appropriate rent price is crucial. To learn about the going rental rates in the surrounding area, conduct market research locally.
9. Tenant Search and Efficient Marketing
Having a clear marketing plan is essential when a property is empty. Showcase the property's features online, on social media, and through real estate companies to attract possible tenants.
10. Expert Property Management Services
Although, if maintaining your property becomes difficult, think about hiring a reputable property management service. These professionals have the skills and resources necessary to manage a variety of areas of real estate.
Furthermore, if you are interested to purchase a sales event property check Sales Event Of Gulberg Islamabad, Pakistan's Most Credible Property
Conclusion
Successful property management requires a delicate balancing act of interpersonal abilities, expertise in business, and as well as operational knowledge.
Remember that the goal of your property efforts is to establish a safe, comfortable, and appealing living environment for renters in order to ensure the long-term success of such activities.