August 11, 2023
Posted by:

Muhammad Shehzad

Category:

Blogs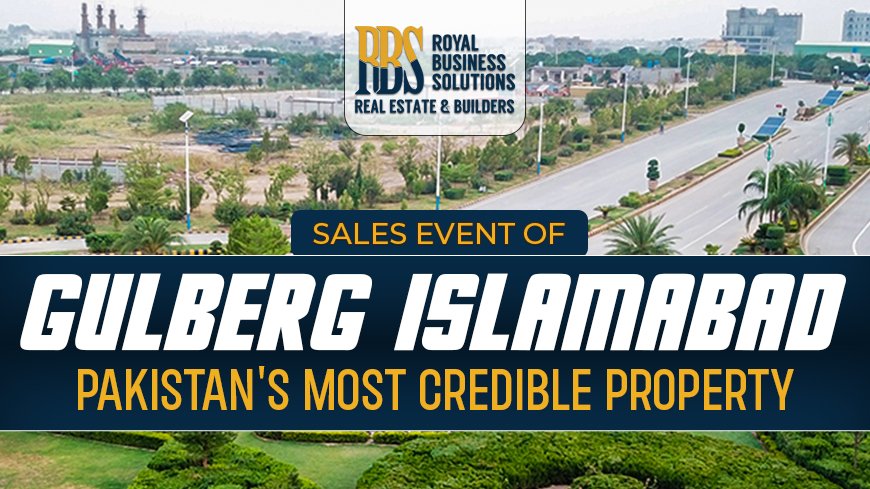 Are you seeking the best investment opportunity that must fulfill your dreams of happy and luxurious living? The sales event of Gulberg Islamabad is Pakistan's most credible property. In this blog post, we'll provide a detail of the latest sales events of Gulberg Islamabad.
Gulberg Islamabad
Gulberg Islamabad is the largest housing development in Zone IV and V of Islamabad. magnificent housing project owned by IBECHS. It was launched in 2005 and brings fruitful investment possibilities to the capital of Pakistan. Moreover, the project aims to provide a serene and green environment to its residents. It is a project of Pakistan's Intelligence Bureau, and the security standards are outstanding.
 The Capital Development Authority (CDA) issued NOC approval for the development of Gulberg Greens Islamabad.
Gulberg Islamabad Sales Event
Gulberg Islamabad, regarded as Pakistan's most reliable real estate business, is changing the way people live today. Its approaching great sales event is an opportunity that nobody should pass up.
If you are an overseas Pakistani, attending the sales event organized by Royal Business Solution (RBS) is an excellent opportunity to learn more about Gulberg Islamabad and its investment potential. The event will be attended by real estate experts who will provide you with detailed information about the project and answer any questions you may have.
Exclusive Discounts
Exclusive discounts on Plots, homes, and commercial properties are being offered during the sales event. This is a fantastic chance for prospective buyers.
Sales Representatives
Our sales representatives will be present at the event to provide you with all the necessary information regarding the project and its investment potential. They will inform you about the latest rates, discount offers, and any other investment opportunities that may be available to you.
Payment Options
It also provides investors to get an ownership interest in one of Pakistan's top-selling at an affordable price. Furthermore, accommodating payment schedules ensures that lack of money is not a hurdle to owning a portion of this outstanding property.
Diverse Property Portfolio
Gulberg Islamabad's sales event offers a wide range of possibilities to meet all needs, whether you're seeking a home plot, a luxury villa, or a commercial area. Due to the diversity, both individuals and corporations can locate properties that suit their needs and goals.
Ideal for Long-Term Investment
Gulberg Islamabad increases the potential of real estate, which has always been an excellent investment option. Investors can take advantage of this possibility at favorable rates according to the sales event.
Discover the latest residential and commercial plot prices in Lahore Smart City.
Why Gulberg Islamabad is one of the most credible property of Pakistan?
Gulberg Islamabad is one of the most credible and reputable real estate projects in Pakistan. It offers a range of modern and luxurious amenities that make it the perfect place to call home. Here are some of the reasons why you should invest in Gulberg Islamabad:
Prime Location
The Gulberg Islamabad housing project is located on the main Islamabad Expressway. It lies between the twin cities of Rawalpindi and Islamabad on the Islamabad Expressway. Its location is one of its major attractions, making it an ideal place to buy a residential plot.
Engaging Community and Lifestyle
Gulberg Islamabad provides an enhanced sense of community. The features and amenities that will make living in Gulberg a pleasant experience are highlighted during the sales event.
Modern Infrastructure
Gulberg offers modern infrastructure, including wide roads, underground electricity, and a modern sewage system. The project also has a dedicated water supply system that ensures a continuous supply of water to residents.
Luxurious Amenities
Gulberg Islamabad is providing a variety of luxurious amenities. It has a golf course, parks, a community center, a hospital, a mosque, and a shopping mall. Residents' safety is additionally ensured by a 24-hour security system in the complex.
Commercial Facilities
Business Avenue & Blue Area
Commercial Center/Markaz
Petrol Pumps
CNG Stations
Health Facilities
Hospital
Dispensaries
Clinic & Pharmacies
Institutional Facilities
Nurseries & Schools
Colleges & Universities
Cost-effective Prices
For Pakistanis living abroad, Gulberg Islamabad is an excellent investment opportunity because its apartments are offered at reasonable costs. Additionally, these sales events taking place all over the world offer limited-time discounted offers.
Conclusion
Gulberg Islamabad is the most credible and reputable real estate project in Pakistan. It offers modern and luxurious amenities, affordable prices, and a prime location in Islamabad. Attending the sales event organized by Royal Business Solutions (RBS) is a once-in-a-lifetime opportunity for overseas Pakistanis to invest in the best profitable opportunity.
With developments that reinvent luxury, comfort, and investment potential, Pakistan's real estate market is undergoing a major transformation. Gulberg is one such property that attracts interest from both homebuyers and investors.
Moreover, check out some other best opportunities for luxury living.