April 3, 2021
Posted by:

Muhammad Shehzad

Category:

Blogs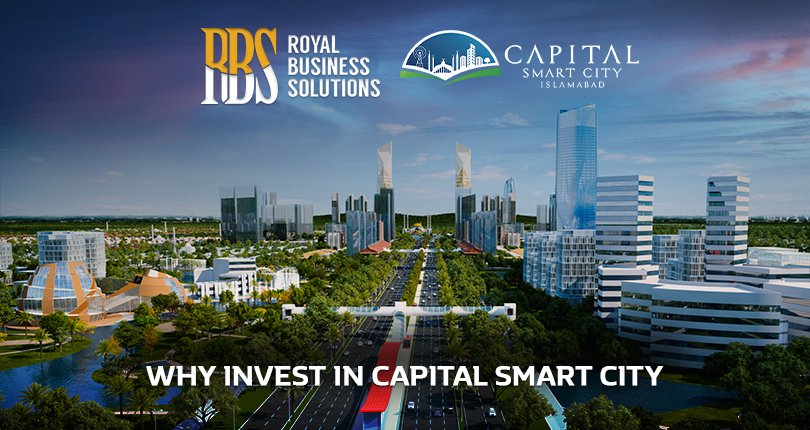 Answer to the question of why  Invest In Capital Smart City Islamabad is, it is a tremendous housing society project led by country-wide famous developers Habib Rafiq (Pvt) Limited and designed by Norman Foster. The project is the first of its kind in Pakistan and 4th smart city in Asia. The project has many objectives for investors and residents.
Key Objectives of the Project:
Trusted and Experienced Developers
Capital Smart City is led by renowned developers Habib Rafiq (Pvt) Limited. Habib Rafiq (Pvt) has completed many state-of-the-art projects in Pakistan and they are very famous for their quality building in the real estate sector. They have completed and delivered projects like Royal Orchards (Multan/Sahiwal) Bahria Lahore DHA Lahore Motorways all across the Pakistan Convention Centre Islamabad and Metro Bus Multan.
There will be no compromise on quality while building and developing the first-ever smart city in Pakistan and the city will also be investor and residents-friendly.
Modern and Unique
The developers and owners plan to make the Capital Smart City Islamabad the first-ever smart city in the country. The City will have so many smart features like a smart traffic control system with smart traffic lights which can measure the density of traffic in each lane and assist accordingly. Internet will be available in public places like shopping malls, Resorts, Bus stations, and other public places via a high-quality optic fiber.
 Advance Security System
Capital Smart City is focusing very much on the security system of the city and using the best facial recognition cameras to control criminal activities. Separate monitoring rooms will be made to keep a check and balance on all areas of society and to keep the atmosphere safe and secure, Object recognition cameras are to be installed for 24-hour surveillance.
Location
Capital Smart City is located on Lahore Islamabad Motorway at a distance of almost 9km from M-2 Toll Plaza near Thalian Interchange. Society is located on the eastern route of CPEC which is going to be a game-changer for not just the country but for other Asian countries as well. Not just that, New Islamabad International Airport is just 5 mins away from Capital Smart City.
Master Plan
The backbone of any housing society is its master plan. All the infrastructure development depends on the master plan. An international firm called Surbana Jurong (SJ) is designing the master plan of the city. Norman Foster is the designer of this city. While the society is divided into 15 different districts each district has its own specialty and is different from one and another. The first phase of Capital Smart City covers 55000 kanals of land which makes it the biggest society in its surroundings.
Leisure Facilities
Capital Smart City is providing a complete lifestyle to its residents which include workspaces offices and as well as some great and extraordinary leisure facilities such as:
18 Hole GPA standards golf course designed by Harradine.
F-2 racing track
Artificial beaches at lake view terraces
Dancing fountains of the crystal lake district
Water sports area
Society has preserved all of the natural lakes and streams.
Skyline of capital smart city
Landmark Buildings
Society has a keen interest in promoting tourism in Pakistan. The major objective of developers is to provide world-class infrastructure just near the New Islamabad International Airport. Moreover, this initiative will attract more foreigners, and moreover, it will provide a separate overseas block as well.
Modern Villas
Capital Smart City is providing one of its kind of smart villas to its residents which provides a blink away from the airport. Three types of smart villas are included in these modern villas called:
Contemporary Villas
Mediterranean Villas
Georgian Villas
Each Villa has its own unique design describing a different civilization of its own time
Why Invest In Capital Smart City Islamabad
We now know the reasons why to invest in Capital Smart City Islamabad. The conclusion can be made that it is one of the best places to invest and a great opportunity. Future belongs to smart cities.