March 17, 2020
Posted by:

Muhammad Shehzad

Categories:

Blogs, RBS News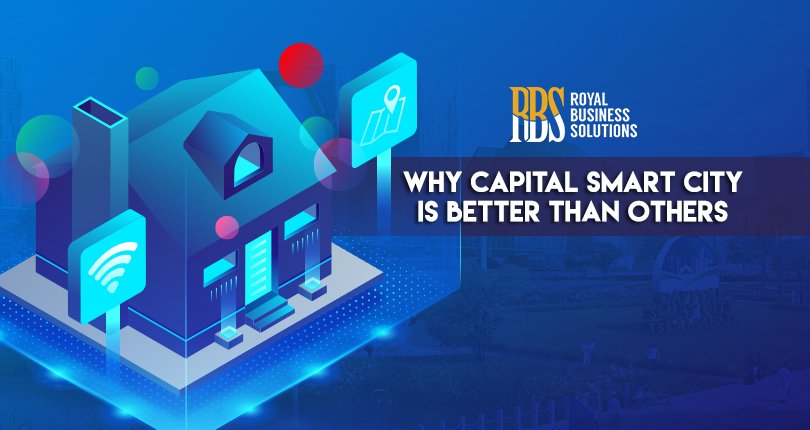 Why Capital Smart City is better than others?
Capital Smart City is a buzzword right now in Real Estate Market of Pakistan. It is a real place around the globe that incorporates the cutting-edge technology in to daily aspect of people's life. Using Information Communication Technology (ICT), it has make daily life much convenient for residents. In short, Capital Smart City is international standard project containing fully desired living package.
You may wonder why invest in Capital Smart City and not in other neighboring societies. Thus, this blog will inform you why Capital Smart City is better than several others. Without further ado, let's discuss the main aspects that proves Capital Smart City as a smart choice.
Eco-Friendly City
Capital Smart City is biggest Eco-friendly city of Pakistan. No other project in a lane can claim it. Capital Smart City has reserved 32% of total land area for the Natural Resources. Keeping in view the air-quality of urban spaces, it has keen concern for atmosphere. Thus, the strong team of developers pledged to do not disturb the natural circle to any extent.
You can find plenty of natural assets here. Crystal Lake features clear water. The major attraction is 18-hole signature Golf Club. It is designed by Harradine Golf that is international firm. Furthermore, Panda Reserve is another mega development. It serves to provide natural environment for animals.
Smart Waste Management Idea
CSCI introduces the smart ideas for smart management. For that reason, it has bring International firm ESA. It solely works to handle all waste issues. ESA adopts the waste collection system according to needs of environment. It provides solutions centered upon urban regeneration, encouragement of separate collection, and economic savings.
Meanwhile, this smart waste management idea only implemented in Capital Smart City. No any other housing society features it.
Streamlined Transportation
Capital Smart City ensures citizens convenience at maximum. Usually people feel frustrated because of poorly managed transportation system. It used tech-savy signals that work automatically. Further, these traffic signals operate depending upon the intensity of traffic. Meanwhile, every vehicle has Fleet Tracker installed. So in case of car theft or any such case, you can trace the vehicle with the help of trackers.
Furthermore, there is a Bus Rapid Transit (BRT) integrated in whole project.  2 BRTs routes proposed. Firstly, the main route run along the main boulevard while the second route has immediate access to different districts. Thus, it will ultimately make the mobility across the project more comfortable and easy.
Smart Amenities
Capital Smart City is known as Smart City because of novel Smart Amenities provision. First of all, it is introducing Smart Homes that are never seen before. These smart homes gives you freedom to operate every single thing in your house remotely.  Further, for absolute security and surveillance there are indoor and outdoor security cameras which gives you instant monitoring of your inner space on mobile device.
Along with that, it offers you theme parks that are present in every single neighborhood. Financial Square, Fashion Boulevard, The moon of Pakistan, and several other such centers introduced for the ultimate leisure. Also, Freij International will feature global standard Riding Park.
These are some of the salient features that make CSCI stand tall from other societies. Its prime location, legal status, profit margins and certain other votes only in favor of this futuristic project.