November 25, 2022
Posted by:

Muhammad Shehzad

Category:

Blogs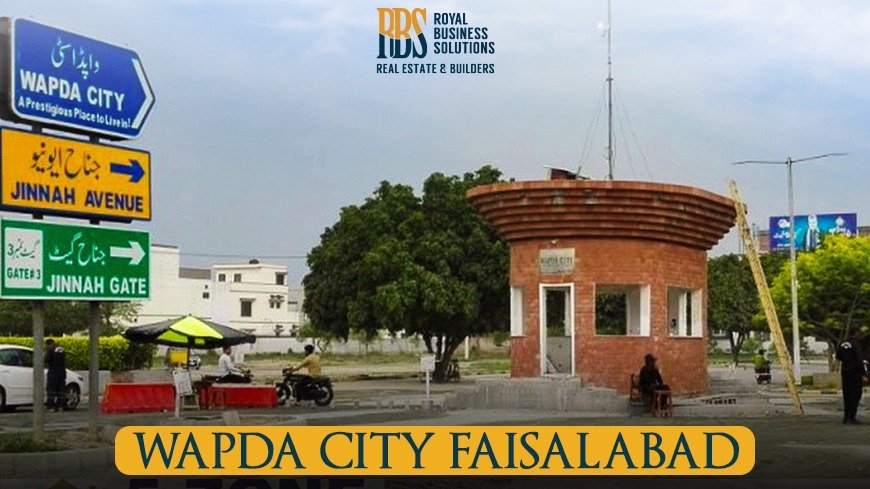 WAPDA City Faisalabad is a well-planned and luxurious housing society in Faisalabad. It is one of the largest residential developments in the world, spanning 650 acres. It is designed and managed by NESPAK and offers all modern facilities and services to its residents. That is why Wapda City Faisalabad is gaining popularity among prospective buyers and investors. The project consists of 12 blocks, named A to H and J to M. Residential plots of 5 Marla, 10 Marla, 15 Marla, and 1 Kanal are available in these blocks.
WAPDA City Faisalabad Location
WAPDA City Faisalabad is one of the top housing societies in the city. It is located on the main expressway, which is an extension of Canal Road towards the Motorway toll plaza and M-3 industrial city, enabling residents easy access to the Motorway. The residential project is easily accessible, requiring only a 10-minute drive along the canal from Abdullahpur Chowk, which crosses Lahore Road. It is near the Khurrianwala Industrial Area, Dry Port, Garment City, Gattwala commercial area, as well as the University of Engineering and Technology Campus.
Accessibility
Wapda City Faisalabad's great location surrounds well-known landmarks. For example, it is just a 9-minute drive from the Lahore-Sheikhupura Road, an 11-minute drive from the Faisalabad Canal Expressway, a 14-minute drive from the Faisalabad Sangla Hill Road, and a 17-minute drive from the Faisalabad Bypass. Furthermore, Jaranwala Road and Sahianwala Road are only 19 and 16 minutes away, respectively. Also, Latif Garden Housing Society, Judicial Housing Society, Sitara Valley Phase 3, Paradise Valley, National Textile University, Mana Wala, Gatti Gridstation and Colony, Chak No. 201, and Chak No. 198 are nearby.
WAPDA City Faisalabad Master Plan
Wapda City Faisalabad has a broad range of investment possibilities for everyone. Those looking to buy property in this town can select from 5 Marla, 10 Marla, 15 Marla, and 20 Marla. 5 Marla plots are available for PKR 31 lakhs to PKR 34 lakhs. The price trend of the 10 Marla land, on the other hand, begins at PKR 30 lakhs and can reach PKR 60 lakhs. Those searching for larger residences may find 15 Marla plots priced between PKR 73 lakhs and PKR 1.5 crore, while 20 Marla plots are priced at about PKR 1.9 crore.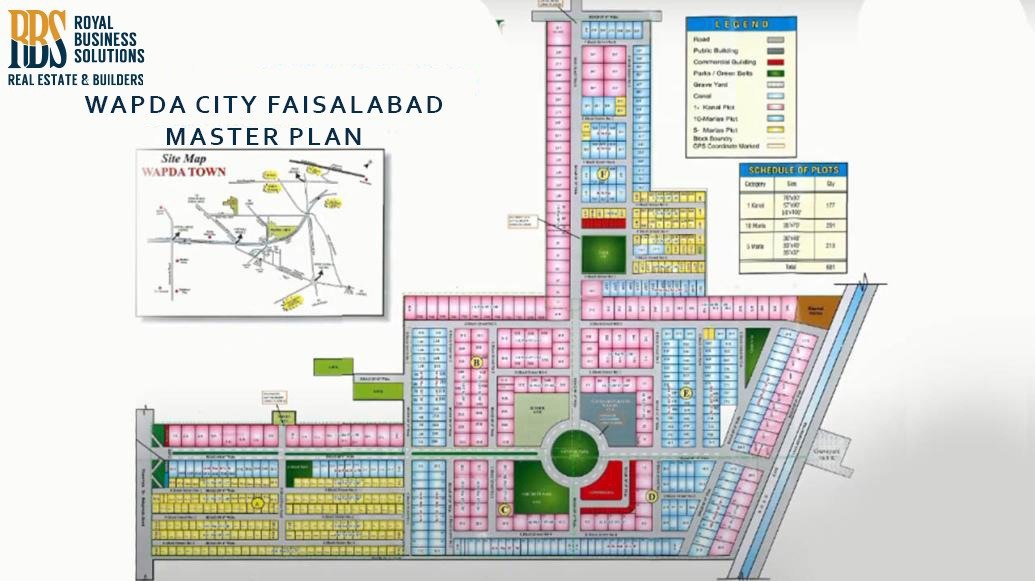 Discover plots for sale in Capital Smart City.
WAPDA City Faisalabad Salient Features
WAPDA City is a well-planned and designed housing scheme in Faisalabad.  Moreover, it offers all of the services and amenities required to live a luxurious lifestyle. The most prominent features are as follows:
Beautiful entrance gate
Grand Jamia Masjid
Water Resources
Eco-community
Education Complex
Accessibility
Quality Development
Water, Gas, Electricity
Underground electrification
Smart sewerage & waste disposal system
Club House
Retail Area
24/7 security
Maintenance
Boundary Wall
Gated community
World-class infrastructure development
Sports complex with indoor & outdoor facilities
Facilities and Amenities
Provision of Security
When it comes to security, the residential scheme has secured access controlled by well-trained and well-equipped security staff. The security team has also installed CCTV surveillance cameras in various locations to add an additional degree of security. If someone requires emergency assistance, they can contact the security department via their helpline. Furthermore, because it is a gated community, only residents and invited guests are permitted to enter. This, in turn, minimizes the likelihood of crime or anti-social behavior in society. It also includes a ring road along the wall and eTag access gates.
Jamia Masjid
The presence of mosques is critical in any culture. Residents would be able to readily give their prayers. As a result, a space in its block has been set aside for the mosque. There are now two mosques in operation, one in Central Park and the other in G Block. In terms of recreational places, around 47% of the entire area has been left open. WAPDA City Faisalabad has 19 medium and small-sized parks, including the central park, which covers an area of 12 acres.
Provision of water, gas, and electricity
Furthermore, all basic amenities are available. For the first time in this housing society, there will be a power supply system as well as spinning pools in the society. The natural gas supply has been completed with the installation of the gas pipeline from Gatwalla Bridge. In addition, there are nine tube wells along the canal and six elegantly constructed overhead tanks with a capacity of 2.5 million liters of drinking water. Residents will have access to the best water quality and availability around the clock. As a result, it is not inaccurate to claim that WAPDA City's tap water quality is the finest in Faisalabad. In addition, the residential complex has a well-designed sewage disposal system in place, with disposal works draining into the parasang drain. Hence, the society fulfills the basic requirements of the residents.
Booking Procedure for WAPDA City Faisalabad
Fill out your booking application form thoroughly.
Attach CNIC Copies of the Applicant Pay Down Payment by Cheque or Pay Order in favor of "WAPDA City Faisalabad," but confirm the management procedure if new changes occur.
You can also pay cash by following management approval.
Submit all needed papers, make payment, and obtain a receipt.
Guidelines to follow while Purchasing/Sale of Plots:
The guidelines to follow are as follows:
Document Verification
Please ensure that all paperwork is thoroughly verified to avoid any confusion or misunderstanding. Before entering into any property acquisition or sale, ensure that the developers' NOC and permission documents have been officially authorized by the authorities. As a result, your documentation will be valid in all ways that may provide the client pleasure.
Financial Security
Before finalizing any property sale or purchase, please confirm that your funds are in line with your purchasing strategy. In this manner, your buy or sell will go smoothly.
Property Inspections
Before making any purchase, and after ensuring the authenticity of the paperwork, inspect the site to confirm that the written documents are in accordance with the plot requirements.
Conclusion
WAPDA City Faisalabad is an FDA-approved housing scheme that is being developed with one goal in mind: to give residents a world-class luxurious living. The key characteristics of this society are its luxurious facilities, affordability, and location.
Also, read about affordable plots in Countryside Residencia.