June 24, 2023
Posted by:

Muhammad Shehzad

Category:

Blogs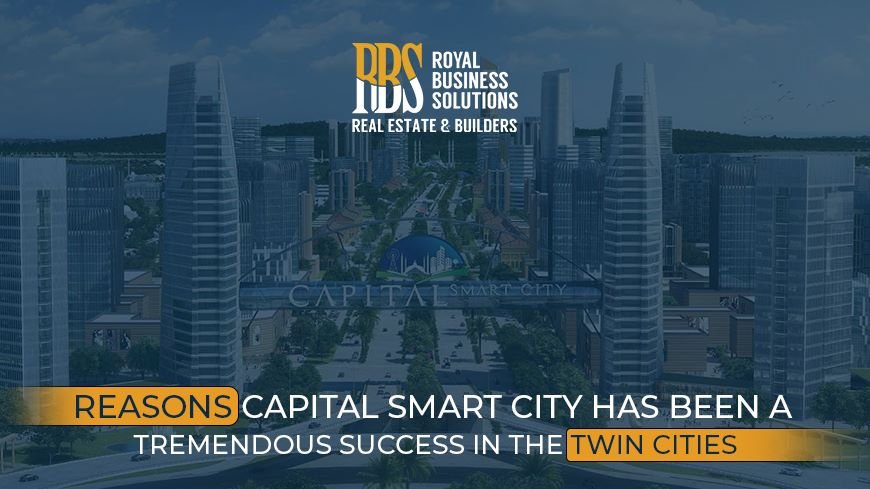 Introduction
Capital Smart City, a mega real estate project located in the Twin Cities of Islamabad and Rawalpindi, has garnered significant attention and acclaim since its inception. Developed by Future Development Holdings (FDH), this innovative and futuristic housing society has witnessed tremendous success and emerged as a leading choice for investors and homebuyers. In this blog post, we will explore the reasons behind the remarkable success of Capital Smart City in the Twin Cities, highlighting its key features, unique selling points, and the factors that have contributed to its popularity.
I. Visionary Planning and Development
Futuristic Concept of Capital Smart City:
One of the primary reasons for the success of Capital Smart City is its visionary planning and development. The society was designed with a forward-thinking approach, hence incorporating modern urban planning principles, smart infrastructure, and cutting-edge technology. Moreover, this futuristic concept has resonated with investors and residents seeking a modern and sustainable living environment.
Make sure to check out Lahore Smart City if you are looking to invest in a smart city in Lahore!
Comprehensive Master Plan:
Capital Smart City boasts a comprehensive master plan that covers various aspects of development, including
residential areas,
commercial zones,
educational institutions,
healthcare facilities,
entertainment options, and
Green spaces.
The meticulous planning and attention to detail in creating a self-contained city within the Twin Cities have attracted investors looking for a holistic living experience.
II. Strategic Location and Connectivity
Prime Location of Capital Smart City:
Capital Smart City's strategic location on the Main Chakri Road, near the New Islamabad International Airport, has played a significant role in its success. The society enjoys excellent connectivity to major highways, making it easily accessible from different parts of Islamabad, Rawalpindi, and beyond. Its proximity to key economic and commercial hubs has also appealed to investors and professionals.
Proximity to Infrastructure Development:
The Twin Cities are witnessing significant infrastructure development, with projects such as the Rawalpindi Ring Road and the expansion of the Islamabad Expressway. Capital Smart City's location places it in close proximity to these infrastructure projects, ensuring enhanced connectivity and future growth prospects. This factor has been instrumental in attracting investors looking for long-term capital appreciation.
Read: Pakistan's Real Estate Market Is Set to Recover After 2023-2024 Budget
III. Smart Features and Sustainable Living by Capital Smart City
Smart City Infrastructure:
Capital Smart City is renowned for its smart city infrastructure, integrating advanced technology to enhance the quality of life for residents. The society incorporates smart metering, automated systems, high-speed internet connectivity, and smart home features, providing convenience, efficiency, and energy savings. The emphasis on smart living has hence appealed to tech-savvy individuals seeking a modern lifestyle.
Sustainable Living Practices by Capital Smart City:
Capital Smart City places a strong emphasis on sustainability and eco-friendly practices. The society incorporates renewable energy sources, water conservation measures, waste management systems, and green spaces. These initiatives not only promote a greener and healthier environment but also resonate with environmentally conscious investors and residents.
IV. World-Class Amenities and Facilities by Capital Smart City
Lifestyle and Recreational Facilities:
Capital Smart City offers a wide range of lifestyle and recreational facilities. It does so to cater to the diverse needs and preferences of its residents. These include sports complexes, community centers, parks, fitness centers, swimming pools, and dedicated spaces for cultural and social activities. The abundance of amenities ensures a vibrant and active lifestyle within the society.
Educational and Healthcare Facilities:
The society provides top-tier educational institutions and healthcare facilities within its premises, ensuring convenience and accessibility for residents. This integrated approach to education and healthcare has been a significant factor in attracting families and professionals looking for a well-rounded living experience.
V. Trustworthy Developer and Investment Potential
Developer's Reputation:
The success of Capital Smart City can be attributed to the reputation and track record of its developer, Future Development Holdings (FDH). FDH has a proven history of delivering successful projects and has hence gained the trust and confidence of investors. Moreover, the developer's commitment to quality, timely delivery, and customer satisfaction has instilled a sense of reliability and credibility among potential buyers.
Investment Potential:
This project has emerged as a promising investment option due to its strong growth potential. The society's strategic location, comprehensive infrastructure, and futuristic approach have resulted in a steady increase in property values. Investors recognize the long-term appreciation potential and the opportunity to capitalize on the development and growth of the Twin Cities.
Conclusion
Capital Smart City's tremendous success in the Twin Cities can be attributed to a combination of
visionary planning,
strategic location,
smart features,
world-class amenities,
sustainable living practices, and
The developer's reputation.
Its forward-thinking approach, coupled with a comprehensive master plan and commitment to providing a modern and sustainable living environment, has made it a top choice for investors and homebuyers. As it continues to grow and develop, Capital Smart City will further solidify its position as the premier destination for individuals seeking a futuristic and smart living experience in the Twin Cities of Islamabad and Rawalpindi.
Moreover, to stay informed about the latest developments regarding 'Reasons Capital Smart City Has Been a Tremendous Success in the Twin Cities', we encourage you to stay connected with Royal Business Solutions, your trusted source for timely updates and valuable insights.