April 30, 2022
Posted by:

Muhammad Shehzad

Category:

Blogs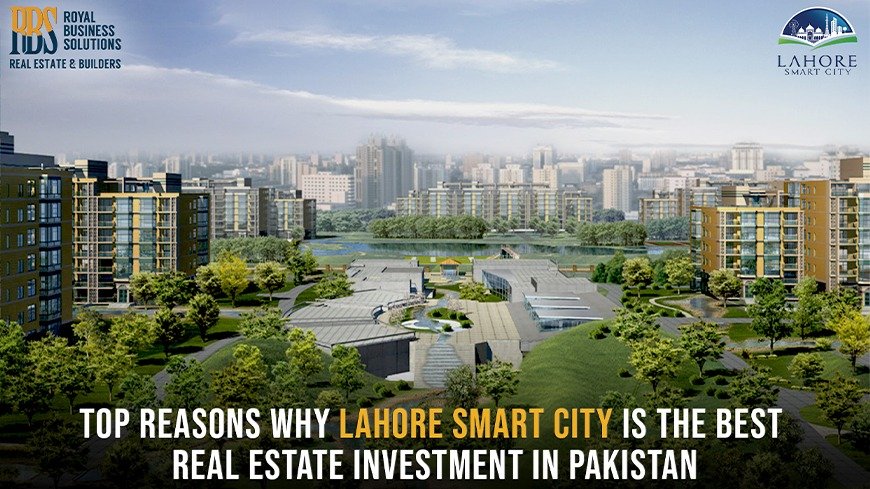 Lahore Smart City is the 2nd smart city of Pakistan. Following the footsteps of its predecessor the Capital Smart City Islamabad. Additionally, it offers futuristic amenities with a premium lifestyle destination. Coupled with sustainable development, for Pakistan real estate, it's the best investment.
Lahore smart city is a wonderful project set in the heart of Lahore. It is a project of Future Development Holdings. Moreover, Habib Rafique Pvt. Ltd. Initially created Capital Smart City joined FDH. The developers believe in a wider proportion of Pakistan's population to enjoy luxury and affordable lifestyle. Furthermore, it is one of the best real estate investments in Pakistan. With its pristine location, easy payment plans and exciting features it has become quite a hit in real estate industry.
What are the perks of investment in Lahore Smart City (LSC)?
Counting on the others real estate cities, Lahore is top ranked. First, Ravi River Front Urban development project by Prime Minister Imran Khan. Second the general market of Lahore smart city is fair enough.
River Ravi Front Development:
The River Ravi Urban Development is likely to cover 46 kilometers. Also, the sewage treatment plants and standalone dams is a prominent future of it.
According to real estate expert view, the river Ravi has enhanced the pace of Lahore Smart city. Likewise, this lake connects the existing urban forest to a 1 million square feet.
Why Lahore Smart City (LSC) is Pakistan's Second Smart city Project?
The Lahore Smart City developer's milestone the concept of smart city in Pakistan. Also, in 2018, Pakistan launched its first Capital Smart Cit. Also, Lahore Smart City is the second smart city project after Islamabad.
Habib Rafique is a well-known real estate development firm in Pakistan. Firstly, they have built Bahria Town and DHA Housing Societies magnificently. Secondly, the government projects like Orange Line Train, Metro bus are also their developments.
Success of Lahore Smart City:
Lahore is the second largest city of Pakistan. Additionally, the most significant elements of Lahore Smart City's success are self- sustainability. It implies the fact as the residents will have employment opportunities within city. Furthermore, residents can get employed within mega malls and commercial schemes.
Why one should invest in Lahore Smart City (LSC)?
There are 10 reasons why Lahore Smart City is the Best Real Estate investment in Pakistan.
       1. Prime Location:
The crucial feature in real estate investment is its location. Moreover, Lahore Smart City locates near Kala Shah Kaku Interchange on N-5 away from Lahore By-pass. Building of 200 hectares facing Lahore by pass road has started. Besides, located near the planned Lahore University of Engineering and Technology making it best real estate investment in Pakistan.
Approachability:
Excellent location along Lahore Ring Road, M11 Motorway and M2 Motorway
Increasing Development and economy:
Growing urbanization and economic opportunities in Lahore region.
4 minutes' drive from motor way makes it accessible to overseas Pakistanis as well.
Almost 18 minutes' drive from Lahore International Airport.
Lahore Development Authority (LDA) NOC:
Lahore Smart City is NOC approved project. LDA has given sanctions for its construction. The ultimate goal is to engage people in a friendly safe technology environment. Also, this unique idea is observed only by a few cities in the world. Moreover, best real estate companies like HRL, offers a perfect future living investment.
Renowned Owners
Habib Rafique Limited (HRL), and FDH are in charge for secured investments. Hence, the investors try to invest their capital in safe hands.
Firstly, DHA- II Islamabad, Bahria Towns, Royal Orchard Multan are accomplished projects. Secondly, following the tracks of Capital Smart City model the company's reputation is above question.
Budget Housing:
Lahore Smart City is one of the very few housing projects in Pakistan offering you money's worth. Besides being a top-notch smart city, surpassing any other real estate project. As its still in the developmental stages, its payment plans are on the easiest. Hence, it's the best real estate investment of Pakistan due to fastest rate of growth and maximum return.
Lahore smart city easy Installments and payment plans:
The plots in Lahore Smart city are available in payments with easy payment methods. First the 10 % down payment plan is followed by authorization payment and quarterly installments. The following plans are available for bookings:
Executive block residential payment plan
5 Marla Rs: 2,735,000/-
7 Marla Rs: 3,100,000/-
10 Marla Rs: 4,350,000/-
12 Marla Rs: 4,380,000/-
20 Marla Rs: 7,125,000/-
Overseas Blocks (residential)
5 Marla Rs: 2,500,000/-
7 Marla Rs: 3,270,000/-
10 Marla Rs: 4,480,000/-
12 Marla Rs: 4,950,000/-
20 Marla Rs: 7,260,000/-
These rates can be studied. Also, the aforementioned plan does not consist of development charges. Hence these are the 3.5-year installment plans.
Progressive Development:
Luckily Lahore Smart City the project is moving at its fastest pace. Firstly, the engineers with expertise and meticulous labor work 24-7. Secondly, the construction of boulevards, main ingress and land levelling is at a rapid pace.
Facilities and Amenities of Lahore Smart city (LSC):
Since Lahore smart city is one of the world's few smart cities, the facilities it offers are beyond the scope of a regular housing society. The following facilities gives experience of luxury living in the middle of smart facilities:
Executive Block
Gateway plan
Sporting Area
Silicon Valley
Theme Park:
Health care region
Education District
Overseas Blocks
Town Utilities:
Infrastructure & development
Facilities provided by Lahore Smart City (LSC):
Additionally, the classic smart cities feature as given by Lahore Smart city are:
Load shedding free atmosphere
Automatic traffic control
Environmental assembly
CCTV with facial and object recognition
Automated street lights
Free Wi-Fi Spots
Computerized street lights
Mechanical air conditioning control system
Electric bikes
Plots on installments:
Lahore Smart City residential also commercial plots are attainable on 10% down payments. Investors and future homeowners can take the benefit of simple installments so its one of the best real estate investments in Pakistan. Firstly, the initial financial assurance lasts for three and a half years. Secondly, the easy payments on 5 Marla, 10 Marla and Kanal is readily available.
Maximum Profit investment return:
An investor looks for investment returns whenever they decide to put their money down anywhere. One of the most significant factors that determine a society worth putting down is how faster it develops your initial investment capital into respectable return.
Fortunately, LSC due diligently enjoys a formidable position when it comes to counting investment yields. It has already managed to attract many inventors. Also, at this point where all bookings are already completed even before its launch. Thus, the high investment rate allows it to go beyond restraints offering as best real estate investment of Pakistan.