December 10, 2022
Posted by:

Huma Ishfaq

Category:

Blogs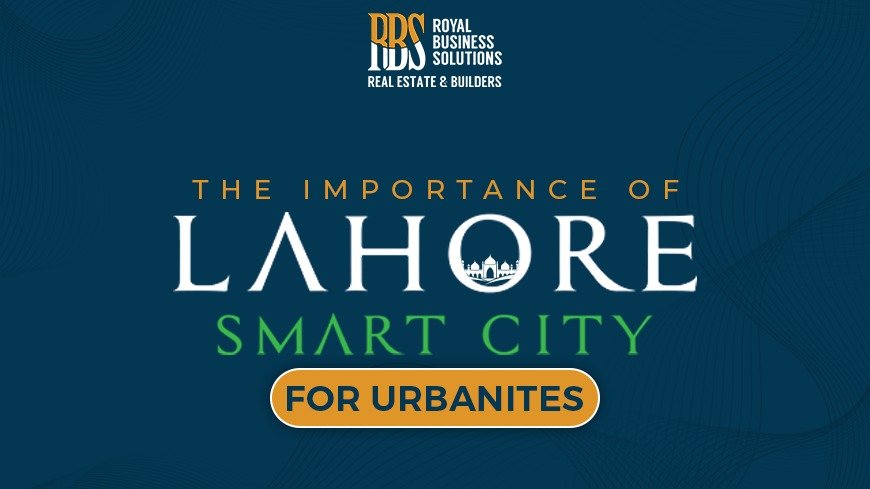 The Lahore Smart City is intended to serve as a model for other residential construction projects. This city is home to Pakistan's second Smart City. As a result of FDHL and HRL's plan to offer luxury and mega-Smart Cities to investors, Lahore will rank as the 22nd smart city in the globe. Moreover, it is developed to meet the rising residential demands of people. This blog will highlight the importance of Lahore Smart City for Urbanities. 
How Lahore Smart City is important for Urbanities
When you work with passion, it keeps you emotional, makes you happy, and helps you keep your stamina in life. Everyone wants their own home built according to their preferences, such as the number of rooms and baths they desire. How many windows do you need and where is the kitchen lye? Lahore Smart City is here to address all of your questions.
Lahore Smart City is a stunning masterpiece that aims to give its citizens an opulent lifestyle. It provides its residents with all the luxurious conveniences and facilities. Moreover, some of the standout features of Lahore Smart City are comfort, first-rate amenities, superior security, peaceful surroundings, refreshing air, and an environmentally friendly setting. 
In addition, it is a new gem that is expanding Punjab's provincial landscape capital. The Smart City is progressing quickly. Hundreds of machines are operating round-the-clock to finish their development on time. Moreover, Lahore Smart City has a prime location. Due to its five separate connecting roads, it is one of Lahore's most accessible societies.
About Lahore
Lahore, formerly known as "the Paris of the east," continues to be a major tourist draw, especially in recent years. Three regions make up the city of Lahore today. Moreover, the round road surrounds the old city, which has been around for at least a thousand years. The second region covers an area from Mayo Hospital to the Canal Bank on the east, which is essentially the Lahore that the British built. Further, the third region has a number of affluent suburbs that follows the subcontinent's division, including Bahria Town, the Defense Housing Authorities, and many more.
Advancement of Modern Lahore
Some places in modern Lahore, such as the Defence Housing Authority, Bahria Town, Model Town, and Lahore Cantt, have truly come to be centers of importance. Additionally, the most innovative new construction in all of Lahore is Bahria Town. Some refer to it as a "city within a city" that offers residents infrastructure, amenities, and services of the highest caliber worldwide. Moreover, Bahria Town Lahore incorporates all aspects of the Lahori way of life and offers international standards in all areas of life, including leisure, business, infrastructure, and housing.
Ideal Location of Lahore Smart City
The place or community you live in greatly depends on its location. You can decide to reside in a town setting, a village, close to a river, or on the edge of the city, depending on where you feel most comfortable. Moreover, building your own home gives you more freedom to find the appropriate piece of property. When purchasing a home, it can be more challenging to find a residence that is both structurally sound and located in a desirable neighborhood. Therefore, it is best to follow your own comfort and desires. Simply choose a decent place for your home and move on with that.
Location is the most important factor that can make or break an investment. Its prime location makes it important for the urbanities. Moreover, investors consider the property's location before investing in it. Therefore, the strategic location of Lahore Smart City is one of its primary strengths. The National Highway (N-5) and Kala Shah Kaku Railway Station are both nearby the Lahore Smart City area. It's also close to the Lahore Bypass.
Lahore Smart City Legal Status
People give more importance to legal societies as compared to unauthorized ones.  Lahore Smart City NOC is approved by Lahore Development Authority (LDA). That implies that there are no legal disputes within the society. Moreover, Lahore Smart City is a supported society that will grow tremendously. Furthermore, there is no risk of loss when investing here. As a result, one of the greatest benefits of investing here is Lahore Smart City NOC. By investing here, you can turn your lacs into crores.
Extraordinary Master Plan
The outstanding master plan also enhances the importance of Lahore Smart City for urbanities. Moreover, to create an extraordinary master plan for this society with all the comforts of living, hundreds of thousands of experts worked around the clock. The key characteristics of this community are its world-class infrastructure, amazing design, modern architecture, as well as large carpeted roadways. Furthermore, the developers have not revealed the hub's whole master plan.
Still, it is obvious that just like Capital Smart City, this fantastic smart city is divided into several blocks, which are as follows.
Residential general block

Overseas block

Financial square

Education district

Health district

Sports district

Silicon Valley

Executive block
Easy Breezy Payment Plan
The prices for the Lahore smart city plot for sale are reasonable. The developers have given careful attention to the affordability issue and ensured that all the Lahore Smart City files for sale are offered at reasonable prices so that everyone can enjoy life's comforts. Moreover, the installment plan is offering all types of properties in this amazing neighborhood. Simply paying a down payment and booking fees of 10% of the total amount due. You can pay the remaining payments in a three-year installment plan with ease. Furthermore, the smart city management offers a simple and flexible Lahore smart city payment plan 2023 for best investments. 
What are the Lahore Smart City's smart features?
Here are a few smart features that strengthen the importance of Lahore Smart City for urbanities. 
Uninterrupted Supply of Water, Gas & Electricity
The biggest hindrance in every residential society in Pakistan is a delay in the flow of electricity, gas, or water. Even the slightest likelihood of such mishaps can reduce the value of investments made in the area. Therefore, it is crucial to consider whether basic amenities are offering in a society before deciding to invest.
Lahore Smart City's promises to deliver cutting-edge technology ensure that its citizens will always have access to water, gas, and power. This is also another advantage of this housing society. Moreover, throughout the winter season, the Sui gas supply is consistent. There is always clean, drinkable water available. Further, the society has an underground electrification system to prevent any electrical risks or malfunctions.
Lighting Control Automation
Any residential area's focal point for aesthetics is its street lighting. They are also very important for security and safe transportation within an area, in addition to being attractive in enhancing the beauty of the society. Moreover, LSC has consequently made an investment in automatic street lights to ensure that the steady stream of light throughout the society is not interrupted by any failures or unnecessary complications.
Consistency of Wi-Fi throughout the Society
Smart societies cannot exist without a stable Wi-Fi connection. As the trend toward working from home increases and our social lives become more dependent on reliable internet access. Moreover, it is important to check the availability of internet services before making any real estate sale or investment.
Once more, LSC makes sure that its residents have access to a strong, consistent supply of WIFI so that they can live their online life without interruption.
Automated Air Conditioners
Good air conditioning systems should come first when looking for the ideal place to reside in Lahore due to the city's constantly changing environment and weather conditions. Whether they are homes or offices, LSC installs automatic air conditioning systems in all building structures.
Smart Traffic Control System
A seamless flow of transportation within society is made possible by LSC's smart traffic controlling system, which is certainly a relief from the chaos of traffic hustle and bustle during city rush hours. Moreover, the current demand is for well-constructed highways and computerized traffic lights! The advantages of funding the Lahore Smart Society are once again highlighted in this section!
 CCTV Surveillance
Any residential prospect's top priority should be safety and mobility within a residential area. Moreover, due to the comprehensive planning of this smart city project in Lahore, the entire society has CCTV cameras. As a result, you can feel secure while your kids play outside, your kids stroll through a local park, or you drive around at night to grab an ice cream from the drive-through.
Luxurious Lifestyle
Because of its advanced characteristics and comprehensive master design, Lahore's smart society includes cutting-edge infrastructure. All across the society are well-designed, spacious roads with greenery surrounding them and walking paths. The best infrastructure is built to prevent clutter and traffic jams at all times.
Apartments, shopping centers, restaurants, and other commercial buildings all have a modern, innovative architecture that is intended to appeal to both domestic and foreign customers with high urban tastes.
Conclusion
It is now up to you to decide whether the project is worthwhile for you to invest in or how it is important for urbanities in light of the facts that RBS Real Estate and Builders has discussed in this blog. We hope the above detail such as "The Importance of Lahore Smart City for Urbanities" will help you determine if this smart living society is the appropriate fit for you – living-wise and investment-wise.