February 22, 2023
Posted by:

Muhammad Shehzad

Category:

RBS News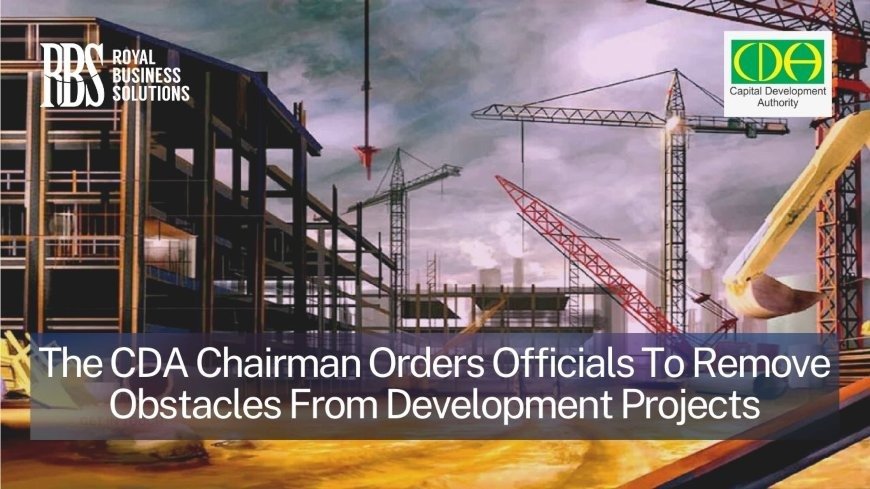 According to recent reports, Islamabad's ongoing construction projects would be made easier to complete by the Capital Development Authority (CDA). Further, a meeting has been scheduled by Captain (r) Noorul Amin Mengal, Chairman CDA, to discuss ways to eliminate barriers to existing development projects in Islamabad. Regarding it 'The CDA chairman orders officials to remove obstacles from development projects.
Clearing the Way for Progress: CDA's Encroachment Team on a Mission
According to the report, the CDA instructed the encroachment team headed by DG Shah Jahan to remove all intrusions blocking the progress of ongoing development projects, including the IJP Road, Bhara Kahu, and 11th Avenue projects as well as the supply of clean water.
Removing Hurdles, Delivering Quality Amenities
Further, to ensure the quick completion of development work in these areas quickly so that there is no obstruction in delivering high-quality amenities to the population, the team will remove all hurdles in this regard, including technical and administrative concerns.
For better investment options in real estate, you can visit Capital Smart City Islamabad.
Guidelines
Moreover, the guidelines offered by CDA for eliminating obstacles from current development projects in Islamabad are:
To ensure the removal of  encroachments
to clear the encroachments on the road
One must plant trees.
Make clean, safe water available to Islamabad citizens.
Further, the road project was cleared of interference, and several encroachments were destroyed, according to the report. Moreover, the encroaching team planted plants on the Green Belt. Furthermore, DG Shah Jahan used heavy equipment to destroy several unauthorized vegetable and fruit stalls and wagon and bus stops accompanying Assistant Commissioner Sania Hameed Pasha.
CDA's Encroachment Team Takes Down Unauthorized Structures in F-6/4
There was a second massive operation by the team in Islamabad's Sector F-6/4. Further, the Sector F-6/4 government employees' homes had fences, extra gates, and boundary lines removed by the encroachment team.
Encroachment Team Cracks Down on Roadside Vendors in Khanna
Further, the other action was against the vendors who gathered near the road and obstructed it in Khanna Loop and Khanna Bridge. Just now, the incursion team took decisive action and destroyed one truckload of products.
Estate Office and CDA's DG Enforcement Work towards a Common Goal
The representatives from the Estate Office also helped to detect encroachments in the region, and the DG Enforcement promised to keep up these anti-encroachment efforts under the Chairman's goals.
For further updates on 'The CDA Chairman orders officials to remove obstacles from development projects' stay connected to RBS.