August 4, 2023
Posted by:

Muhammad Shehzad

Category:

RBS News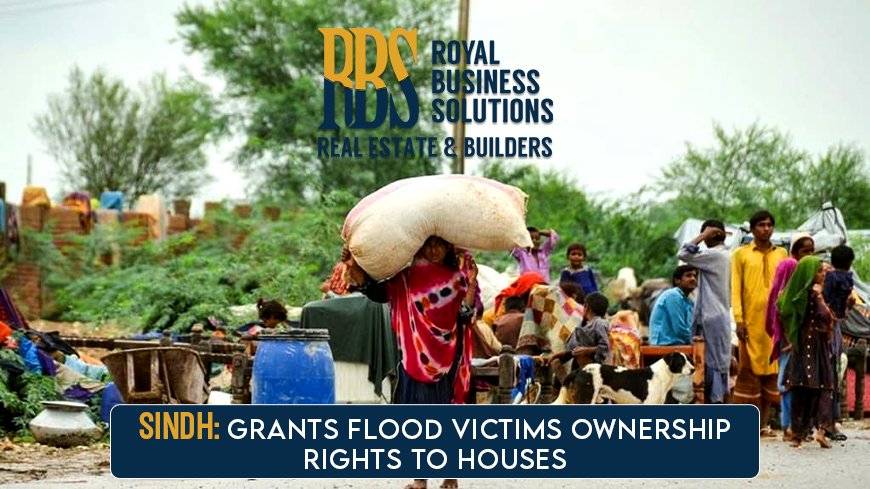 In Shikarpur, the Sindh government held a ceremony for distributing land ownership certificates to flood victims from last year. This event aimed to provide much-needed relief to those affected by the devastating floods. Furthermore, these certificates will not only secure their land rights but also pave the way for their economic recovery. The Sindh government conducted a survey of 2.1 million residences across Sindh, and the government of Sindh released a six hundred billion rupee envelope: Imtiaz Ahmed Sheikh, Provincial Energy Minister.
Sindh Government Announces Innovative Scheme
Foreign Minister Bilawal Bhutto-Zardari gave land ownership certificates to 5,000 flood victims in the district of Larkana, Sindh, to assist homeless flood victims.
This is the initial step of a project that offers ownership to thousands of families that were devastated by the area's terrible flooding.
Various dignitaries attended the event, including:
MNA and District President of the People's Party, Rafiq Jamali
MNA Irfan Zafar Leghari
MPA Abdul Aziz Junejo
MPA Fayaz Butt.
Flood Wreak Havoc in Sindh
In 2023, heavy rainfall and overflowing rivers caused widespread flooding in Sindh province. Making it one of the most destructive disasters in the province's history.
The agriculture industry, which is vital to Sindh's economy, has been severely harmed.
Comprehensive Support for Flood Victims
The government of Sindh provides thousands of camps for shelter, food, healthcare, immediate relief, rehabilitation infrastructure, and ownership rights as comprehensive support for flood victims.
Sindh Government Project Plan 2023
The project plan intends to offer much-needed shelter and help to flood victims in these areas. The Sindh government plans to develop a large number of houses in various regions under this plan.
50,000 houses for Mehar
50,000 in Khairpurnathan Shah
38,000 in Johi
18,000 in Dadu
Conclusion
The Government of Sindh decided to allocate the property rights for flood victims which represents a significant step in disaster recovery efforts.
It not only satisfies the immediate needs of afflicted families but also effectively lays the framework for the region's recovery and long-term growth.
Furthermore, this initiative significantly serves as a beacon of hope for the community, fostering a strong sense of resilience and determination.
The transformative impacts of this strategy are expected to be seen across the province as implementation advances, bringing an aspect of hope and stability to citizens who have survived devastating floods.
As well as this, you can also have a look at the following, Sindh Cabinet Approves The Construction Of Homes For Nullah Affected Persons