August 2, 2023
Posted by:

Muhammad Shehzad

Category:

RBS News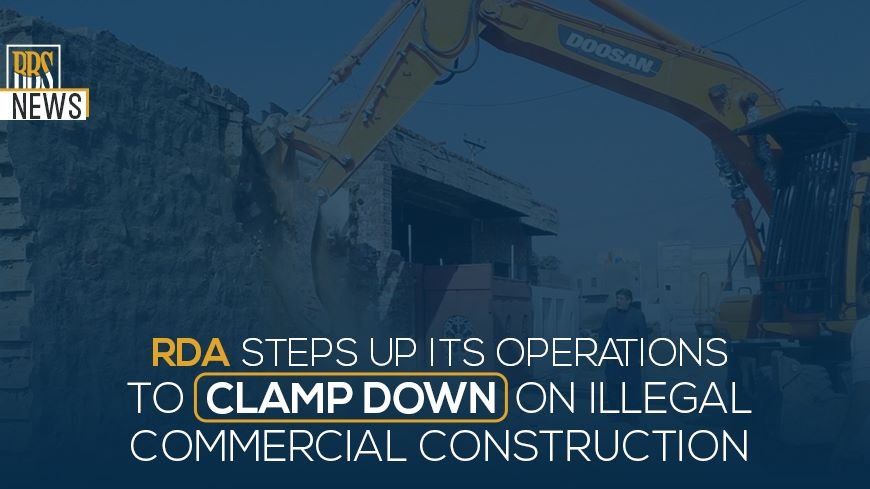 RDA Steps Up Its Operations To Clamp Down On Illegal Commercial Construction. The Rawalpindi Development Authority (RDA) is consciously responsible for targeting the operations regarding an illegal commercial construction. In the awake of recent evolutions, the RDA has taken the responsibility to crack down the issue of illegal construction within its jurisdiction.
Understanding the Risk of Illegal Construction
Understanding the problems of illegal commercial construction provides several major challenges related to public security and safety purposes. For urban development, the unauthorized access often lacks the standards, planning, safety and other important requirements regarding the commercial construction.
They also generate an issue on existing public infrastructure and services that leads to the increased traffic rate, waste management and environmental problems.
Moreover, you can also check out the Kohistan Enclave Payment Plan 2023 for some amazing investment opportunities in Islamabad that will give you the best return on your investment.
Implementing and Enforcing High Standards
To control the problems of illegal commercial real estate, zoning codes, building codes and laws of land, the GDR has efficiently improved the regulatory system of frameworks to avoid such unauthorized new constructions. The agencies have developed the intensions to ensure the compliance with these regulations.
For further evolutions, RDA has partnered with Kohistan Enclave, an expertise leading developer of real estate company.
 Deployment of technology and artificial intelligence
In the deployment of technology, geospatial analysis and satellite views will be used to check and detect the illegal construction in real-time. Moreover, RDA has launched a web portal system to analyze the building permits and digital platforms. The RDA enables to access the relevant information, track the status of illegal commercial constructions.
 Conclusion
The RDA has approved various techniques and operations in order to clamp down on illegal commercial constructions involving various strategies like understanding the problems and risks of illegal constructions, unauthorized commercial structures, RDA comprehensive campaign through the implementation of strong policies and partnerships with Kohistan Enclave.
In addition the power of web technologies, strike the power and proactive enforcement to ensure the public safety.
Thanks for joining the efforts, Rawalpindi get a chance to succeed as a best city for urban development in the region.