September 21, 2022
Posted by:

Muhammad Shehzad

Category:

Blogs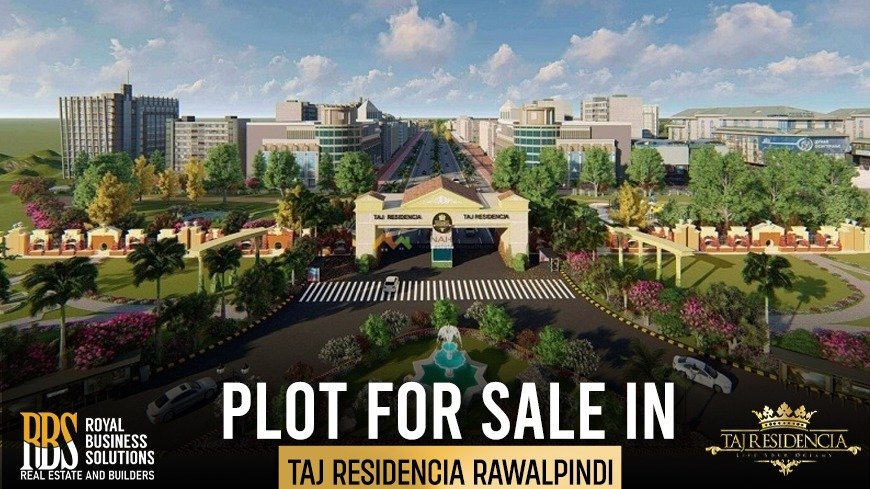 Taj Residencia Rawalpindi is a luxurious and state-of-the-art housing project located near CDA sector I-14 and I-15. Moreover, it's a modern community in the twin cities and offers all the basic and modern facilities to its residents.  The society is popular for providing residential and commercial plots developed according to international standards.
Moreover, this project began in July 2018 and spread over 10,000 kanals of land. Taj as a name hints at royalty. It is a jewel in your crown, just as the project itself states. And if you don't own a plot or a house in this society, your imperial crown is undoubtedly missing that gem.
Developers of Taj Residencia Rawalpindi
This marvelous project is owned and developed by Sardar Group of companies which are famous for their historic project "Centaurus Mall". The Centaurus Mall project earned a lot of success and then the company decided to invest in a residential project, Taj Residencia. Moreover, the developers promise to deliver a luxury and comfortable lifestyle to people.
Iran is the origin of the Sardar Group of Companies. In the past, they worked in the automobile sector, specifically in the sales and rentals of vehicles. Later on, they decided to enter Pakistan's real estate market. Furthermore, with outstanding infrastructure, this project stands with elegance near Islamabad. Lahore Smart City is another outstanding housing project launched by well-known developers.
Taj Residencia Rawalpindi Location
Taj Residencia Rawalpindi is an ideal location for those who want to live in a peaceful environment as well as in the Capital city's proximity. In addition, it is located on Lakhu Road, parallel to sectors I-14 and I-15.
Furthermore, the Rawalpindi Ring Road will soon be easily accessible to the general public, allowing quick access to the Islamabad Motorway. Moreover, anyone from society can reach the nearby places easily. Centaurus Mall is located within 20 minutes' drive, 10 minutes from Islamabad International Airport, and 5 minutes' drive away from Quaid-e-Azam International Hospital.
NOC Approval & Permissions
Rawalpindi Development Authority (RDA) has provided NOC to Taj Residencia Rawalpindi. Moreover, developers obtained all the necessary permissions so there is no issue related to the geographic location or sovereignty of the project. New Metro City Gujar Khan is also a legal housing society to invest in.
Total Land Area Covered
Taj Residencia covers 10,000 kanals of land for commercial and residential plots. This area comes in phase 1. Meanwhile, a large part of the land is already reserved for its extension because the developers plan to extend Taj Residencia in the future. Multiple categories of the plot for sale in Taj Residencia Rawalpindi are offering.
Layout Plan of Taj Residencia Rawalpindi
The master plan of Taj Residencia is designed very minutely so that developers can quickly complete the development. Moreover, society is divided into 2 phases. Phase 1 is developed completely and phase 2 is under development yet.
Phase 1 consists of different possession-able sectors such as Lily, Tulip, Orchid, and Gardenia Blocks. While phase 2 includes Rose, Zinnia, Marigold, Jasmine, Daffodils, Aster, Daisy, and Geranium blocks which are dispossession.
Development Status
As per the latest news, Taj Residencia Rawalpindi is developing at a very fast pace. Moreover, it is a mega housing project offering world-class amenities to its residents. However, society is planning to fulfil the housing needs of people and modern investors. This project has eleven blocks. Blocks A, B, C, and D are under construction. Expert designer and engineers play a vital role in the successful development of Taj Residencia.
Furthermore, people start building their homes in these society blocks. Also, the developers aim to complete the development of all blocks as soon as possible. In addition, Taj Residencia plot prices will increase when the society development complete. So, this is the right time to book a plot in this outstanding housing scheme.
Plot for Sale in Taj Residencia Rawalpindi
Taj Residencia is a well-planned housing society that consists of multiple commercial and residential plots. Phase 1 offers several plots for sale in Taj Residencia Rawalpindi including 5,8,10, Marla, and 1 Kanal residential plot. Furthermore,  Taj Dream villa offers 1 Kanal, 1 Kanal Model Villa, 14 Marla, 10 Marla Mediterranean Villa, 10 Marla Modern Villa, and 10 Marla Eclectic Villa.
In addition, 5 Marla commercial plots are also available for sale. Park Face, Corner, and Main Boulevard also have plots available for sale but offering at higher rates.
Payment Plan of Taj Residencia
The Payment Plan for Taj Residencia is very feasible and easy to understand. Moreover, the booking starts with a 20% down payment while the remaining amount can be paid in 10 equal quarterly installments. Residential plots are offered on 2.5 years installment plan. 5 Marla plot price starts from 60, 00,000PKR while 8 Marla plot price is 75, 00,000PKR.
Taj Residencia 1.5 Years Residential & Commercial Plots Payment Plan:
Taj Residencia Dream Villas 1.5 Years Payment Plan:
In addition to plots, the following are the prices of luxury Dream Villas per Taj Residencia payment plans.
Taj Residencia 5 Marla Payment Plan: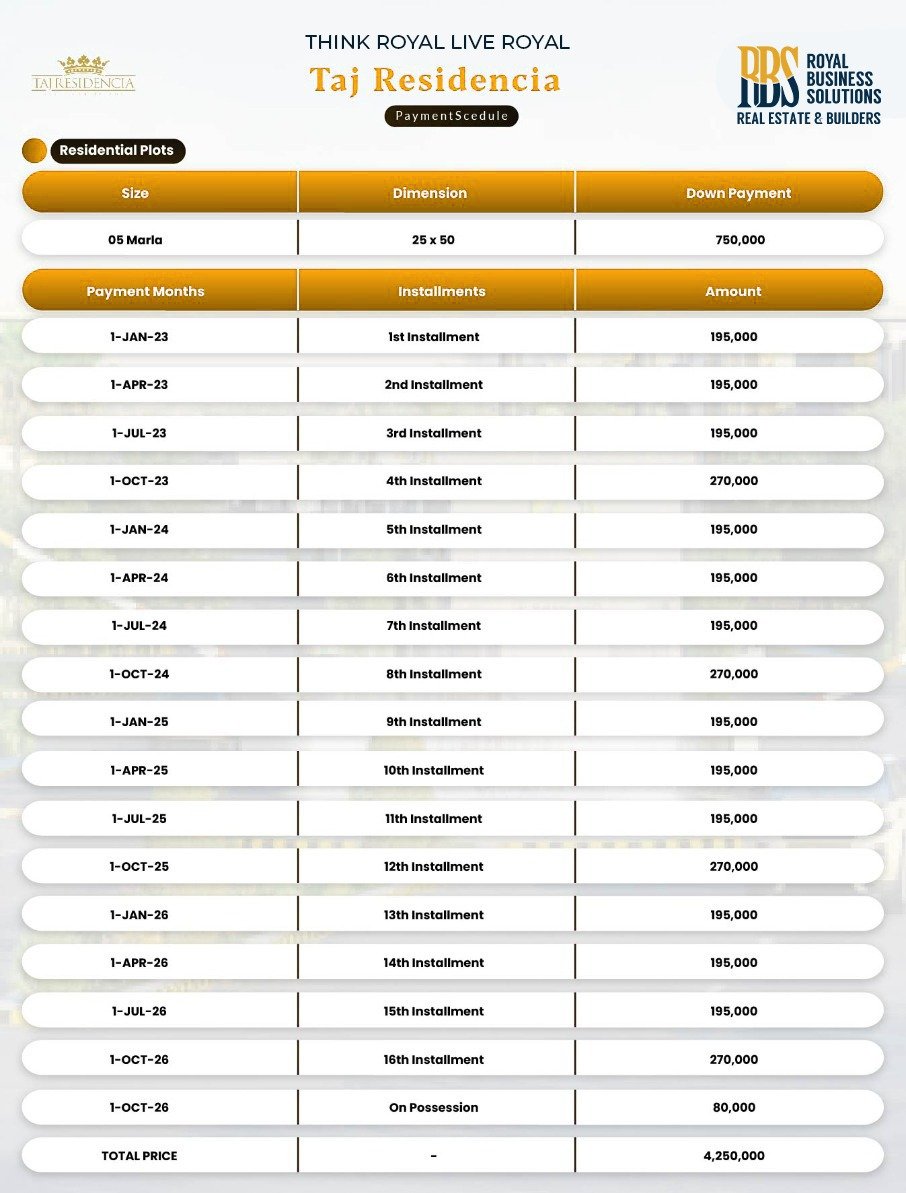 Taj Residencia Blue Bell Payment Plan:
The payment plan of Taj Residencia Blue Bell is as follows:
Facilities and Amenities
Taj Residencia Rawalpindi strives to upgrade the living standard of all people. Moreover, this project helps to cater to the housing needs of people and also become a golden opportunity for investors. The society has exceptional features and provides a comfortable living to its residents.
Educational Complexes:
The developers reserve specific areas for building modern, well-equipped educational institutes for boys and girls. Moreover, high-quality education will be provided to their residents.
Hospitals:
International standard hospitals are also developing to provide medical facilities all the time. Furthermore, staff and doctors are available in case of any emergency.
Peaceful Environment:
Taj Residencia Rawalpindi is located in green hills that allow you to take deep breaths and feel the actual meaning of calmness. Society provides a healthy, appealing, and delightful environment to live in.
Safety and Security:
Security is the main concern so the developers pay a lot of attention to this factor. All blocks are secured with CCTV cameras, security guards, and a dedicated surveillance team. Moreover, an unauthorized person can't enter society without thorough checking and permission.
Modern Infrastructure:
Most skilled and expert designers designed the layout plan of Taj Residencia Rawalpindi. Its infrastructure is very attractive, and according to modern standards. In addition, interior and exterior design is also very incredible. This modern and secure infrastructure increases the worth of this property.
Why invest in Taj Residencia Rawalpindi?
Investors are always looking for the best profitable investment opportunities. Taj Residencia Rawalpindi is an RDA-approved housing society and also the developers promised to deliver a worthwhile project. Moreover, an ideal location and easy accessibility increase its value.
The owners offer a wide range of commercial and residential plots for sale in Taj Residencia Rawalpindi. In addition, the payment plan is easy to understand and payable within a given time limit. So, investment in this society will lead to peaceful living and high profitable returns.
Conclusion
If you're looking for a residential housing society then Taj Residencia Rawalpindi is for you. Moreover, it is developed for people who are looking to modernize their lifestyle and want to experience comfort, peace, and luxury. Many factors make this society worth living such as modern infrastructure development, prime location, top-notch amenities, etc.
Furthermore, it's a perfect place away from hustle and bustle of twin cities. Now it's time to invest. We highly recommend you avail this golden opportunity. If you need any kind of assistance or any information you can directly approach us via WhatsApp or a phone call.