March 27, 2023
Posted by:

afzaal

Category:

RBS News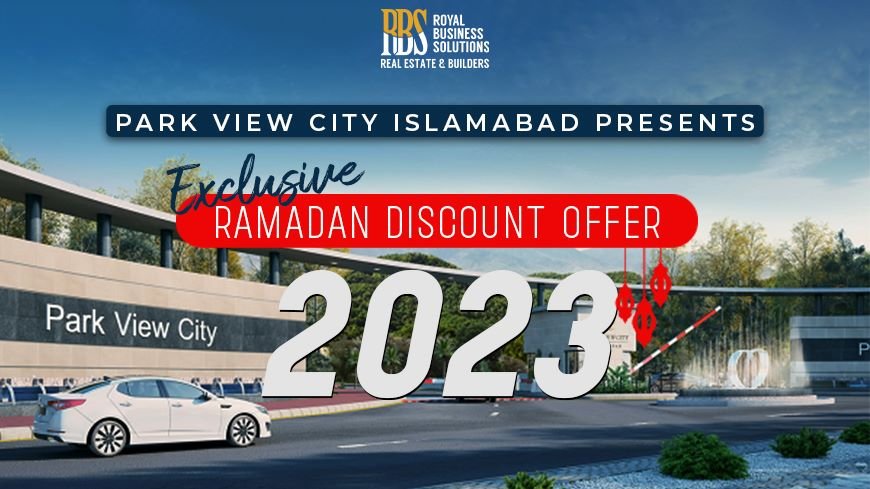 Park View City, an approved and upscale housing society, has announced a unique Ramadan discount offer for 2023. Under this offer, the buyers will get a 10% discount on paying their instalments in advance. The limited-time promotion is exclusively available during the holy month of Ramadan. The news of 'Park View City Presents Exclusive Ramadan Discount Offer 2023' is fantastic.
Moreover, park View City is a premium residential society situated in the centre of Islamabad. It provides top-notch facilities and services, such as cutting-edge security systems, a consistent power supply, water filtration plants, and much more. Further, CDA Islamabad has approved Park View City NOC.
Maximize your savings with Park View City's Ramadan Offer 2023 for monthly payments
For members who are paying monthly payments on their plots in the society, the Park View City Islamabad Ramadan Offer 2023 is a fantastic chance. Further, they will receive a 10% discount on the advance payments in this way. Moreover, it is a step in Park View City's efforts to assist its citizens as much as it can.
You can check Capital Smart City Islamabad for a profitable business in real estate.
Unlock exclusive discounts with Park View City's Ramadan Offer 2023 – Pay in advance and save
The Park View City Ramadan Offer 2023 presents a lucrative opportunity to clear advance instalments and receive exclusive discounts. Further, by paying in advance, buyers can enjoy a 10% reduction on the total price of their plots. This will lead to substantial savings for financially capable buyers. However, it is essential to note that interested members have to pay instalments at least 10 days before their due date to qualify for this offer.
To encourage participation from members, investors, and potential customers, Park View City frequently offers attractive discounts. Moreover, if you own the PVC plot and some instalments are due, pay them off now to receive 10% off.
For further updates on 'Park View City Islamabad Presents Exclusive Ramadan Discount Offer 2023' keep visiting RBS.