June 9, 2021
Posted by:

Muhammad Shehzad

Category:

Blogs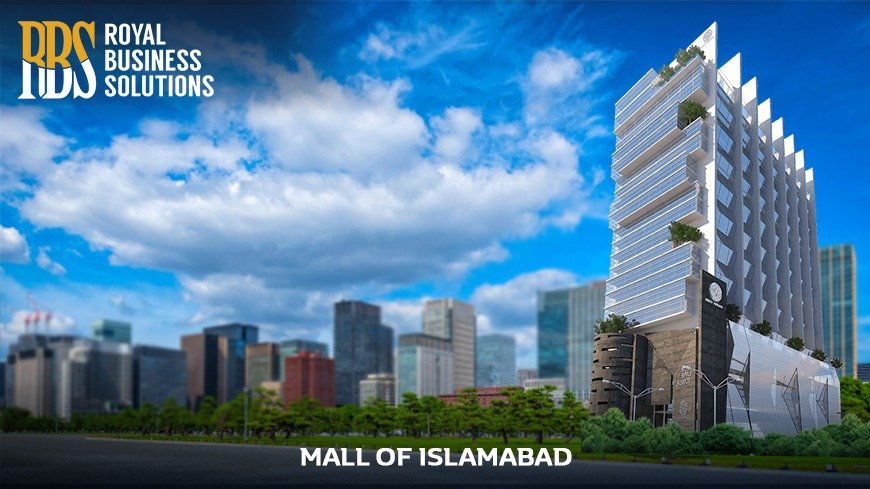 Mall of Islamabad
MOI (Mall of Islamabad) is a much-awaited project situated right in the heart of the Capital City of the Country. It is a mixed venture project which includes Shopping Complexes, Corporate Offices, Food Courts, and Apartments. The mall is specifically designed to overcome the needs of citizens living in the Capital Territory, it will not just provide basic and up-to-date facilities but also provide serene views of the beautifully developed greenest Capital of the world.
Mall of Islamabad is a mixed venture project. It is based on corporate offices, retail shops, apartments, and food courts. The developers have a strong background in terms of credibility and trustworthiness. They have previously delivered their projects in Lahore with the name of Mall of Lahore.
As mentioned, the Mall of Islamabad is a much-awaited project in the capital city because of the world-famous developers, YES! It is a project of non-other than Bahria Town. They have already delivered a successful shopping mall in Lahore called the Mall of Lahore.
Mall of Islamabad Location
The MasterPiece we are on about is located on the main Jinnah Avenue Islamabad and it can also be accessed from the Main Nazim Ud Din Road.  This Prime location is a dream of many developers as all famous The Centaurus Mall also falls on Jinnah Avenue Islamabad. Trade Marks of Islamabad like Saudi Tower and Islamabad Stock Exchange are within walking distance as well.
Mall of Islamabad is located at a very Prime Location in Islamabad. The Location where the mall of Islamabad is located is also known as the Golden Mile of the City. It is the most prime and precious location of Islamabad.
This mall is located in Blue Area Islamabad at the main Jinnah Avenue.
It can be accessed from the main Nazim Ud Din Road in Islamabad.
Near to PIMS Metro Station
Easy Access to Pakistan Stock Exchange
Easy Access to Saudi-Pak Tower
Located at City center and Accessible for Everyone
Near the Centaurus Mall Islamabad
Safe, Secure, and Convenient.
5 Minutes from Parliament House
10 Minutes from Diplomatic Enclave
10 Minutes from Marriot Hotel
5 Minutes from Legendary Shah Faisal Mosque Islamabad
2 Minutes from Jinnah Super Market Islamabad F-7.
Hence we can say that the mall of Islamabad is located at the most Prime location of Islamabad and will be a trademark tower in the near future.
Mall of Islamabad Floor Plan
If we take a look at the floor plan, this skyscraper is 25 stories tall out of which 2 floors are dedicated for parking, Four of them for Shopping Complex with International Brands, Two Floors for food courts, Two floors for Bahria Town, Seven of them for Corporate Offices and Seven for Apartments. The floor plan is an important factor to consider before buying/Investing in any Mall. Following are the slots in the Mall of Islamabad:
Shopping Mall
Retail Offices
Corporate Offices
Apartments
Five Star Luxuries
Parking
MOI comprises 23 Stories buildings. Which is one of the tallest buildings in Islamabad.
Keeping the traffic and parking issue in mind, the developers of Mall of Islamabad has specified 4 floors separately for parking.
Mega Shopping Mall will also be there on four floors. . This Mall will be featuring national and International Brands.
Two of the floors are for the food court. Moreover, this food court will be consisting of different fast food and continental food outlets.
Interestingly, two floors are for the management of Bahria Town (The developers) and Mall of Islamabad.
130 Units of mega-corporate offices are covering seven floors of the Mall of Islamabad.
While Seven floors of this project will be consisting of 40 Luxury Apartments of the following sizes:
One Bed Apartment
Two Bed Apartment
Three Bed Apartment
MOI also features Pakistan's first-ever Infinity Pool on the top floor of the mall. Some of the basic facilities are the Sports Gym, Sauna, and Spa on the top floor.
The Lower Ground floor will be featuring a hypermarket. Green Valley signs the agreement in this regard.
Amenities
Some of the basic facilities of the mall of Islamabad are that it includes an uninterrupted electricity supply. Each floor has a separate lift and also it will have Sky Pool that is going to be Pakistan's first Infinity pool. Car parking is an essential thing for a shopping mall but The Mall of Islamabad is dedicating a separate place for the residents living in the apartments so that they can enjoy hassle-free entry and exit.
Food Courts will have lavish restaurants with fine dining. 24×7 Security surveillance will be provided by the developers of the mall. The mall of Islamabad will also include up-to-date leisure facilities like a Gaming Club, Spa, Gym, and sauna.
IT Infrastructure
Mall of Islamabad is focusing very much on Information Technology Infrastructure. Internet services will be with the help of Fibre Optics.
Digital Sensors
Digital Signage IP-based Environment Sensors will control and monitor the internal atmosphere of the mall.
Convenience
Mall of Islamabad is designed in a way to make it strategically Convenient for everyone. The entrance for the residents is separate from that of the shopping mall. Making it easy for both of them. Fine Dining restaurants have a separate entrance.
Mall of Islamabad NOC
NOC is the major factor of any project. It stands for No Objection Certificate. MOI enjoys legal status and is approved by CDA (Capital Development Authority).
Payment Plan:
Just like any other project, the payment plan of this project also carries great importance. The price range of the ground floor of the Mall of Islamabad starts from Rupees 150,000 per sqft and the first floor starts from Rupees 95,000 per sqft. Similarly, the second floor starts from 80,000 per sqft. The payment plan for the third floor starts from Rupees 75,000 per sqft and apartments starts from 30,000 per sqft.
Development Status
If we look at the development status of the mall, the grey structure is complete and requires just a little more to deliver it to the end-user. The mall will be open for the public as soon as the developers are committed to deliver it by mid of 2022. They are working at a great pace to complete it as soon as possible. So that it will be open and available for all the public use. Such projects will surely enhance the economic condition of Pakistan.