June 22, 2023
Posted by:

Muhammad Shehzad

Category:

RBS News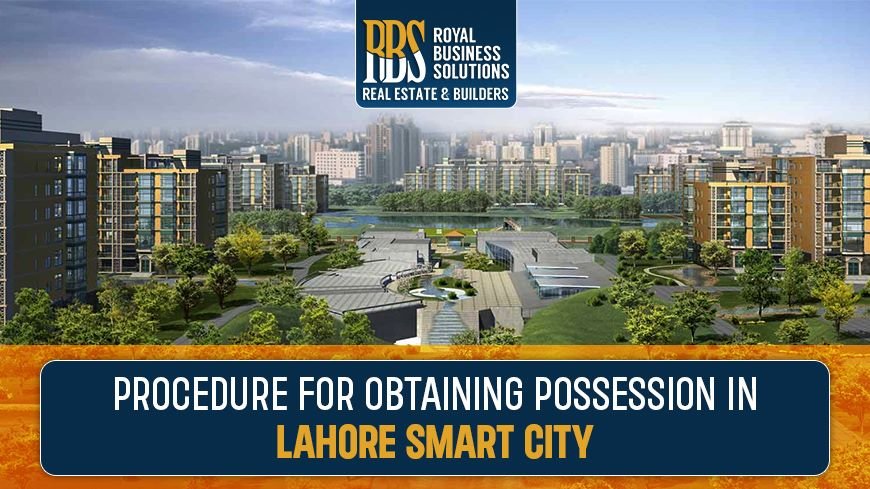 Introduction to Lahore Smart City
Lahore Smart City stands out among housing schemes for its efficient possession process, granting members the right to occupy their properties swiftly. Possession is the crucial final step in a real estate transaction, signifying the official transfer of rights to the new owner or tenant. In this article, we will explore the step-by-step procedure for obtaining possession in this Smart City.
Lahore Smart City Procedure for Obtaining Possession
Step 1: Application and Required Documents for Possession of Lahore Smart City
To initiate the possession process, members must complete the application form provided by the Smart City. Alongside the form, the following documents should be submitted:
Proof of possession fee payment via deposit slip
Copy of membership letter or allotment certificate
Copy of CNIC (Computerized National Identity Card)
Affidavit of Rs. 100/- in favor
Step 2: Statement of Dues and Payment
Upon submission, the finance section will issue a Statement of Dues (SOD) based on the plot site measurements and location. Additionally, a Post-dated Cheque Statement (PDCS) will be provided. Members are required to make the necessary payment as specified in the documents.
Step 3: Application Processing and Approval
The Building Control Department (BCD) will process the member's application for possession and seek approval. Hence, this crucial step ensures compliance with regulations and permits the transfer of possession.
Step 4: Physical Possession and Possession Letter
Once the BCD approves the application, they will request the applicant to visit the site for physical possession. During this visit, members will collect the possession letter, officially granting them the right to occupy the property.
Read: Step-by-Step Guide to Obtaining Balloting Results for Overseas Executive Blocks of Lahore Smart City
Additional Requirements and Guidelines for Possession of Lahore Smart City
Step 1: Drawing Submission and Construction Permission
After obtaining possession, members must apply for drawing submission and seek permission for construction services. This step ensures compliance with building regulations and facilitates the construction process.
Do check out Capital Smart City islamabad if you are looking for another Smart City to invest in!
Step 2: Construction Timeline
Members are required to commence construction within six months from the date of possession handover. Failure to do so necessitates re-application for possession.
Step 3: Services Connection Fees for Possession of Lahore Smart City
Services connection fees will be charged according to the company's policy. It is advisable for members to familiarize themselves with the specific fees applicable to their property.
Step 4: Owner/Member Presence or Special Power of Attorney
When applying for plot possession, the presence of the owner or member is mandatory. In cases where the owner cannot be present, a special power of attorney must be provided on behalf of the owner, authorizing the applicant to act on their behalf.
Conclusion
Lahore Smart City 3.5 Marla offers a seamless possession procedure, enabling its members to swiftly obtain the right to occupy their properties. By following the outlined steps and adhering to the guidelines, members can ensure a smooth and efficient possession process.
To further stay informed about the latest developments regarding 'Lahore Smart City: Obtain Possession Easily with Streamlined Procedure', we encourage you to stay connected with Royal Business Solutions, your trusted source for timely updates and valuable insights.