June 16, 2023
Posted by:

Muhammad Shehzad

Category:

RBS News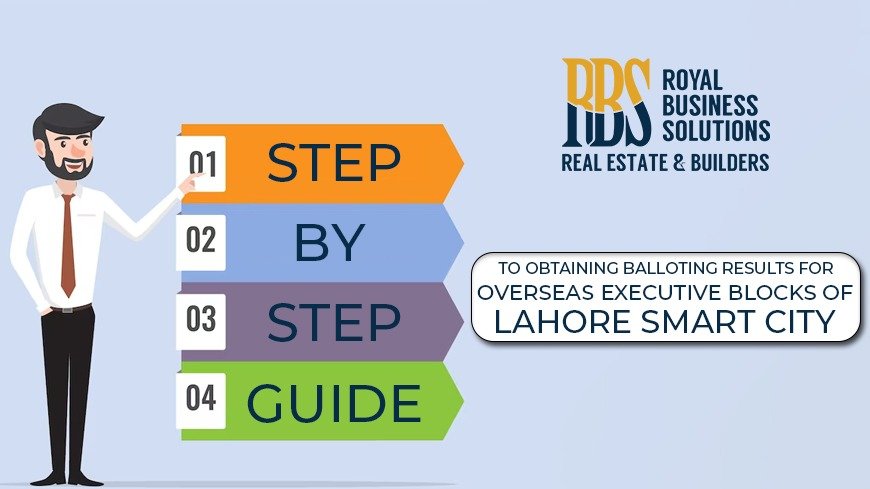 Introduction to Overseas Executive Blocks of Lahore Smart City
The overseas executive blocks of Lahore Smart City have garnered immense interest among international investors, and the anticipation surrounding the balloting results is palpable. If you are an overseas investor eagerly waiting to find out your plot allocation, this step-by-step guide will walk you through the process of obtaining the balloting results. We've got you covered, from checking the official website to contacting the relevant authorities.
Step 1-Visit the Official Website of Lahore Smart City
Start by visiting the official website of Lahore Smart City. Look for the dedicated section or page related to the balloting results for overseas executive blocks. This section is designed to provide comprehensive information and updates regarding the allocation process.
Step 2- Locate the Balloting Results Section on Website of Lahore Smart City
Once you're on the website, navigate to the specific section that provides updates on the balloting results. This section might have a label such as "Overseas Executive Block Balloting Results" or something similar. Typically, it is prominently displayed on the homepage or in the main menu.
Step 3-Enter your Information
In the designated area, enter the required information to access the balloting results. This may include your unique identification number, plot booking details, or any other information specific to your investment. Ensure that you input accurate and up-to-date information to ensure a seamless process.
Furthermore, if you are looking for a guide to booking your first plot in Lahore Smart City, we have you covered for that as well! Just read: Step-By-Step Guide To Lahore Smart City Booking Procedure
Step 4-Check the Results
After submitting your information, the system will generate your personalized balloting result. Carefully review the information displayed, including your plot number, block, and any additional details related to your allocation. Take note of this information for future reference.
Step 5-Print or Download the Result
If desired, you can choose to print or download a copy of your balloting result for your records. This document serves as proof of your plot allocation and is crucial for further communication and documentation.
Step 6-Contact the Authorities
If you have any questions, concerns, or require clarification regarding your balloting result, don't hesitate to contact the relevant authorities. Look for the provided contact information on the website or in the official documentation. Reach out to the designated helpline, customer support, or email address to receive prompt assistance and guidance.
Step 7-Follow Further Instructions
Pay close attention to any additional instructions or requirements mentioned in your balloting result. These instructions may include the next steps for payment, documentation, or any other formalities needed to secure your plot allocation. Adhere to the given guidelines to ensure a smooth transition to the next phase of your investment.
Conclusion
Acquiring the balloting results for overseas executive blocks of Lahore Smart City is an exciting milestone in your investment journey. By following this step-by-step guide, you can easily obtain the results, stay informed, and take the necessary actions for securing your plot allocation. Remember to keep the official website and authorities as your primary sources of information to stay up to date with the latest developments. Congratulations on your investment and may your new plot in Lahore Smart City bring you prosperity and fulfillment.
To further stay informed about the latest developments regarding 'Capital Smart City Islamabad: Experience Smart Living in the 12 Marla Executive Block with Attractive Plot Offers', we encourage you to stay connected with Royal Business Solutions, your trusted source for timely updates and valuable insights