August 2, 2023
Posted by:

Muhammad Shehzad

Category:

Blogs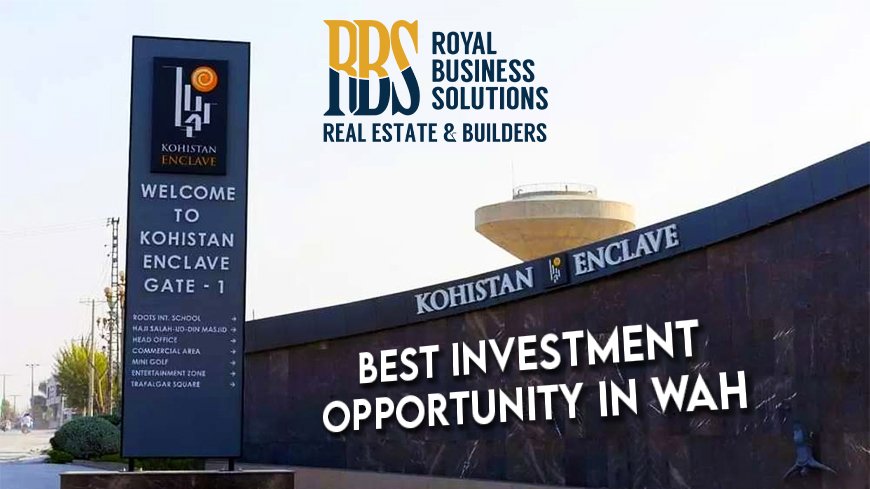 Are you looking for the best investment opportunity in Wah? Look no further than Kohistan Enclave!
In this blog post, we'll explain the overall perspective that why Kohistan Enclave stands out as a great investment option and what makes it such a promising company for investors and buyers alike. Kohistan Enclave Wah is an extraordinary housing project that aims to provide investors or real builders a better opportunity to invest. In addition to having a prime location, Kohistan Enclave Wah is located on the G.T Road 50km from the Zero-Point Islamabad.
Why choose Kohistan Enclave Wah? 
Prime Location:
Kohistan Enclave is located strategically in the heart of Wah ensuring various facilities like healthcare, educational institutions, sports clubs, gems, and transportation arteries. This residential society offers easy access to major highways, schools, and other basic necessary amenities. The major amenities provide a luxurious way of living for their investors and residential.
Find out more about the exciting opportunities that Kohistan Enclave has to offer
Premium Quality Architecture:
The developers of Kohistan Enclave Wah ensure the most outstanding living experience for investors by providing a high-quality architecture of the area. The investment in any project is typically based on the overall premium architecture while the development process.
Development Infrastructure:
One of the main reasons to invest in KE Wah is its good commitment and excellence in developing the latest infrastructure. The project of Kohistan is made by famous developers and real estate builders known for their experience in dealing with high-quality projects. To establish a vast infrastructure advanced and modern techniques are applied to comfort and elegant lifestyle for the residents.
Abundance of Amenities:
Real estate developers have been continuously working to prioritize a better and more comfortable living for residents. A high-quality lifestyle is incomplete without having amenities and facilities. To ensure the abundance of amenities, the KE has been working on an attractive approach to investing in basic amenities.
Real Estate Boom:
In recent years, the KE development in Wah has significantly increased the growth rate in the real estate sector. It delivers a modern and strategic housing project that meets the need of every investor or residential.
Multiple Ownership Options:
Kohistan Enclave Wah provides a wide range of ownership options whether you are a potential investor or buyer. It is an amazing chance for investors to avail the of multiple ownership opportunities from luxury villas to stylish apartments that meet the requirements of a better future.
Investment Potential:
As demand for premium residential properties in Wah, KE potentially invests to grow the values and properties in the region. Kohistan enclave significantly offers the opportunity to enjoy your luxury future.
Ease of Payment and Financing:
Kohistan Enclave offers a flexible financial plan that makes ease of payment for investors to secure their dream property without any financial strain.
Transparent and Ethical Practices:
Kohistan Enclave provides transparency and ethical practices in all its dealings that involve the trust of the investor while investing. The commitment to the projects with clients is based on honesty and integrity.
Safety and Security:
Before investing as property values are essentially the same and the safety and security of the project highly matter. KE supports security and dedicated surveillance systems.
Future Growth Prospects:
As the region continues to expand, KE Wah is experiencing rapid development in the shape of economic growth and urbanization. The demanding residential projects can enhance the future growth rate of these prospects.
To flourish the urban landscape, KE offers the residents prime location positions.
Link to Kohistan Enclave:
Why Kohistan Enclave is a Safe Bet?
Reputable Developer:
The owner of Kohistan Enclave is MR Malik Adeel. The KE is partnered with numerous real estate builders and developers to initialize the development processes to achieve the goal of having success in their businesses.
Positive Market Sentiment:
A Kohistan Enclave has a positive sentiment in the market with its impressive location and amenities. Many buyers and tenants have been experiencing the development strategies of KE with the help of market analysis.
Legal Compliance: While investing in KE, the legal approvals are committed by the investors which helps to build their confidence level. It also generates a convenient dealing process for the resident's peaceful mind.
Conclusion:
The Wah is the best housing complex established for all interested investors to avail of a reliable and trustworthy opportunity here. Moreover, it will have a premium quality architecture that ensures all the necessary elements to bring long-term advantages. In Wah, KE is the best investment opportunity for living a luxurious lifestyle. The construction work and developmental process will surely start rapidly in this area. At last, RBS Land provides you with the ideal development updates and advice to our investors of all kinds. So keep in touch with our professional team to start a journey of secure and happy living.
You can find more information in this blog why-investing-in-kohistan-enclave-wah.