June 17, 2023
Posted by:

Muhammad Shehzad

Category:

Blogs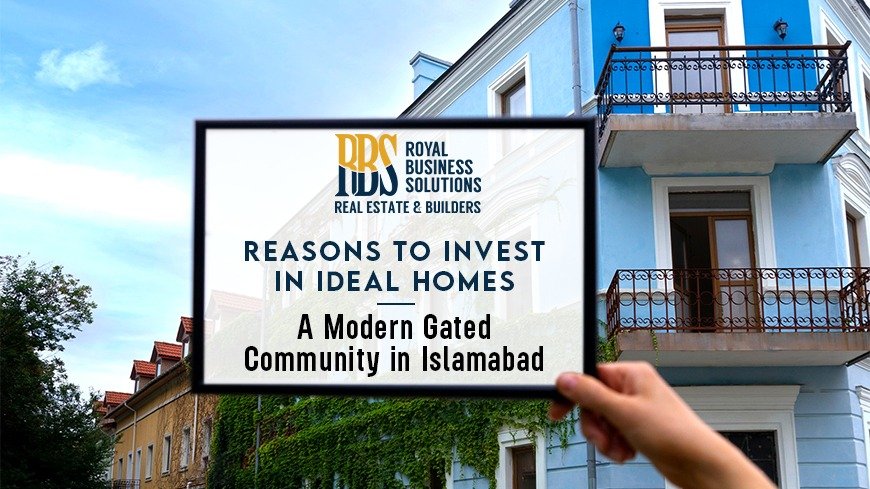 Introduction
The appeal of Modern Gated Community in Islamabad is undeniable. These communities offer a truly unparalleled living experience with their:
attractive features,
prime location,
enhanced security,
abundant amenities and
Promising investment potential.
Whether you are a family in search of a safe and comfortable home, a professional seeking convenience and peace of mind, or an investor aiming to capitalize on the city's growing real estate market, investing in a modern gated community in Islamabad is the ideal choice. In this blog, we will explore the various reasons why investing in a modern gated community in Islamabad is your gateway to finding your ideal home.
Prime Location: A Desirable Address
One of the primary reasons to invest in a modern gated community is the prime location these communities offer. These gated communities strategically situate in well-established and sought-after areas of the city. Hence providing easy access to major highways, transportation networks, business districts, educational institutions, healthcare facilities, and entertainment centers. Living in a prime location ensures that you are always well-connected to the pulse of the city. Furthermore, making daily commuting and accessing essential services a breeze.
Read: Nova City Islamabad Affordable Housing Society In Islamabad With Infinite Features
Enhanced Security in Gated Community in Islamabad
Security is a top priority for any homeowner. Modern gated communities in Islamabad excel in providing a safe and secure living environment. These communities are equipped with advanced security systems, including CCTV surveillance, guarded entrances, and perimeter fencing. Hence, residents enjoy peace of mind and a sense of protection for themselves and their loved ones. Furthermore, the presence of trained security personnel adds an extra layer of safety, creating a secure haven within the community.
Abundant Amenities: Convenience and Luxury
Investing in a modern gated community in Islamabad means having access to a wide range of amenities and facilities that cater to your needs and desires. These communities are designed to provide residents with a luxurious and convenient lifestyle. From state-of-the-art fitness centers, swimming pools, and sports facilities to landscaped parks, jogging tracks, and children's play areas, there is something for everyone. Additionally, many gated communities feature exclusive clubhouses, community centers, and retail outlets, ensuring that residents have everything they need within reach.
Serene Environment of Gated Community in Islamabad
One of the key advantages of investing in a modern gated community in Islamabad is the serene and peaceful environment it offers. These communities are often located away from the hustle and bustle of the city, surrounded by lush greenery and scenic views. Hence residents can enjoy a tranquil escape from the noise and pollution of urban life, immersing themselves in a serene and harmonious atmosphere. This tranquil setting provides the perfect backdrop for relaxation, rejuvenation, and spending quality time with family and friends.
Promising Investment Potential: Capitalize on Growth
Investing in a modern gated community in Islamabad offers a comfortable living experience and excellent investment potential. The real estate market is witnessing significant growth due to infrastructure projects, a booming economy, and high demand. Gated communities provide potential property value appreciation and attractive rental yields, making it a wise investment.
Renowned Developers of a Gated Community in Islamabad
Modern gated communities in Islamabad are often developed by renowned real estate developers. These developers have a proven track record of delivering high-quality projects. They prioritize the needs and aspirations of the residents. Hence ensuring that every aspect of the community is meticulously planned and executed. From the layout of the community to the design and construction of individual homes, attention to detail and commitment to quality craftsmanship are key considerations. By choosing to invest in a gated community developed by reputable builders, you can have confidence in the superior quality and standards of your ideal home.
All of the features stated above are also present in Gulberg Greens Islamabad so make sure to check it out!
Conclusion
Investing in a modern gated community in Islamabad is a decision that offers a multitude of benefits. Furthermore, these communities provide an all-encompassing living experience by having:
a prime location
enhanced security
abundant amenities,
serene environment and
Promising investment potential.
With reputable developers at the helm and the allure of Islamabad's cosmopolitan lifestyle, now is the perfect time to consider investing in your ideal home in a modern gated community. Make the smart choice and embrace the comfort, convenience, and luxury that await you in Islamabad's modern gated communities.
To further stay informed about the latest developments regarding 'Investing in a Modern Gated Community in Islamabad: Your Ideal Home', we encourage you to stay connected with Royal Business Solutions, your trusted source for timely updates and valuable insights.