August 2, 2023
Posted by:

Muhammad Shehzad

Category:

Blogs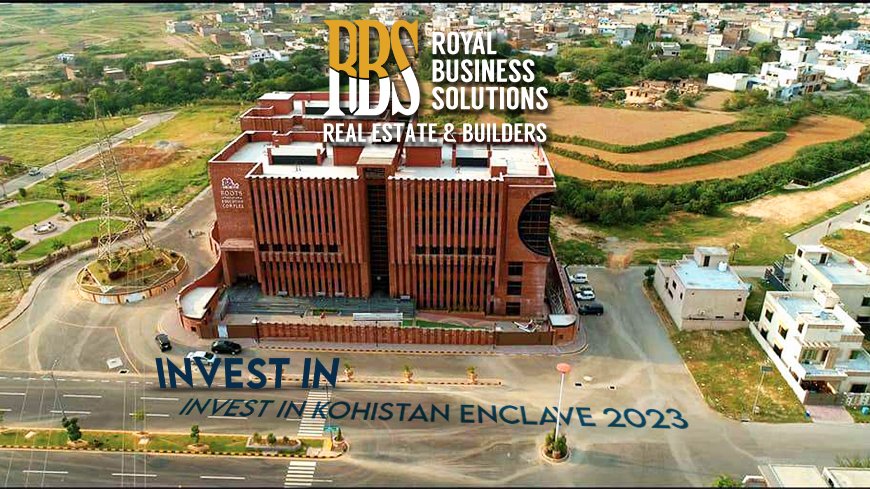 Kohistan Enclave is one of the best and most amazing housing societies located in the northern region of Pakistan. It is situated near Wah city on the G.T Road approximately 50km from the Zero-Point Islamabad. Kohistan Enclave is a well-known place in the heart of the breathtaking landscape. In real estate development or projects, they are providing unique and best standards to optimize their availability. In the comprehensive guide, the Kohistan Enclave has built a well-profit and appreciation in a short period of time.
Understanding the Kohistan Enclave
To understand the Kohistan Enclave there are various opportunities that come in the variety of features to live an ideal lifestyle same as the Nova City Islamabad. KE is a region known for its stunning natural beauty for the people who want to live there as well as the tourists. It is a strategic approach to understanding the overall dimensions of Kohistan Enclave.
Economic Landscape Scenario
To analyze the growth potential rate and stability of the region it is important to get a  detailed scenario of that region. Before any investment coordinate yourself with real estate developers and also engage with local authorities. The market experts and other team members of the company provide the relevant information and guidance into the investment climate of Kohistan Enclave.
Determining Investment Opportunities
Kohistan Enclave provides a wide range of business investment opportunities to suit different risk appetites and budgets.
Key Sectors of Investment Opportunities
Here are some key sectors of investment opportunities to ensure the feasibility scenario of the KE.
Real Estate: With the increasing development, real estate companies are evolved to generate their own business as per demand.
Hospitality Industry: To accommodate the tourist attractions it is essential to establish hotels, resorts, and restaurants that will help to grow tourism market strategies.
Renewable Energy: The presence of natural resources such as hydroelectric power plants and solar forms can significantly lead to profitable ventures.
Agriculture: Agriculture plays a significant role in the development of an economic area. It involves industrial farming that tends to maximize the production level of agricultural analysis.
Infrastructure: From a business point of view in real estate, the infrastructure needs improvement before investing in developing projects or in construction.
Conducting Research Diligence
In Kohistan Enclave to gather valuable and potential opportunity insights, the real estate focuses on conducting the due diligence. For the development of the region, understand the legal and regulatory framework for investing in the land of Kohistan to avoid any further legal problems.
The importance of conducting research diligence is similar to the opportunity to delegate a legal framework of any region.
Empowering Local Communities
While investing in KE it is important to engage with the local communities socially to seek the opportunities like job opportunities, education planning, and other essential services. These types of investments can provide a benefit to both investors and to the local population as well. It also leaves a lasting positive impact on the region.
Risk Mitigation
While investing in any region, there are risks involved. These types of risks include geopolitical factors, natural disasters, and regulatory frameworks. The developers of the Kohistan Enclave designed a unique project by providing a less-risk analysis.
The KE architecture generally decreases risk mitigation as compared to other local landscapes.
Engage with Local Authorities
To build a strong network it is necessary to engage with government agencies and local authorities. The developers of Kohistan Enclave are eagerly engaged with the local authorities in order to bring long-term advantages. This engagement architecture prioritizes the advantageous process to accumulate the government agencies.
Investment Portfolio Diversity
Investing in KE cab be beneficial but as we know in any investment there would be a risk ratio. To avoid or minimize the potential losses diversify your investment portfolio and build a balanced approach to wealth. It is important to avoid investing all your money into the same company. It is better to invest your money across a variety of projects and sectors.
The investment portfolio is the best practice for the developers as well as for the real estate companies while buying the lands for their businesses.
Focus on Sustainability and Long-Term Vision
Sustainability is an essential part of any investment in order to prioritize environmental, political, and social sustainability to contribute to the local communities.
It can highly improve the incremental ratio of KE investment in long-term vision perspectives.
Conclusion
Kohistan Enclave offers a promising investment scene in 2023, with many opportunities in various factors. It is one of the most attractive housing authorities open for investors that is premium to all the necessary elements at very affordable prices. The Kohistan Enclave Wah ensures a better and more peaceful lifestyle for investors. Kohistan Enclave widely offers the best investment opportunities in Avalon City, Blue World City, and DHA Phase 9.
Read kohistan-enclave-is-the-best-investment-opportunity-in-wah-find-out-why