June 19, 2023
Posted by:

Muhammad Shehzad

Category:

Blogs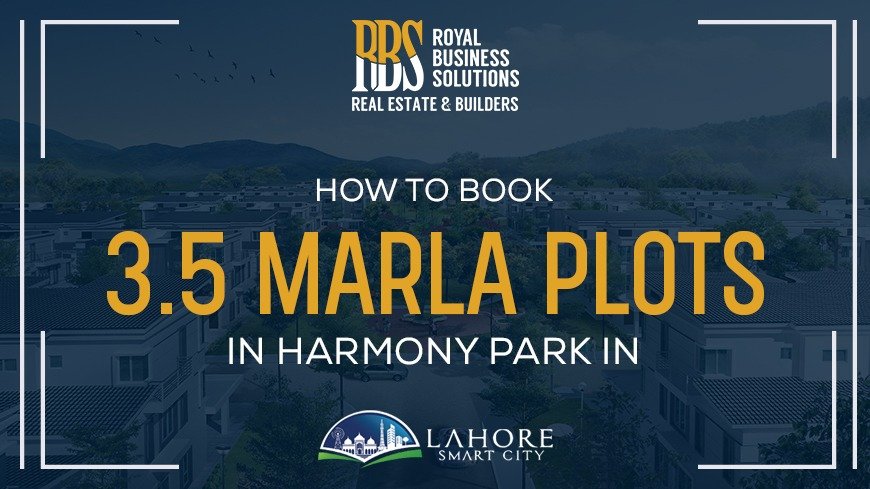 Introduction to Lahore Smart City
Lahore Smart City (LSC), an LDA-approved housing society in Lahore, offers a secure investment opportunity in the form of 3.5 Marla plots in Harmony Park. This blog provides complete details on how to book these plots, ensuring you don't miss out on this lucrative opportunity.
Prime Location and High Demand
The 3.5 Marla plots in Lahore Smart City Harmony Park enjoy an ideal location within the housing venture. The significance of location cannot be overstated, and residents of LSC are fortunate to have easy access to prime amenities and facilities.
Read: Factors that attract top real estate developers in Lahore
Affordable Price and High ROI
With its affordable pricing, investing in a 3.5 Marla plot in Harmony Park Lahore Smart City becomes a once-in-a-lifetime opportunity. The new deal in LSC is in high demand, ensuring the potential for a high return on investment. Don't wait too long to secure your plot and take advantage of this exceptional offer.
Booking Details and Payment Plan
To obtain complete booking details for 3.5 Marla Harmony Park in Lahore Smart City, follow the procedure outlined below. The payment plan for these plots is designed to accommodate different financial preferences.
Payment Plan:
Total price: Rs. 1,850,000/-
Dimensions: 20X40 or 90 square yards
Down payment: Rs. 370,000/-
14 quarterly installments: Rs. 105,714/-
Features of the Payment Plan:
The payment plan for 3.5 Marla Harmony Park Lahore includes the following features:
10% rebate on lump sum payment
5% rebate on the down payment
Rs. 7,000/- at the time of booking
Payment plan subject to change without notice
Plot prices exclude development or tax charges
Booking Procedure
To successfully book a 3.5 Marla plot in Harmony Park Lahore Smart City, follow the step-by-step procedure provided below:
Step 1:
Contact an Authorized Sales Partner Begin by reaching out to a trusted real estate marketing company authorized by Lahore Smart City, such as Royal Business Solutions. This ensures the safety and security of your investments.
Step 2:
Obtain the Booking Form Upon contacting Royal Business Solutions, their sales representative will provide you with the LSC 3.5 plot booking form file. This file includes the registration form that you need to fill out with all the required information.
Step 3:
Attach Required Documents Attach the necessary documents along with the filled-out registration form. The following documents are required:
CNIC copy of the candidate
CNIC copy of your next of kin
2 passport-size pictures of the candidate
For overseas Pakistanis, the following additional documents are required:
2 passport-size pictures of the overseas candidate
Copy of overseas ID card/driving license/ visa
Step 4:
Make the Down Payment of 25% after completing the booking form.
Step 5:
Submit the Application Submit your completed form, attached documents, and down payment to the LSC booking office through the Royal Business Solutions representative. The management of LSC will issue a payment receipt within 2-10 days, confirming the receipt of your payment.
Step 6:
Receive Tracking ID Once the payment is confirmed, the Lahore Smart City officials will provide you with a tracking ID. This ID allows you to track the complete details of your booking through the official website of Lahore Smart City.
Step 7:
Receive Plot File Within approximately 35-45 days, the LSC management will create your 3.5 Marla plot file. You can either collect the file from the booking office or request the administration to send it to your address.
Here is the exclusive Step-by-step guide to Lahore Smart City booking procedure.
Conclusion
By launching the 3.5 Marla plot Harmony Park, Lahore Smart City has further enhanced its value as a remarkable and luxurious housing venture. Ensure you have the necessary information by following the complete booking details provided in this blog. The Smart City aims to provide a high-standard lifestyle to its members, and this opportunity is a testament to that commitment.
To further stay informed about the latest developments regarding 'How to Book 3.5 Marla Plots in Harmony Park Lahore Smart City?', we encourage you to stay connected with Royal Business Solutions, your trusted source for timely updates and valuable insights.