December 19, 2022
Posted by:

Muhammad Shehzad

Category:

Blogs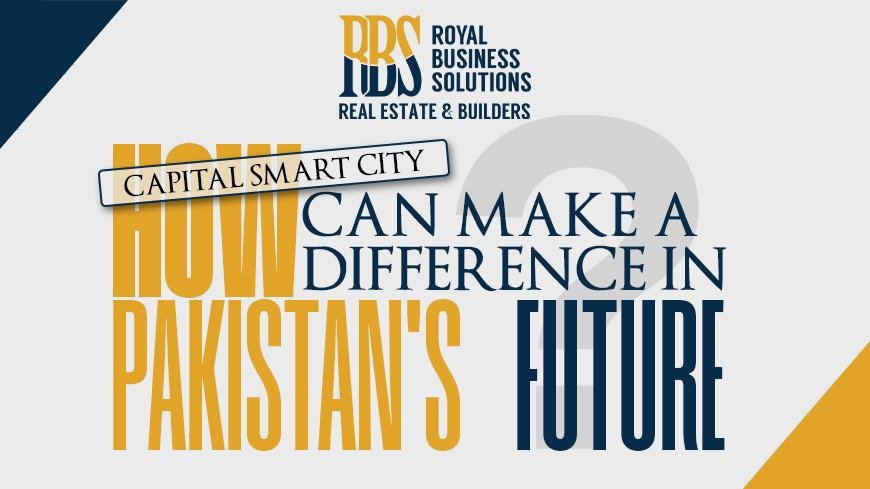 The imbalance in the urban ecology caused by mass migration from rural regions has increased the demand for sustainable housing. This fast urbanization has compelled city planners to seek solutions, which include the creation of smart communities. The primary goal of these is to provide communities with a safe and sustainable way of life. Capital Smart City is one such project in Islamabad that provides a luxurious lifestyle. In this blog, we are going to explore how Capital Smart City can make a difference in Pakistan's future.
Future Development Holdings (FDH) and Habib Rafiq Pvt Ltd.'s project has reinvented contemporary living in the capital, offering smart living choices and drawing large investments from all types of investors. Capital Smart City's major goal is to create a high-quality lifestyle and inexpensive homes.
Factors Explaining How Capital Smart City Can Make A Difference In Pakistan's Future
Capital Smart City is the first Smart City in Pakistan and the fourth in Asia. The project has smart features making it one of the most modern housing societies in the country. Capital Smart Cities will eventually become the most self-sustaining and eco-sustainable Smart cities on the list of housing societies. Let us discover factors that explain how Capital Smart City can make a difference in Pakistan's future:
Smart City
Even before the opening ceremony of Capital Smart City Islamabad, it was recognized as the first smart city in Pakistan, with a number of smart services and qualities introduced by the society. Capital Smart City has used smart technology to increase efficiency and effectiveness. The introduction of the first smart city in the country carries supreme importance while explaining how Capital Smart City can make a difference in Pakistan's future
There is a perception that all of the services and features in this mega project in Pakistan are smart and hi-tech in contrast to other housing societies in the twin cities.
Capital Smart City Islamabad provides the most modern amenities , backed by cutting-edge technology and high-tech infrastructure.
Save and Secure Society
The most essential aspect of the society is that it is safe and secure, in contrast to the majority of Pakistani societies. It is always important to emphasize that an investment location is rendered ineffective in the absence of proper security and security systems.
Capital Smart City has chosen to upgrade the security infrastructure in the housing society with enhanced security and monitoring. They have supplied security with 24-hour surveillance cameras and a team of special society guards.
 Prestigious Designers
Capital Smart City aims to bring a difference in Pakistan's future by appointing Surbana Jurong (SJ) as Master Planners for the project. It is a renowned urban, industrial, and infrastructure consulting organization in Asia. SJ is a Singaporean consulting firm.
Furthermore, SJ provides one-stop consultant solutions in the areas of urban, industrial, and infrastructure by adding value with technology and creativity. It is one of the largest Asian enterprises, with over 50 years of successful project delivery. Furthermore, SJ has around 14,500 workers operating in more than 130 offices throughout the world. In this way, the project will also captivate the international audience.
Sustainability
Capital Smart City is incorporating the concept of sustainability in infrastructure as well as in the overall environment just like Lahore Smart City. The area has an eco-friendly ambiance and natural setting, and green development ensures a calm and serene environment.
Because society developers care for the community, the environment, and society, these infrastructures are not only sustainable for now, but also for tomorrow and future generations.
Moreover, CSC has aim to deliver environmentally friendly infrastructure, and its designs have already been authorized by RDA. The society's infrastructures meet the needs of the current circumstances which is a remarkable step for tackling the country's environmental issues in the future.
They place an emphasis on developing low-cost, environmentally friendly building alternatives so that citizens may reap both economic and environmental advantages.
Smart Housing
Capital Smart City offers a diverse range of Smart Homes and flats that include the most cutting-edge and innovative housing options for its residents in Islamabad.
Explore Lahore Smart city NOC which is approved by LDA.
Smart Building
As a smart city, all of the structures and infrastructure also qualify as "Smart Buildings." In edifices, there is the introduction of an efficient monitoring system. Aside from that, it will include an HVAC Control way to keep their facilities warm and ventilated.
Furthermore, the firefighting and alarm systems will allow the individuals to escape. Moreover, there are the most effective exits in the case of an emergency.
Smart Energy Provision
The smart characteristic of Capital Smart City is also due to the provision of its own energy and power supply. The eco-friendly residential society has been recognized to embrace a substantial manufacturing technique for generating energy in a sustainable way
This aspect of Capital Smart City allows it to outperform the rest of the home societies in terms of eco-friendly infrastructure and sanitary settings. This is an outstanding step with the ongoing energy crisis in the country. It will surely bring a difference in Pakistan's future.
Smart Environment
Capital Smart City Islamabad ensures a smart environment in which innovation and technology are employed to ensure that all residents' demands are met with advanced techniques and equipment.
Capital Smart City's site is already naturally attractive since it is designated for organic assets. With government development, it will be more natural Scenic Beauty and Topography for its visitors. Developers also ensure that there will be no harm to the natural environment.
Employment Opportunity
Capital Smart City provides both residential and commercial properties. There will be several commercial and business areas, financial squares, and cooperative offices inside the society.
The requirement to keep these commercial hubs functioning efficiently creates numerous new jobs. Also, the commercial centers will create 90,000 job opportunities.
CSC housing society is now in need of personnel due to its development and building operations. Following the completion of the project, many new employment options will create for security and community service in society. The vast development calls for numerous job opportunities that ensure making a difference in Pakistan's future.
Investment Opportunity
Capital Smart City Islamabad is one of the most prominent housing schemes to receive approval from the Rawalpindi development authority. CSC has quickly established itself as a viable real estate company with enormous growth potential.
As a result, many people have reserved plots in the project, which have just become available at low costs. As an RDA-approved residential scheme, this venture has the potential to become an important business and residential hub in Rawalpindi.
It brings an excellent investment opportunity that will surely yield economic benefits for the country's future.
Conclusion
In this blog, we found out how Capital Smart City can make a difference in Pakistan's future by discussing multiple reasons. To summarize, Capital Smart City Islamabad is one of the few projects in Islamabad that has the potential to become Islamabad's top housing society. This claim is based on a number of major facts. Primarily, the location of Capital Smart City Islamabad provides the home society with a competitive advantage over the other home societies in the twin cities. In addition, the capital smart city payment plan is affordable for everyone.
Also, read about the Naya Pakistan housing scheme which aims to provide affordable housing to everyone.