June 14, 2023
Posted by:

Muhammad Shehzad

Category:

RBS News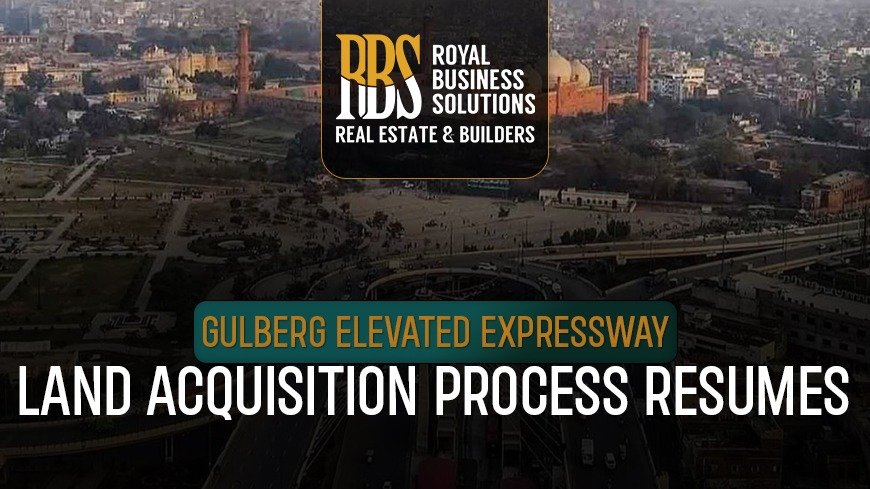 Project Revival and Increased Cost of Gulberg Elevated Expressway
On June 11, a news source announced that the Punjab government had agreed to commence the land acquisition procedure for the Gulberg-Babu Sabu elevated motorway project in Lahore. This is also known as the Gulberg Elevated Expressway.
The Lahore Development Authority (LDA) has received directives to expedite the completion of this significant urban infrastructure project, adhering to specific guidelines. In 2017, the procedure encountered a pause due to various reasons. The project now costs PKR 85 billion, a considerable increase from PKR 18 billion.
Read: The Role Of CDAs, RDAs, And LDAs In Pakistani Real Estate
Resumption of Land Acquisition Process for Gulberg Elevated Expressway
An LDA officer (name withheld) has confirmed that the authority has actively commenced reaching out to individuals whose land, predominantly comprising residential properties, falls under the purview of the Land Acquisition Act of 2016. The LDA is proactively contacting these individuals to facilitate the acquisition process and ensure they receive their rightful compensation. The LDA is actively requesting these individuals to visit the LDA offices or the appropriate revenue department officers. This is so they claim the compensation determined in 2016.
Previous Challenges and Compensatory Issues
801 kanals of land were subject to a renewed land purchase process for the Lahore elevated motorway in 2016. The final award under the Land purchase Act was announced in 2017. While some received compensation, the majority rejected it. Those who did have to give the government ownership of their land haven't done so yet.
Project Review and Approvals
The government started reconsidering the Gulberg-Babu Sabu Motorway project at the beginning of 2022. However, the overthrow of the government brought all work on the project to a halt. Currently, the revised project cost estimate of PKR 85 billion is under discussion in the Punjab Planning & Development Department. The government has also written to the Pakistani Election Commission to request approval before beginning this project.
If you are looking to invest in Real Estate in Lahore, make sure to check out Lahore Smart City to get value for your money!
Pressures and Deadlines for Affected Landowners
Affected individuals reportedly face pressure to accept compensation and transfer land ownership to the government as the LDA completes the acquisition process. Those who have already received compensation but still retain control of their property are facing a deadline.
Streamlining the Procedure and Transformational Potential
Muhammad Ali Randhawa, the Lahore Commissioner and LDA Director General, convened a meeting and approved necessary actions. He stressed the importance of a streamlined procedure at the LDA, including a one-window counter, to facilitate landowners in receiving payments for their surrendered land. Moreover, many view the project as a substantial development for Lahore, capable of transforming the city.
For further updates on 'Gulberg Elevated Expressway: Land Acquisition Process Resumes for Long-Awaited Project' stay tuned to RBS Real Estate and Builders.