October 4, 2022
Posted by:

Muhammad Shehzad

Category:

Blogs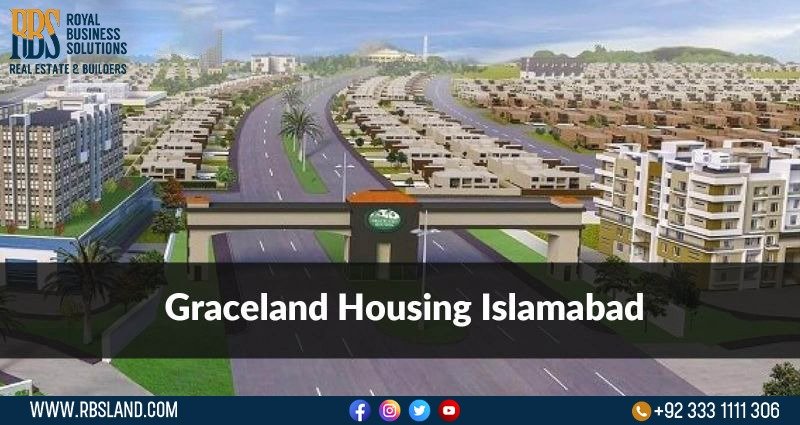 Building a home in a peaceful and captivating location is the dream of everyone and Graceland Housing was launch to fulfill this dream. Graceland Housing is a TMA-Fateh Jang-approved housing society located close to Islamabad. Moreover, it's an amazing housing scheme that aims to provide all the basic and modern amenities in a single place. The developers balance the modernization and unique features that grab the attention of everyone. Furthermore, it is one of the cost-effective options available near New International Airport.
Owners & Developers of Graceland Housing Islamabad
Concrete Solutions (Pvt) Ltd. is the developer of this lavish society. In addition, Mian Zafar is the founder and CEO of Graceland housing. This society is planned by the most skilled planners namely Infratech Pakistan (Pvt) Ltd. which is the subsidiary of Habib Rafiq Private Limited (HRL).
Furthermore, the developers consist of a group of highly skilled professionals such as engineers, architects, planners, builders, and designers. The society is designed in such a way that stands among the top popular housing societies in Islamabad. Moreover, it's a state-of-the-art housing society with a magnificent lifestyle that provides high-quality infrastructure and easy access to all the necessary amenities, making it a golden investment opportunity for foreign and native Pakistanis.
Graceland Housing NOC
TMA-Fateh Jang approved the NO Objection Certificate (NOC) of Graceland housing. Furthermore, this society does not come under CDA because it is located a little outside Islamabad nearby New International Airport.
Moreover, Graceland housing society is under the authority of Fateh Jang, which is a Tehsil of the Rawalpindi Division. Similarly, the International airport comes under the Rawalpindi Division. Hence, Graceland housing society is one of the most reliable and budget-friendly residential societies in Islamabad. Nova City Islamabad is also developed by well-known developer.
Graceland Housing Society Islamabad Map & Location
Graceland housing is located in the ideal location at Main Fateh Jang Road Near the new Islamabad International airport and provides easy access to the main Islamabad and Rawalpindi through the Fateh Jang interchange on the M-1 motorway.
Accessibility Routes
Multiple routes provide easy access to Graceland housing.
Easily accessible from the Metro route
6 min drive from New International Airport
20 min drive from Pakistan Monument
Nearly 33 minutes' drive from Islamabad Expressway
25 minutes' drive from Centaurus Mall
Located 6km away from Lahore Islamabad Peshawar Motorway
Nearly 10 minutes' drive from Jinnah Boulevard
Landmarks and Places nearby Graceland Housing
Moreover, the following are the nearby landmarks and places of Graceland Housing society
Prime City Housing Scheme
Elite Housing Scheme
Faisal Mosque
Islamabad Cooperative Housing Society
Gandhara City
University Town Islamabad
Shalimar Town Islamabad
Sector F-10
Rawalpindi Railway Station
CPEC Route
Rawal Dam
Master Plan of Graceland Housing Islamabad
The Graceland Housing Islamabad master plan is aesthetically designed by expert engineers. Moreover, the Graceland spans over 4000 Kanal of land and is divided into five sections numbered A through E. Block C is also called Valley block. Furthermore, most of the land is reserve for residential and commercial purposes. In addition, a large portion of land is also assign for parks and playgrounds.
Graceland Housing Sectors
Sector A
Sector B
Sector C
Sector D
Sector E
Plots for Sale in Graceland housing society Islamabad
Graceland Housing offers various sizes of commercial and residential as well as valley block plots for sale at budget-friendly rates.
Residential Plot sizes in Graceland Housing
The Graceland housing Islamabad residential plots have 2 categories such as Deluxe & Ultimate. Moreover, plots available for sale in this society are:
Sector E Payment PriceCommercial Plot sizes in Graceland Housing
Commercial plots are usually offering at higher rates as compare to residential plots. Furthermore, commercial plots sizes include
7 Marla
2 Marla
3 Marla
4 Marla
4 Marla
Valley Block Plot size
Furthermore, Graceland housing introduced 'Valley Block' recently which offers plots of various sizes.
Development Status of Graceland Housing
The Graceland housing society is developing at a very fast pace. Moreover, 90% development of sectors A and B has been completed. In addition, 80% development work of sectors C, D, and E has been accomplished.
Moreover, start constructing your dream house because possession has been granted. Construction of drainage system and independent storm water is ongoing. Underground electric cables are being laid down for the provision of electricity.
Graceland Housing Society Islamabad Payment Schedule
The payment plan of Graceland Housing society is kept as low as possible.  Moreover, the housing scheme offers a limited number of residential and commercial plots on a first come first serve basis. Booking can start with a 25% down payment. The payment of the entire plot can pay in 18 quarterly installments. Furthermore, limited possession plots are also offering in a cash payment.
Prime location plot charges
5% Facing Park
10% Corner Plot
15% Corner and Facing Park
Following is the payment plan for all sectors: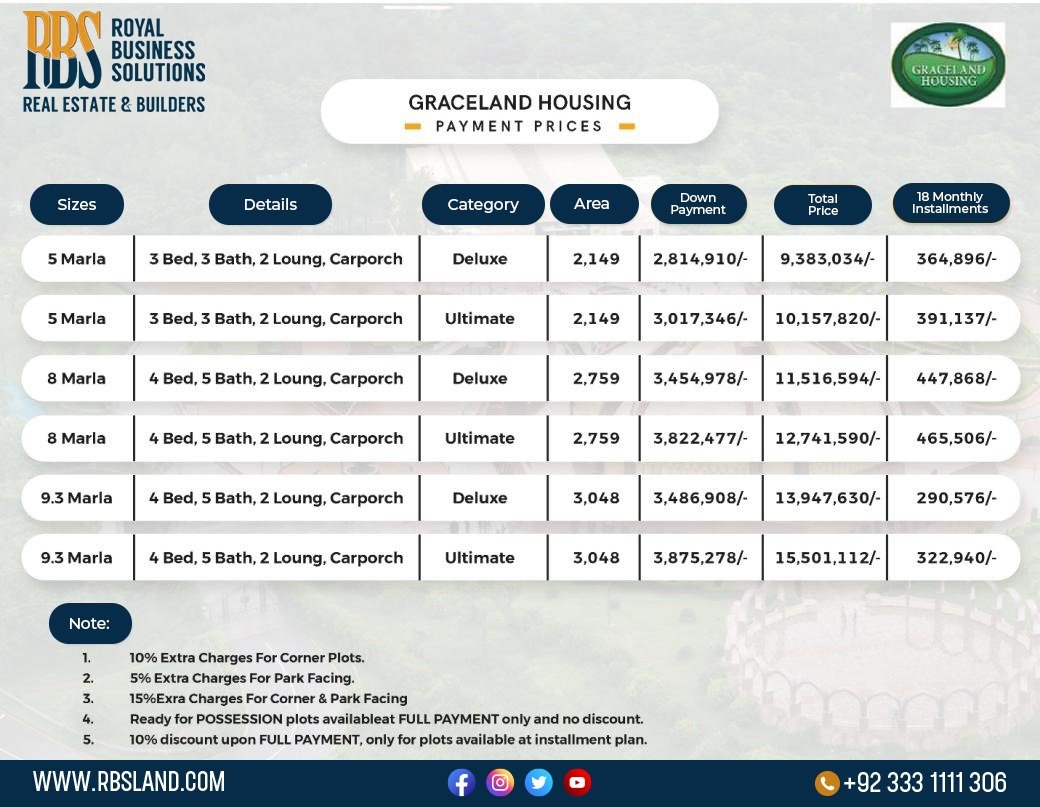 Graceland Attractive Features & Amenities
Graceland housing offers the following amenities at affordable rates.
Security & Surveillance System
Graceland housing is a gated community that prioritizes the safety of its residents. Moreover, walk-through gates are position to ensure that only authorize persons will enter the society. In addition, CCTV cameras are also installing to keep the society residents safe and secure.
Education
Education is the right of every citizen so developers of Graceland reserve 20 Kanal plots to build educational institutes.
Peaceful Environment
To provide a peaceful and eco-friendly environment to society's residents the Graceland developers reserve a huge amount of area for constructing playgrounds, parks, jogging tracks, and gardens.
Electricity Backup
To address the load shedding issues the housing society plans to install a power backup system.
Basic Utilities
The Graceland housing developers aim to provide all the basic utilities such as underground electricity, gas, and water to its inhabitants. Furthermore, to drain rainwater there is also an underground drainage and sewerage system.
Jamia Mosque
Graceland housing society also has Jamia Mosque to fulfill the spiritual needs of residents. Many other mosques are also constructing nearby including Noor Masjid, Quba Masjid, Afridi Masjid, Jamia Mosque Alfalah, and Jamia Masjid Anwar-e-Madina.
Further, Lahore Smart City also offers top-notch facilities at pocket-friendly rates.
Reasons to Invest in Graceland Housing Islamabad
Multiple reasons attract investors to invest in this housing scheme.
Prime location as well as affordable rates
Moreover, it's a fantastic option for constructing your dream house!
Secure investment option because it's approved by TMA-Fateh Jang
Furthermore, the Graceland housing is easily accessible from several nearby places
In addition, this housing society is an ideal investment option for overseas Pakistanis because all the facilities are offering according to their demands
The roads and Boulevard are open and wide
Frequently Asked Questions (FAQs)
Is Graceland housing society legal?
Yes, Graceland is legal housing and its NOC is approved by TMA-Fateh Jang.
Who are the developers of Graceland housing?
The developer of Graceland housing is Concrete Solutions (Pvt.) Ltd.
What kind of properties is offering in Graceland housing?
Graceland housing offers residential, commercial, and homes at affordable rates.
Conclusion
Graceland housing is an emerging residential society close to Islamabad. Moreover, it's a NOC-approved housing society and offers residential, commercial as well as homes at reasonable prices. The Graceland housing society Islamabad is easily accessible from Islamabad and Rawalpindi.
Furthermore, it provides an extremely safe and secure investment opportunity. It will be a fantastic place to live in. However, RBS land highly recommends you invest in this masterpiece.