October 6, 2022
Posted by:

Muhammad Shehzad

Category:

Blogs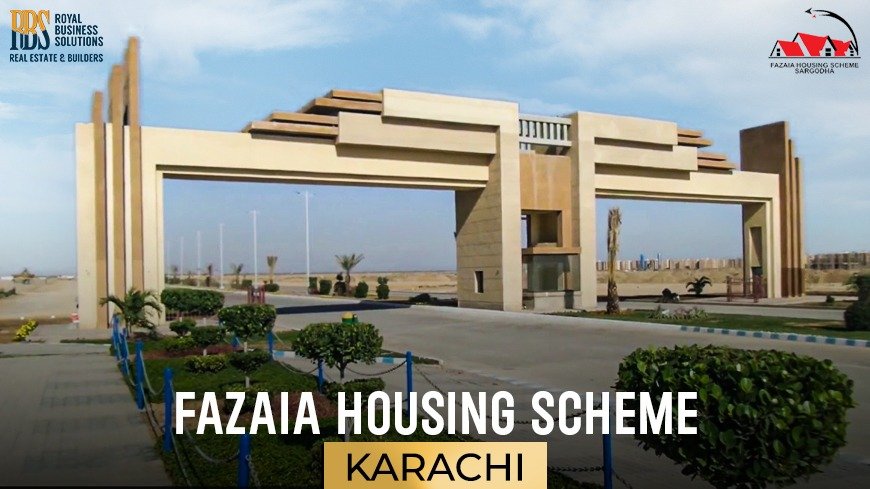 Fazaia Housing Scheme Karachi strives to provide a modern and luxurious lifestyle to Karachiites. Moreover, introducing modern designs in infrastructure, houses, and necessary facilities has inspired the new life in 'Fazaia living' that is peaceful, beautiful, and easily livable. The main focus is to build the community with the aspect of our social culture and religious traditions and needs. Furthermore, the best in contemporary infrastructure and urban planning may be found in this housing project. The highest standard of sustainable and green building has been introduced by Fazaia.
Developers
Pakistan Air Force (PAF) is the developer of the Fazaia Housing Scheme in Karachi. Moreover, society is developed not only for PAF personnel but also for the civilian citizens of Pakistan. Pakistan Air Force is known for its excellent professionalism, discipline, and honesty so investors can invest there without any worries. Additionally, PAF is intended to hand over the possession of well-infrastructure apartments to allotees. The completion timeline was also organized accordingly.
If you want to know more about famous real estate developers and their projects you can visit RBS Land.
NOC and Permissions
Without a chance of doubt, this society is not investable. However, it is not clear whether this housing society is legitimate or lawful. Additionally, before making any investments, please confirm its legality and request a NOC from the project's relevant authorities.
Fazaia housing scheme Karachi location
The society's location provides easy access to a nearby place which is the plus point of this housing scheme. Moreover, the scheme is accessible from major areas of Karachi city. The map of this society is understandable by any person. Furthermore, it consists of two sites named Fazaia Housing Scheme Karachi site-1 and Fazaia Housing Scheme Karachi site-2.
Accessibility Routes of Fazaia Housing
Following are the access routes to the Fazaia housing scheme
It lies 1 min drive away from the Northern Bypass and Superhighway link
05 min drive from Karachi Northern Bypass M-10
About a 25-minute ride from the M-9 Karachi-Hyderabad Highway
Moreover, 10 min drive from Gulshan-e-Myanmar Road
06 min by car from Momin Avenue and 04 min drive from Ghalib Avenue
Housing Societies nearby Fazaia Housing Scheme Karachi
There are multiple housing societies lie close to the Fazaia scheme
Gulshan e Myanmar
Alhamd Town
Park Garden
Tauseef Garden
Gulshan e Rabia
Salfia Town
Ahsanabad
Fazaia housing scheme Karachi Master Plan
The master plan of the Fazaia Housing scheme in Karachi is excellently design by well-skilled architects. Moreover, the plan is unmatchable. The developers offer various plots for sale in the Fazaia housing scheme in Karachi at affordable prices. Details of the plan are discussing below
Residential Apartments
There are multiple apartments for sale in Fazaia Scheme Karachi at budget-friendly prices. Besides sale and purchase houses are also available for rent in the Pak Fazaia housing scheme in Karachi.
Apartment Sizes in Karachi Site-1
02 Bedrooms (1296 Sq, ft.)
03 Bedrooms (2211 Sq, ft.)
04 Bedrooms (2812Sq, ft.)
Karachi Site-2 Apartment Sizes
02 Bedrooms with lift (1176 Sq, ft.)
02 Bedrooms without lift (1278 Sq, ft.)
03 Bedrooms with lift (1605Sq, ft.)
03 Bedrooms without lift (1499Sq, ft.)
Fazaia Housing Scheme Karachi Bungalow Sizes:
125 sq. yd double storey
275 sq. yd single storey
275 sq. yd double storey
Karachi Overseas Bungalow Sizes:
125 Sq. Yds. One Unit
275 Sq. Yds. One Unit
350 Sq. Yds. One Unit
Payment Plan of Fazaia Housing Scheme Karachi
The owners of the Fazaia Housing scheme ensure to make the payment plan affordable and understandable.
Karachi Site-1 Payment Schedule
Apartments or plot prices fluctuate with time and this fluctuation depends on inflation or market rates. Moreover, the apartment price plan is available below.
Karachi Site-2 Payment Plan
Furthermore, the following are the Karachi Site-2 apartment's payment plan
Payment Plan for Fazaia Housing Scheme Karachi Bungalows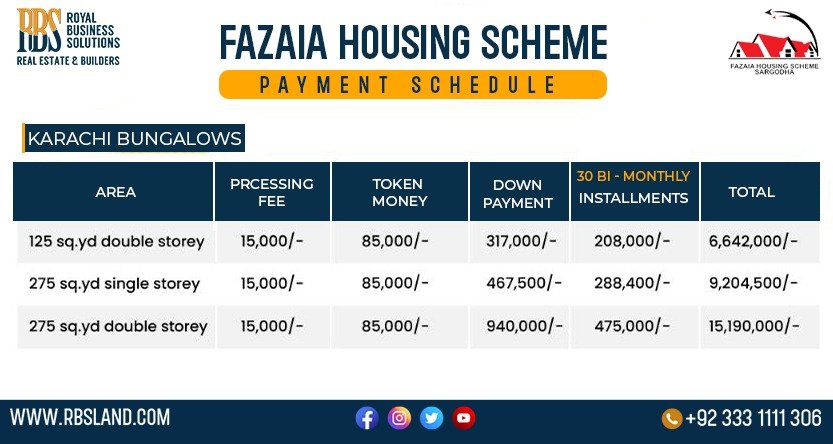 Overseas Bungalow Prices
Features of Fazaia Housing Karachi
The developers strive to offer unique features to their residents.
The society has a Green and peaceful environment and also has Earthquake resistant infrastructure
24/7 power backup systems available
Gated community with security staff
Moreover, car parking to accommodate all the residents
Lifts available
Commercial Center as well as markets
A small Zoo, Recreational areas & Parks
Jamia Mosques
Community Hubs
Gymnasium for each Block
Swimming pools are also available
Day Care Centers for children
Furthermore, Medical facilities like Hospitals & Pharmacies
Cricket Stadium and Sports Complex
Educational institutions such as School & Separate College for boys & girls
Facilities & Amenities
The society offers all basic as well as modern amenities to upgrade people's living standards.
Gated Community
To ensure the safety of its residents, the Fazaia Housing Scheme in Karachi maintains a fully functional, round-the-clock security system and qualified security personnel. Furthermore, the border wall encloses the entire civilization, and gates with security barriers are established to only allow secure entry and exit areas.
Organized Sewerage Systems
A sewerage system is fitted in every block of the Fazaia Housing scheme and waste disposal systems are also part of the development plan. Moreover, wide drainage tubes are installed as part of the sewage system to ensure efficient waste disposal.
Road Infrastructure
The road infrastructure is designed with modern machines. Furthermore, roads are wide and carpeted to avoid traffic jam issues.
Jamia Mosque
To fulfill the spiritual needs of the society residents, developers aim to design the grand Jamia Mosque in this society.
On a side note, you can read Nova City Islamabad which also offers world-class amenities at affordable rates.
Reasons to Invest in Fazaia Housing Scheme Karachi
The most compelling reason to invest in this masterpiece is it is the project of the Pakistan Air Force. Moreover, the esteemed title of PAF is itself a guarantee and Air Force will never engage in a risky project to damage its reputable name.
In addition, it is a matter of pleasure that the Air force has undertaken such a world-class project for the personnel of the Air force as well as for civilians. The air force has started this project to provide a standard living style to all the citizens of Pakistan at the most affordable rates in the real estate market. The investors' confidence should be high as the citizens have in the Air force when it comes to defending the Pakistan skies.
Furthermore, international standards have been incorporated to meet the current and future needs of its residents. Moreover, not only Pakistani, but foreigners can also invest in this society because it is offering a peaceful and eco-friendly environment to its inhabitants where security and safety are their top priorities. The society's location is also accessible from various access points.
Conclusion
Fazaia Housing Scheme Karachi is an international housing project developed on international standards located 1 min drive from Northern Bypass. Moreover, the owners of this society develop it with the express intensity of delivering higher living standards. Furthermore, society is developed using modern technologies to fulfill the promises to its residents. Investing in this housing society will be beneficial and profitable for you. The value of your investment will undoubtedly increase significantly over time. Furthermore, you can also check the Fazaia housing scheme Karachi's latest news from the official Fazaia housing scheme Karachi Facebook page.
If you want to learn more about Islamabad's cutting-edge renovated housing societies then please visit the Capital Smart City.