June 7, 2023
Posted by:

Muhammad Shehzad

Category:

RBS News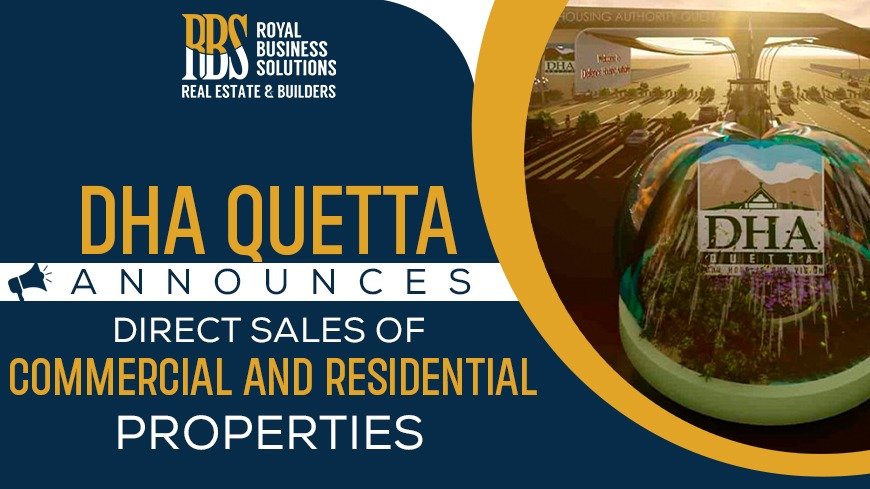 The Defense Housing Authority (DHA) Quetta announces direct sale of commercial and residential properties according to a Facebook post on the authority's official page on June 5th 2023.
The announcement states that DHA Quetta would sell properties directly on June 20 and 21, 2023. The details of the available plots are as follows:
2-kanal Commercial
2 1-kanal Commercial
2 8-marla Commercial
2 4-marla Commercial
4 1-kanal
5 Residential
If you are looking for a luxurious yet affordable housing society in Islamabad to invest in, make sure to check out the amazing Capital Smart City.
DHA Quetta Direct Sale Plots Conditions
For DHA Quetta direct sale plots, the administration has made clear the precise conditions. Here is a list of them:
Between June 6 and June 14, investors or real estate agents who wish to take part in the direct sale of commercial and residential plots must register with DHA Quetta. They have to pay PKR 5,000 registration fee which is not refundable.
If they have a CNIC or NICOP, all Pakistani corporations, firms, and citizens can participate in the direct sale of plots.
All investors and real estate brokers must register online. On the authority's official website, DHA Quetta
you may find the registration link.
Investors and agents must provide hard copies of the registration forms for verification on the day of the direct sale.
The Finance Directorate/DHA Quetta counter requires each category's customer-elected winner to pay a 10% down payment right away. The winner must deposit the remaining 90% of the prize within thirty days of the announcement.
The customer's business or residential plot will be immediately deemed void if they don't pay the agreed-upon payments within the allotted time period. Any deposits made will have a 20% deduction taken out of the return.
DHA Quetta maintains the authority to halt any direct sale of a commercial or residential land without giving prior notice.
To stay informed about the latest developments regarding 'Al-Ghani Garden and Meinhardt sign an agreement for an upcoming project', we encourage you to stay connected with Royal Business Solutions, your trusted source for timely updates and valuable insights.