February 23, 2023
Posted by:

Muhammad Shehzad

Category:

RBS News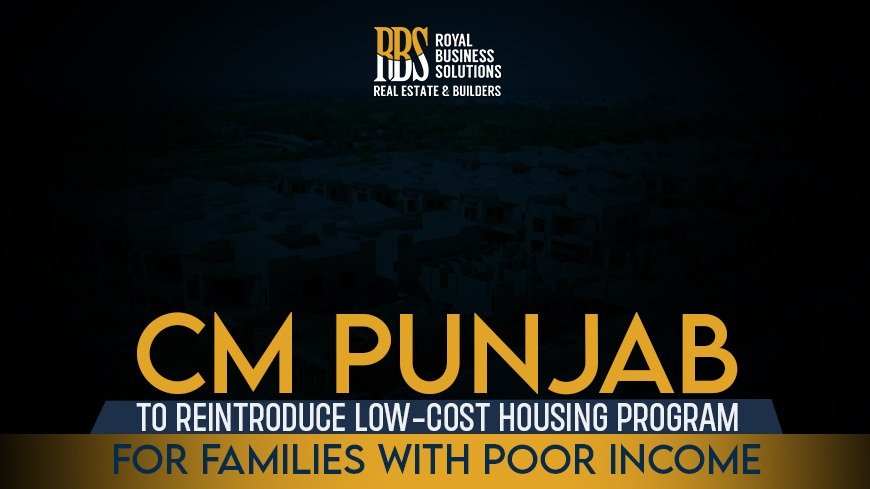 To offer low-cost housing for low-income households in the province, Mohsin Naqvi, the interim of CM Punjab, has ordered the reorganization of the board of the Punjab Housing and Town Planning Agency (Phata) and the reactivation of the Chief Minister's Low-Cost Housing Scheme. Further, he said, to offer low- and middle-income residents of the province with affordable homes, the plan should be revived. Bringing affordable homes within reach is the best aspect of 'CM Punjab to Reintroduce Low-Cost Housing Program for Families with Poor Income'.
Reviving hope for affordable housing: Re-Launching the CM's Low-Cost Housing Programme in Punjab
The Chief Minister's low-cost housing program was previously not active because of several reasons, most notably owing to a lack of funding and the negligence of the developers and administrative authorities. Moreover, the Punjab Caretaker, Mr. Mohsin Naqvi, called a meeting to discuss the revival of the CM's low-cost housing program.
Further, he said that they should perform this essential action right now to provide housing for the expanding population.
For better living in a secure and well-facilitated place, you can check Capital Smart City Payment Plan.
Empowering Low-Income Families by providing interest-free loans
Additionally, he added that there is a need to empower low-income families by providing interest-free loans so they may build their houses and repay the loans over time. Moreover, he said that there is a need to revive low-cost housing programs in order to provide a place for the underprivileged population to dwell.
Making Affordable Housing a Fundamental Human Right for All in Punjab
Further, a house is a fundamental human right, according to him, and the government should try to make this a reality to build enough affordable homes for the growing demand in Punjab, the government takes action.
Akhuwat Foundation and Punjab Government Expand Interest-Free Financing for Affordable Housing
Further, there was the declaration of the agreement with the Akhuwat Foundation for interest-free financing for the building of homes smaller than five marlas was also at the conference. Further, they declare that the Akhuwat Foundation was successful in recovering all of the 200 million PKR in family debts. Also, Punjab Caretaker asked Akhuwat Foundation representatives to enhance the entire loan budget from 200 million to 800 million.
Overcoming Economic Challenges to Address the Nation's Housing Shortage
To address the nation's housing shortage, the government previously started low-cost housing developments and subsidized home financing. So far, the government was unable to continue giving subsidies due to the unstable economic environment. It was unable also due to higher-than-normal market interest rates.
Instructions are given to PHATA and other authorities to take the necessary actions to restart CM's low-cost housing program as soon as possible.
For further updates on 'CM Punjab to Reintroduce Low-Cost Housing Program for Families with Poor Income' stay tuned to RBS.