November 7, 2023
Posted by:

Muhammad Afzaal

Category:

RBS News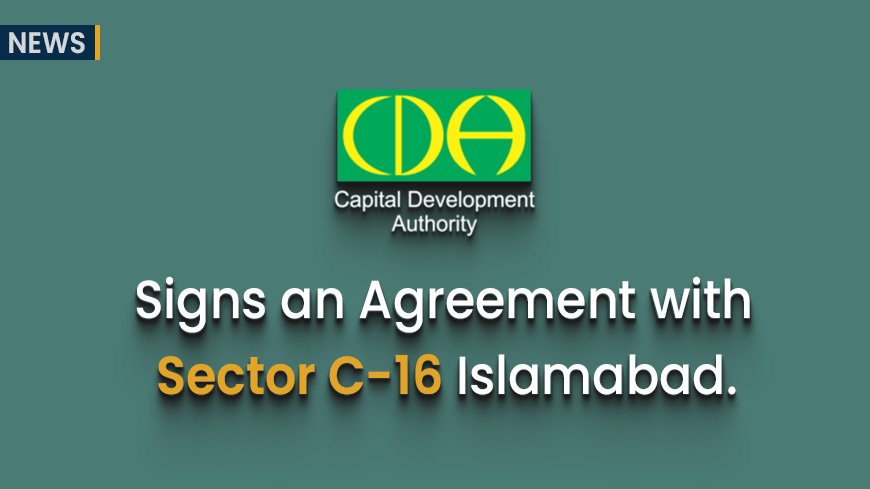 On Wednesday, the Capital Development Authority (CDA) reached an accord with the residents of the underdeveloped C-16 sector, pledging to offer them compensation for their constructed properties. The details of this compensation will be disclosed within a two-month period.
According to the report, local landowners, led by former MNA Anjum Aqeel Khan, convened a meeting with CDA officials at the agency's main office.
During the meeting, both parties reached a consensus that the CDA would officially declare the pending BuP Award for the C-16 sector within a two-month timeframe. This agreement with the residents of sector C-16 aimed at addressing the concerns of local inhabitants. Also offering transparency regarding their property compensation.
Read: CDA Auction Day 3, Small Commercial Plots Witness High Demand
In a commendable move towards cooperation, it was decided that the CDA would retract a recently filed FIR against the local residents who had obstructed development activities in the sector. This act underscores the significance of promoting a collaborative environment for the betterment of the area.
The CDA has committed to swiftly carry out the survey and measurement of houses in the C-16 sector. Within the span of two months, the final BuP Award will formally announced. This announcement delivers much-needed clarity to the affected residents.
Allocation of Plots in Exchange for Constructed Properties
As per the agreement, local residents who own constructed properties will receive plots in sectors C-16 or C-15 in exchange for their properties. The CDA has committed to issuing allotment letters within four months, ensuring a seamless transition for the impacted individuals.
The BuP Award will announced by the CDA after gaining approval from a committee of local residents, reinforcing the transparency and equity of the process.
Moreover, to ensure fairness, the CDA has established that a five-marla plot will allocated for every 300-square-foot covered area. This area ensures equitable compensation for those affected.
The C-16 sector acquired by the CDA in 2008 under the land-sharing policy, entitling local residents to one kanal of developed land for every four kanals acquired. In addition to land, compensation for BuP cases is an integral part of this agreement.
Promoting Transparency and Authenticity
Preserving the BuP Award process's credibility and transparency involves rigorous adherence to established rules. The utility connections and voter registries serve as crucial tools for verifying property claims' authenticity and preventing potential fraud.
Also Read: CDA 4-Day Auction Ends Garnering PKR 12.9 Bn
The CDA emphasizes meticulous attention to detail, especially given the ongoing construction in the C-16 sector. It avoids financial losses and ensures respectful entitlements for original residents. Further, the agreement signifies progress in resolving property compensation issues. It also promotes transparency and cooperation for the benefit of all parties involved.
For further updates check out RBS.