June 6, 2023
Posted by:

Muhammad Shehzad

Category:

RBS News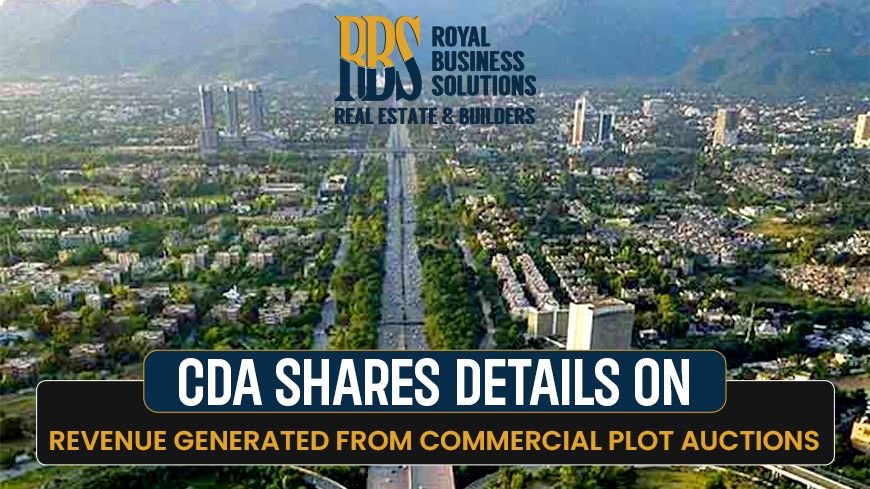 According to reports in national newspapers, Islamabad's Capital Development Authority (CDA) published the details of a three-day auction of commercial properties held from May 29 to May 31. The news 'CDA shares details on revenue generated from commercial plot auctions' is worth noticing.
Successful Auction of Prime Commercial Sites with Strong Revenue Growth
Based on the information at hand, the authority successfully auctioned 17 commercial sites out of a total of 45, resulting in total revenue of PKR 19.35 billion.
Furthermore, the reports suggest that the interest of investors in the auction of commercial properties located in the prime areas of the capital city was lower than initially anticipated. Despite the anticipation of a significant response, the level of enthusiasm and participation fell short of expectations. This observation implies that potential investors might have been less inclined to invest in the auctioned properties. May be the lack of interest is due to various factors such as market conditions, pricing, or alternative investment opportunities. The lower-than-expected interest highlights the need for further analysis and strategies to attract investors and optimize the potential of these prime commercial properties.
Capital Smart City Islamabad can be the perfect choice for a peaceful lifestyle.
Fueling growth with Prime Petrol Station auction in Markaz D-12
The auction committee accepted the highest bid of slightly more than PKR 820 million for a 2,222.22-square-foot petrol station in Markaz D-12. Further, the highest bids for the plots are subject to the CDA Board's approval, which will organize shortly.
The information below pertains to the auctioned parcels.
A parcel in Blue Area (G-6/F-6) measuring 4,888.88 square yards was auctioned off for PKR 7.8 billion.
Further, the selling price of 700 square foot land was PKR 1.7 billion.
The auction yielded a sale of Sector H-9's petrol station for PKR 3.35 billion.
Moreover, the CDA issued a warning to the public, indicating that they will soon auction commercial plots.
The CDA decided to hold an auction to raise money for current and future development initiatives.
For further updates on 'CDA discloses auction revenue ', keep visiting RBS