June 21, 2023
Posted by:

Muhammad Shehzad

Category:

Blogs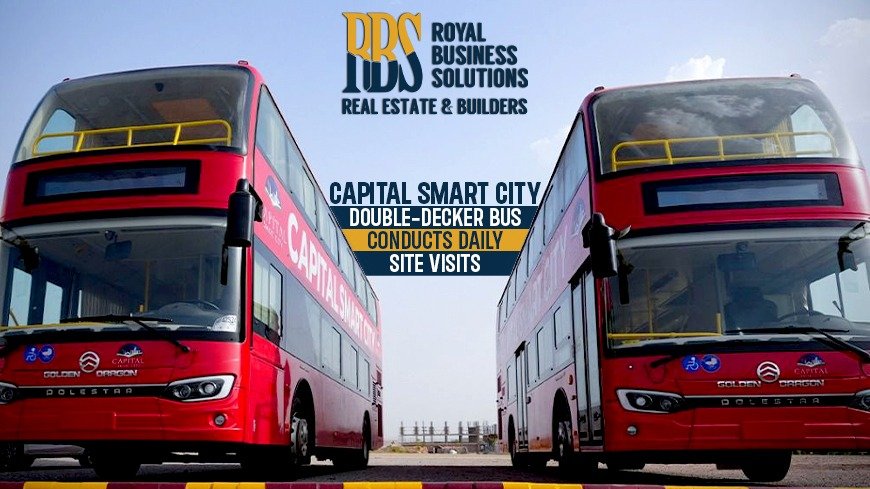 Introduction
Capital Smart City, a prestigious residential project located near Islamabad and Rawalpindi, is making waves with its innovative approach to transportation. The introduction of a rapid transit bus system (BRT) within the society has garnered significant attention. This state-of-the-art transportation system aims to enhance connectivity not only within the society but also with the neighboring cities, providing residents with convenient access to
essential amenities,
commercial centers, and
Employment opportunities.
Let's delve into the details of Capital Smart City BRT system and how it is set to revolutionize the way people travel.
The Arrival of Hybrid Double Decker Buses
In a bid to bring the BRT system to life, Capital Smart City has already acquired two Hybrid Double Decker Buses. These buses, equipped with cutting-edge technology and spacious interiors, arrived in June 2022, marking a significant milestone in the development of the society. Moreover, the introduction of these buses showcases Capital Smart City's commitment to providing residents with efficient and comfortable transportation options.
Facilitating Site Visits via Capital Smart City BRT System
Capital Smart City is determined to offer an exceptional experience to its members and prospective residents. As part of this commitment, the society has hence launched daily site visits via the Double Decker Buses. This initiative allows individuals to explore the society's premises and get a firsthand experience of its various offerings.
Looking for a smart city in Lahore with the same or similar features? Then check out Lahore smart city 3.5 Marla.
Schedule of the Capital Smart City Hybrid Double Decker Bus
Departure for Site Visit
Every day, starting from F-11 Markaz near PTCL Exchange, the Double Decker Bus departs promptly at 11 AM for Capital Smart City. This timely departure ensures that visitors can maximize their site visit experience without any delays. The bus journey itself offers a comfortable and scenic ride, setting the stage for an exciting exploration of the society's facilities.
Location: F-11 Markaz near PTCL Exchange
Time: 11 am
Days: Daily
Destination: Capital Smart City Site
Cost/Fee: None
Return from Site Visit
After a comprehensive tour of the Capital Smart City site, the Double Decker Bus returns to F-11 Markaz at 2 PM, ensuring a convenient and timely journey back for all visitors. The return journey provides an opportunity to reflect on the experiences and discoveries made during the site visit.
Location: Capital Smart City Site
Time: 2 pm
Days: Daily
Destination: F-11 Markaz
Cost/Fee: None
What to Expect from the Daily Site Tour of Capital Smart City BRT System
Capital Smart City understands the significance of offering a seamless and informative site visit experience to its visitors. Whether you are an existing or potential investor, or a future resident, the society strives to make your visit as rewarding as possible. While it is advisable to plan the tour with a real estate consultant for a guided experience, individuals are not required to be accompanied by an agent. The site tour provides a unique opportunity to witness the progress and development within the society firsthand.
Recommended Time Allocation
To make the most of your site visit and fully explore the developed and developing blocks within Capital Smart City, it is recommended to allocate a minimum of 4 hours. This timeframe allows visitors to
immerse themselves in the vibrant atmosphere of the society,
interact with the community, and
Gain valuable insights into the ongoing developments.
Moreover, the comprehensive site tour enables you to envision the potential of this dynamic residential project.
Read: Capital Smart City: Dispelling Rumors And Clarifying Legality
Ongoing Developments of Capital Smart City BRT System
Capital Smart City goes beyond the BRT system; moreover, it is a dynamic project that continually evolves. The society not only prioritizes enhancing residents' quality of life but also invests in infrastructure, integrates smart technologies, and creates top-notch amenities. The BRT system, therefore, is just one aspect of the comprehensive development and progress within the society. To stay updated on the latest developments, visitors can:
regularly check the official website or
Reach out to the appropriate authorities.
Moreover, by doing so, they can actively participate in and witness the exciting transformation of the capital smart city payment plan 2023 into a sustainable and futuristic living space.
Conclusion
The implementation of the BRT system in Capital Smart City emphasizes the society's commitment to providing a seamless transportation experience. Hence, the arrival of Double Decker Buses and the launch of daily site visits exemplify the dedication to offering a premium lifestyle to members and potential investors. This forward-thinking approach sets new standards of convenience, accessibility, and sustainability. Capital Smart City goes beyond a residential project; it is a visionary endeavor that redefines modern living. Embrace the opportunity to explore this remarkable society, witness ongoing developments, and be part of a promising future.
To further stay informed about the latest developments regarding 'Scaling New Heights: Capital Smart City's Double Decker Buses Revolutionizing Transportation and Site Tours', we encourage you to stay connected with Royal Business Solutions, your trusted source for timely updates and valuable insights.