June 19, 2023
Posted by:

Muhammad Shehzad

Category:

RBS News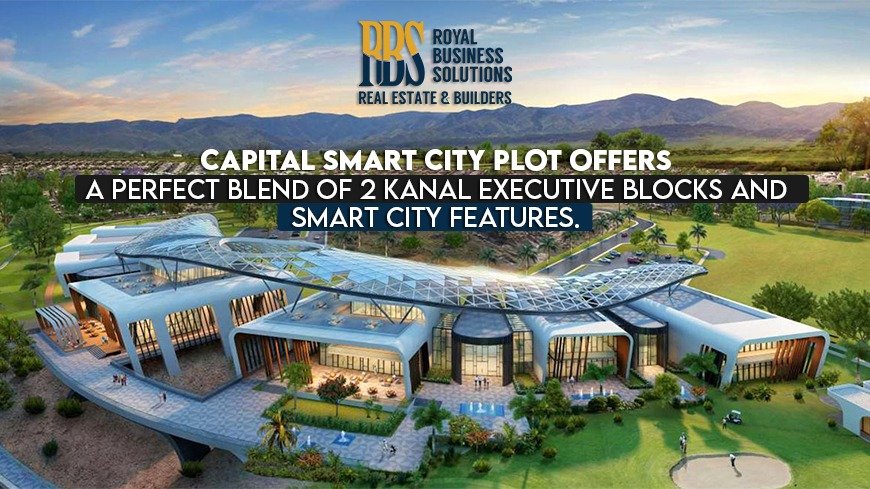 Introduction to Capital Smart City
Capital Smart City is a visionary housing project in Islamabad, Pakistan, offering a unique combination of 2 Kanal Executive Blocks and smart city features. Developed by Future Developments Holdings (Pvt) Ltd, this project aims to redefine modern living through advanced technology, sustainable practices, and luxurious amenities.
2 Kanal Executive Blocks: Exclusivity and Opulence
Catering to high-end buyers, the 2 Kanal Executive Blocks provide spacious plots spanning over 2 Kanals (approximately 1,000 square yards).
These blocks offer ample space to construct grand and luxurious residences, ensuring privacy, tranquility, and exclusivity for residents.
Meticulously planned layouts and elegant architectural designs make these blocks a symbol of luxury living.
Smart City Features: A Technologically Advanced Living Experience
This project embraces the concept of a smart city, integrating advanced technologies for enhanced living standards.
Intelligent systems, including smart grids, automated waste management, smart transportation, and advanced security measures, create a modern and efficient living environment.
The project promotes energy conservation, green spaces, and eco-friendly practices, setting a benchmark for sustainable developments.
Read: Capital Smart City: Dispelling Rumors And Clarifying Legality
Prime Location and Accessibility of Capital Smart City
The strategic location in Islamabad offers easy access to major landmarks, business districts, educational institutions, and healthcare facilities.
The 2 Kanal Executive Blocks are positioned within the project to provide a serene and prestigious neighborhood for residents.
Approved by relevant authorities, the project ensures a secure and legally compliant investment opportunity.
Amenities and Facilities: Unmatched Convenience and Luxury
The Smart City offers a wide range of amenities to cater to the diverse needs and preferences of residents.
Luxurious residential enclaves, commercial areas, recreational facilities, healthcare centers, educational institutions, and retail spaces are all part of the comprehensive project.
Residents can enjoy sports and leisure activities, landscaped parks and gardens, and modern conveniences, creating a vibrant and self-sufficient community.
If you are looking to invest in a Smart City in Lahore, make sure to check out Lahore Smart City.
Flexible Payment Plans and Financing Options of Capital Smart City
The Smart City provides flexible payment plans and financing options to make investing in plots convenient.
Buyers can choose a payment plan that aligns with their financial capabilities and investment goals.
Whether homeowners building their dream residence or investors seeking lucrative opportunities, Capital Smart City caters to diverse aspirations.
Conclusion
Capital Smart City is a remarkable housing project that seamlessly blends 2 Kanal Executive Blocks with smart city features. With spacious plots, advanced infrastructure, sustainable practices, and a wide range of amenities, it offers an exceptional living experience and sound investment opportunities in Islamabad. Invest in this Smart City to embrace the future of living and elevate your lifestyle to new heights.
To further stay informed about the latest developments regarding 'Capital Smart City: A Perfect Blend of 2 Kanal Executive Blocks and Smart City Features', we encourage you to stay connected with Royal Business Solutions, your trusted source for timely updates and valuable insights.