September 8, 2022
Posted by:

Muhammad Shehzad

Category:

Blogs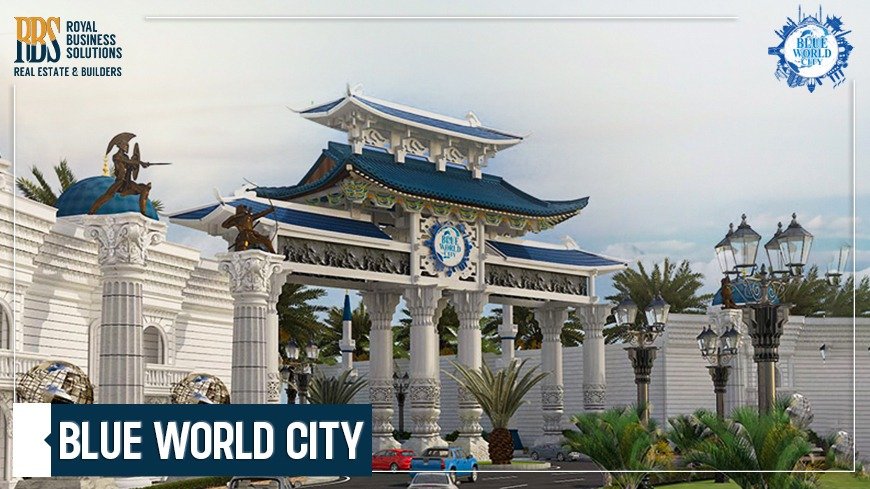 Introduction:
Blue World City is a community lifestyle project in Islamabad. Moreover, this project will be a city itself while being a part of Islamabad City. This society is developing on the modern yet traditional aspect of the society. This project will be the next trending project after Bahria town Islamabad. In addition, this society is located adjacent to newly developed Chakri interchange. Its location is very assessable as compared to any other society. Furthermore, it is developing on the international standard of infrastructure development.
Blue World City includes multiple blocks to incorporate different needs of Pakistani residents and investors. Moreover, this society not only cater needs of Pakistani living inside the country and overseas. It is a project of very credible developers, blue group company, who are known real estate owners and developers of Pakistan.
Location:
Location is a very important aspect for any housing society, as people want to commute easily through and from the city. In fact, the owners and developers of Blue World City planed the city based on the accessibility factor. Moreover, it is present on the main Chakri Road, which is present near newly developed Chakri interchange. It is assessable to both Rawalpindi and Islamabad through a very short drive. Moreover, this society is present at a very serene and peaceful location. This way investors and residents can get a very green surrounding without the hustle of the urban cities.
In addition, it is present at the best distance from Rawalpindi and Islamabad City, which is neither too far, yet assessable. This society provides an opportunity to buy and live in your dream house. In fact, the newly developed interchange makes it much more desirable to live. Furthermore, environment protection department also approved this society as it is being developed on a very natural location. Developers ensured the protection of this society.
Accessibility Points:
The Chakri road is present just across the street.
New Islamabad Airport Road is only 31-minute drive away.
The Chakri Interchange is outside Blue World City.
Chakri M2 is only 13-minutes away.
Rawalpindi City is only 32-minutes away.
National Highway is only 48-minute away (N-5).
Islamabad is about 33-minutes away.
Grand Trunk Road Rawalpindi is 45 minutess away.
Rawalpindi Race Club is only 13-minutes away.
Rawat Islamabad is almost 57 minutes away.
Saddar, Rawalpindi is only 60-minutes away.
Developers and Owners:
Developers and owners of Blue World City are not unknown to real estate world. Moreover, they have worked on multiple projects with RDA as well as LDA. This society is owned and developed by Blue Group of Companies, who have worked on multiple real estates before. This real estate company is owned by Mr. Saad Nazir, who is a young entrepreneur and believes in innovation. Additionally, this organization has made its place in the real estate world and gotten recognized as one of the top five real estate companies of Pakistan.
Blue Group of Companies are known for their development style. In addition, they have built this amazing society to provide people of twin cities with an infrastructure of world class development. The aim of developers is to provide tourist destination to not only people of twin cities. It will also be an amazing opportunity to the people of other cities and even countries.
NOC (No Objection Certificate):
A No Objection Certificate, or NOC, is a crucial document that validates the legality of a project. Therefore, it is a declaration that no legal issues will occur when the agreement and transaction proceed. A blue world city is not a NOC-approved housing society yet. But they have submitted their documents to RDA (Rawalpindi Development Authority) for NOC. After obtaining this certification, the value of housing societies may increase.
Master Plan:
Blue World City's master plan is built and developed on world class architecture. Moreover, it includes residential, business, as well as farmhouse plots. The Waterfront Block is a new addition to Blue World City. Furthermore, the Executive Block, another new block, is now obtainable to booking. In addition, The Blue World City Master plan a well-developed, well-designed, as well as a well-executed plan. The master plan was devised along with known national as well as international developers. In fact, it includes all the state-of-the-art urban society planning concepts.
One of Blue World City's most attractive features is its substantial network of carpeted road, which makes the whole society assessable.  Moreover, the major Boulevard of this society will be 120 feet wide. Meanwhile, the main highways will be 80 feet wide, and the streets will be 40 feet wide. In addition, The Moza village of Sihal is present in this society. The master design for Blue World City divides into residential, farmhouse, and commercial areas. The size and categorization of these plots are based on the blocks. Furthermore, phase A and phase B are developing and will be completed soon.
Blocks of BWC:
The total area of Blue World City is 5000 Kanal at the moment; however, it will be extended in the future. The block include:
Overseas Block
Block of Apartments
Country farms
Awami Complex
Overseas Block:
Blue World City overseas block is developing to cater the needs of people living outside. Moreover, this is first society which is promoting relationship between Pakistan and China. This society is developing its first overseas block which will be specific to Chinese nationals. In fact, Chinese people who are working for CPEC can have their own residents. Additionally, this will strengthen Pak-China friendship.
This block only includes limited number of commercial and residential plots. In addition, this block will include all the aspects which will make the residents from other country feel at home. This block includes plots of 7 Marla, 10 Marla, 14 Marla, 1 Kanal and 2 Kanals.
Country Farms:
Blue World City provides people with beautiful and serene location to relax and unwind. Moreover, these are present on their own separate area which is far away from other residential area. People who want to stay at peaceful yet luxurious location, this is the block for them. In addition, there are multiple activities which will be available in these farms. These activities include golf course, sports and riding club and other swimming pools. Furthermore, these features will also be present in Tab City Rawalpindi. The area offered for these farms include 8,12 and 16 Kanals.
Awami Complex:
Developers of Blue World City cater needs of people from all economic statuses. Moreover, they want to provide people with all the world luxuries on a very affordable payment plan. This is added very recently to this society. In fact, it is a very well-developed residential opportunity in the city. There are single and houses, as well as a duplex, in the complex. All these different apartments include society's unique facilities. These apartments include Studio flats, 1-bed apartments, 2-bed family apartments, a 3-Marla Awami plot, and a Duplex Villa at a very affordable cost.
Blue World City Payment Plan:
Blue World City includes variety of payment plan according to the needs and demands of its investors. Moreover, this society have all the most advance facilities of the world, yet they are feasible for people of all classes. In addition, this investment will in fact provide people with high ROI in the future. People can book their plot through only 10% deposit and pay the rest of payment either in 3-, 4- or 5-years installment plan.
1. Blue World City General Block:
General Block is the backbone of Blue World City Islamabad. Not only a complete lifestyle, but it also brings the investors to ease in financial matters. Blue World City General Block plots are available at very reasonable prices.
This block was among the blocks that were launched first. Development work here is 70% complete and the developers have started providing most of the amenities promised in the pre-launching phase. Available plots in this block are:
2. Blue World City Overseas Block:
BWC is a unique real estate project that is based on the basic theme of Pak – China friendship. This housing society is the only such venture in the twin cities – and so far in Pakistan – that has a dedicated sector for Chinese nationals who are set to make Pakistan their second home as the progress on CPEC and people-to-people contact enhances. There is no other housing society except for BWC – at the moment – that is offering any such amenity for our Chinese guests. This factor alone has boosted the investment prospects of the housing society and the real estate segments of the twin cities are positive of the future prospects and forecast positive ROIs for the investments made.
3. Blue World City Waterfront Block:
The management of Blue Wolrd City has added another cherry on the top which is Waterfront District. It is the latest block of the project and a highly anticipated one. This new block is a true definition of elegance, luxury, scenic views, and affordability. As far as the location of this amazing block is concerned, it is located right in front of Blue World City Overseas Block phase 5 & phase 6, which is considered a prime location within the society.
4. Blue World City Executive Block:
Though all the blocks of Blue World City are a class apart, Blue World City Executive Block is the most premium offering by the developers. This block offers the most optimum facilities.
There are a variety of plots available in the BWC Executive Block in the size of 5 marlas, 10 Marla, and 1 Kanal. Once the developmental process is completed, this block will be loaded with facilities. Furthermore, the payment plans are quite inexpensive, allowing anybody to invest in the project.
Blue World City Executive Block Payment Plan:
Blue World City Executive Block payment plan is very flexible and offers an excellent 4-year installment plan for individuals who are unable to pay the lump sum money all at once. Bookings can be made with as little as a 10% down payment – premium facilities are just a few thousand rupees away for everyone.
5 Marla plots total cost is PKR 875,000, with booking with just 10% down payment.
10 Marla plots total cost PKR 1,675,000, with booking offered 10% down payment.
1 Kanal plots cost PKR 3,150,000, offered on a 10% down payment.
5. Blue World City Awami Block:
The management of Blue World City has recently announced to add up a new block in the block portfolio of the society, Blue World City Awami Block. This block specifically contains residential plot categories and while launching this state-of-the-art block the affordability and convenience of residents and investors are highly targeted.
Features of Blue World City:
This society has most unique features than any other society in twin cities. In fact, the developers are aiming to make this city the next biggest tourism attraction for people. These features include:
Blue World Trade Center
Water theme park
Commercial Area
Blue Mosque replica of Turkey.
And many other monuments.
Facilities and Amenities:
Blue World City will include top class and modern facilities and amenities. These include:
Hospitals
Mosques
Gated Community
Educational Institutes
24/7 Surveillance System
Underground Sewerage
Spa
Gym/pools and playing areas
Parks
Shopping Malls
Disclaimer:
The information about Blue World City on this page is taken straight from their primary website, blueworldcity.com. The purpose of this content is to provide information on the project. We are not (and will not be) liable for whatever society does, legal or illicit.