October 11, 2022
Posted by:

Muhammad Shehzad

Category:

Blogs
Al Noor Orchard Lahore is the most talked about a housing project in Lahore which is completely legal and developed by renowned Al-Jalil developers. With the prime location on the main Sharaqpur Shareef Road, the society offers an amazing living experience at incredible rates. The project spans a huge area of approximately 40 acres on the finest land in the city. It is a secure society with a gated community and lavish facilities to facilitate the residents in every possible way.
The main aim of the project is to provide luxurious and affordable living to the residents. In addition, the area has a high potential of yielding a high return on investment.
Al Noor Orchard Lahore Developers
The developers of the housing project Al Noor Orchard are Al-Jalil developers that aim to make the society one of the leading in Lahore. Nasrullah Khan leads the company Al-Jalil developers since 2002. The main goal of the company is to create a residential space that truly depicts a high-tech society of the 21st century. The infrastructure is matchless and expert architects and engineers are in charge of developing the society.
Investors find the company Al-Jalil developers very trustworthy for delivering outstanding projects. Their popular projects include Al-Jalil Garden which gained remarkable success and get a lot of appreciation from investors.
Moreover, developers have applied all the international town planning standards while designing and developing the housing society. Also, professional personnel are on duty to maintain the standards that the developers target to achieve.
Al Noor Orchard Lahore NOC Status
Al-Noor Orchard Lahore got its approved NOC from the LDA in October 2019. The NOC# is LDA/DMP1/SKP/913.
The balloting of the project was organized in September 2018 and almost 200 plots were already balloted in Blocks A and Block B of Al Noor Orchard Lahore.
The development work is going at a faster pace after the society has received its NOC. LDA website now lists the project among the legal housing societies of Lahore.
Al Noor Orchard Lahore Location
Al-Noor Orchard is located at the most ideal location in Lahore. It is situated in front of Faizpur Interchange and closer to the Al-Raziq Garden. Also, it is just a few kilometres away from Al-Jalil Garden.
It is on the main Sharaqpur Sharif Road that connects Lahore to other areas of Punjab. It is at the interchange of the Lahore-Karachi Motorway. In addition, it is adjacent to Interchange Babu Sabu and on few minutes' drive to Ravi Toll Plaza.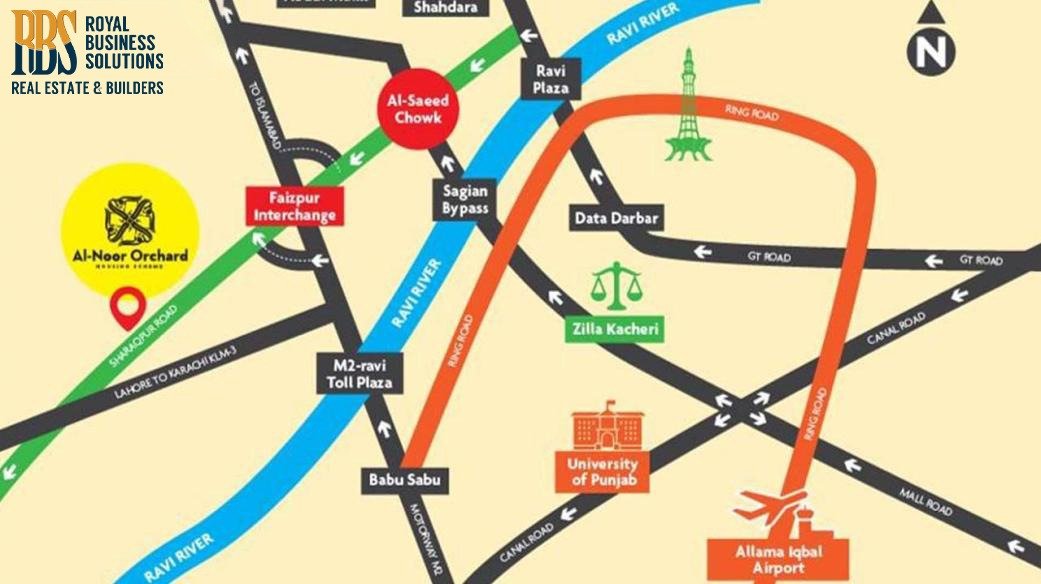 Al Noor Orchard Lahore Master Plan
Al-Jalil developers are in the field of real estate for two decades with multiple successful projects. They come up with the housing society Al Noor Orchard Lahore in the heart of the city. It is at a prime location and many affordable plots are out for sale.
The total land of 40 acres further divides into various blocks. There are blocks which offer plots of 3 Marla, 5 Marla, 10 Marla, and 1 Kanal. Furthermore, the commercial plots of 4 Marla are also out for sale.
Also, there are Al Noor Orchard houses for sale in sizes of 3.5 Marla and 5 Marla.
In addition, master plan also includes a theme park that will span over an area of 140 Kanal. In addition, there is a grand Mosque, medical centres, and educational institutes and each of them is based upon an Egyptian theme. There are also many lavish green parks that ensure an eco-friendly environment in the society.
Al Noor Orchard Lahore Blocks
Al Noor Orchard is a housing venture which aims to provide a luxurious property in the area. The society accommodates four blocks and each of them targets to include plots of different sizes with distinct features. The following are the blocks of society:
Al-Noor Orchard Block A
Al-Noor Orchard Block B
Al-Noor Orchard Block C
Al-Noor Orchard Block D
Marina Sports City Residential Plots
Marina Sports City is the new block of the society Al Noor Orchard that offers plots of residential nature. There are many Al Noor Orchard plots for sale available in various sizes including 3 Marla, 5 Marla, 10 Marla as well as 1 Kanal.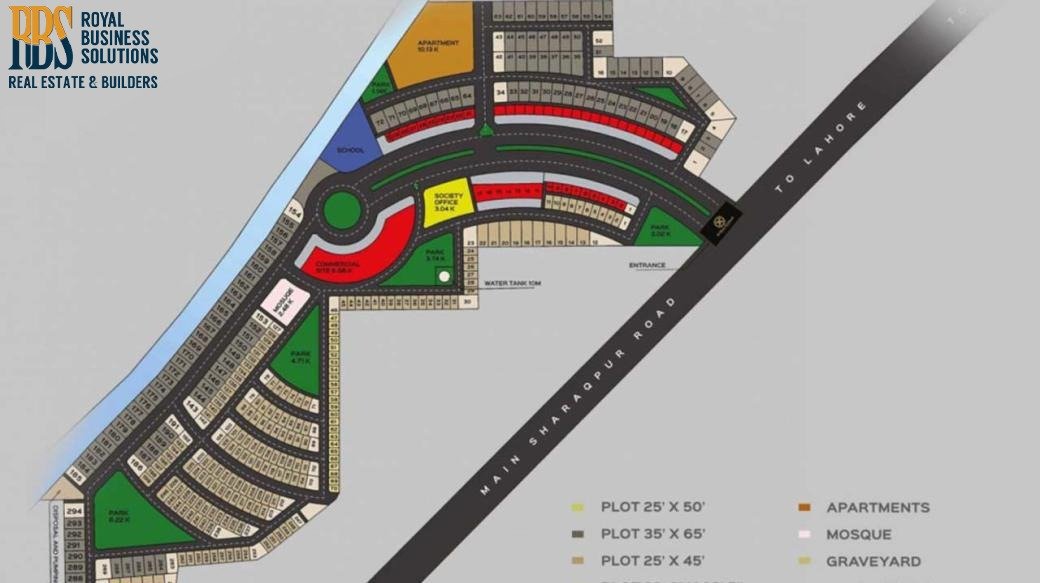 Marina Sports City Residencia
Marina Sports City Residencia is the extension of Marina Sports City. The residential plots of 3 Marla, 5 Marla, 10 Marla and 1 Kanal are available in these blocks.
West Marina Al-Noor Orchard 
It is another block of Al Noor Orchard which offers plots in 5 Marla, 10 Marla, 1 Kanal, and 2 Kanal with an easy 5-year easy payment plan at an affordable price. The plots in this block are selling out quickly and only limited plots are left.
Also, read about Lahore Smart City which is an LDA-approved project.
Al Noor Orchard Lahore Payment Plan
Al-Noor Orchard offers a flexible and affordable payment plan for its customers. The housing society is offering various plots of residential and commercial nature at reasonable prices. Following is a detailed payment plan: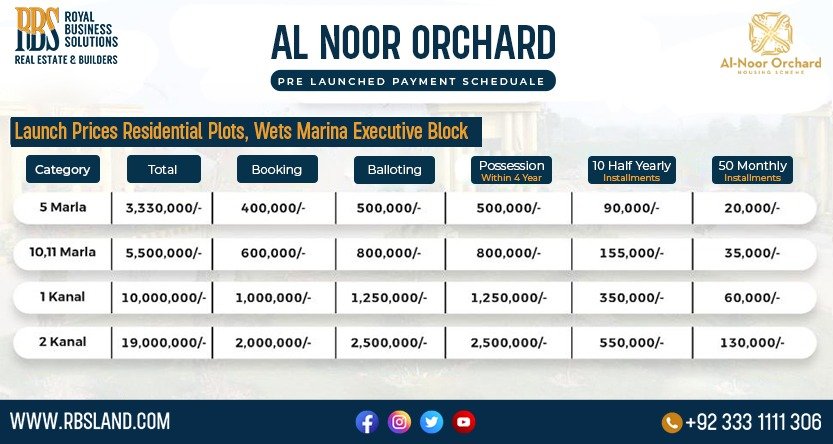 Features
The following are the main features of Al Noor Orchard Lahore:
It has a remarkable entrance.
Al Noor Orchard Lahore is also a gated community with a boundary wall that surrounds the society.
There are modern street lights.
Also, there is a grand Jamia Masjid.
There are recreational areas including family parks and green spaces.
There is a 24/7 active security system with CCTV surveillance.
In addition, there is a provision of basic amenities like electricity, gas as well as water.
There is the availability of drinking water through a proper water filtration system.
There is a play area as well as parks for the kids.
There is a proper sewerage system with broad pipelines underground.
Moreover, there is an international garbage disposal system.
There is a sports complex to keep the residents healthy and fit.
Furthermore, there is a commercial centre for the residents.
There are also medical and educational facilities, in the society.
Why Al Noor Orchard Lahore?
First of all, Al Noor Orchard Lahore is a planned housing society which strives to deliver luxurious living with a clean and green environment to its residents.
Secondly, the environment and location of the society are also ideal which attracts customers. Also, this delightful project has approval from the LDA.
Moreover, the international level infrastructure of the society is its best trait which is captivating the home-makers. The main fascination in this town is its quality infrastructure which makes it one of the best housing societies in Pakistan.
Also, the prices are quite affordable that is affordable for everyone.
Frequently Asked Questions
Following are the frequently asked questions about this society:
What is Al-Noor Orchard Lahore?
Al-Noor is a residential project developed with a vision of dream living and high-tech infrastructure. It is a modern society which is adjacent to the Jaranwala- Lahore Road. In addition, it takes a few minutes drive to get to the main points of the City.
Al Noor Orchard contact number is 0322 1474944.
Al Noor Orchard office address is 'Office #15, Grand Boulevard Al Jalil Garden, Fairzpur Interchange' Lahore.
Is it a legal housing society?
Yes, it is an LDA– approved housing project which has got its No Objection Certificate.
Is the development work in process?
Yes, the development work is going on at a fast pace which is being carried out by experts in the field. They are striving to provide high-tech amenities in all blocks of the society. Moreover, the overall development is in full swing.
Is it an affordable housing society?
Yes, the society is very affordable as it offers residential and commercial plots at a reasonable rate with a flexible payment plan. Also, the prices are very low as compared to the neighbouring societies.
Does Al Noor Orchard have the potential to yield a high return on investment?
The housing society offers the best opportunity for investment as experts predict that it has the potential of yielding high returns on investments.
Conclusion
Al Noor Orchard Lahore is under development phases by a team of expert developers and planners that are utilizing post-modern equipment and high-end technology to create the most comfortable space. Al Noor Orchard reviews tell that it truly fulfils the promise of developing the most luxurious space at an affordable rate for the residents.
Also, read about other emerging projects like Capital Smart City.