June 13, 2023
Posted by:

Muhammad Shehzad

Category:

Blogs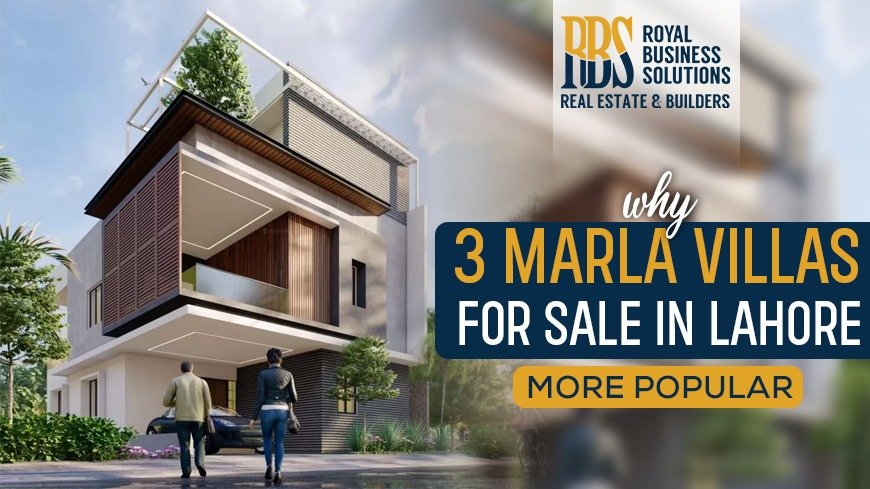 Introduction of 3 Marla Villas in Lahore
Lahore, the cultural and economic hub of Pakistan, is witnessing a surge in the popularity of 3 Marla villas for sale. These compact yet stylish villas have captured the attention of homebuyers and investors alike. In this blog post, we will delve into the reasons behind the increasing popularity of 3 Marla villas in Lahore. From affordability and convenience to lifestyle advantages, we will explore the factors driving the demand for these properties in the city.
Affordability and Entry-level Investment
One of the primary reasons for the popularity of 3 Marla villas in Lahore is their affordability and attractive price points. These smaller-sized villas offer an entry-level investment opportunity for first-time buyers and individuals with a limited budget. Compared to larger properties, 3 Marla villas are relatively more affordable. These make them an accessible option for a wider range of buyers.
The lower purchase price of 3 Marla villas also allows investors to enter the real estate market without substantial financial commitments. With the increasing demand for affordable housing options, these villas present a lucrative investment opportunity, with the potential for rental income and capital appreciation.
Ideal for Small Families and Urban Living
In a rapidly urbanizing city like Lahore, where space constraints are a reality, 3 Marla villas cater to the needs of small families and urban dwellers. These villas are thoughtfully designed to optimize the available space, offering functional layouts and modern amenities within a compact footprint. The smaller size of the villas ensures easier maintenance and efficient use of resources, making them ideal for individuals seeking a convenient and manageable living arrangement.
Prime Locations and Connectivity of 3 Marla Villas in Lahore
Another significant factor contributing to the popularity of 3 Marla villas in Lahore is their prime locations and connectivity. Many housing schemes and developers offer these villas in well-planned, gated communities situated in strategic areas of the city. These locations provide easy access to essential amenities such as schools, hospitals, shopping centers, and transportation hubs.
Furthermore, the development of infrastructure projects and improved road networks in Lahore has enhanced the connectivity of these areas. This connectivity ensures hassle-free commutes and convenient access to various parts of the city, making these villas in Lahore an attractive choice for those seeking a well-connected lifestyle.
Lifestyle Amenities and Community Living in 3 Marla Villas in Lahore
Despite their smaller size, these villas often come with a range of lifestyle amenities and community features. Many housing schemes incorporate green spaces, parks, community centers, and recreational facilities within their premises. These amenities promote a healthy and vibrant lifestyle, hence offering residents opportunities for leisure, socializing, and outdoor activities.
Living in a community setting fosters a sense of belonging and community spirit. Residents of 3 Marla villas can enjoy a close-knit neighborhood environment, providing security, camaraderie, and a sense of community.
Increasing Rental Demand and Investment Potential
The rental market for smaller-sized properties, including 3 Marla villas, is witnessing a significant surge in demand in Lahore. Moreover the city's growing population, influx of job seekers, and increased migration have resulted in a high demand for affordable rental accommodations. Investors can capitalize on this demand by purchasing 3 Marla villas and earning steady rental income.
If you are looking for high ROI 5 Marla plots in the city of Lahore, make sure to check out Lahore Smart City Payment plan.
The investment potential of these villas is further amplified by the city's thriving real estate market. Lahore has been experiencing steady growth in property prices, and this trend is expected to continue in the coming years. Investing in 3 Marla villas offers the potential for capital appreciation, making it an attractive choice for both short-term and long-term investors.
Conclusion
The increasing popularity of these villas can be attributed to various factors including:
affordability,
convenience,
prime locations,
lifestyle amenities and
Investment potential.
As Lahore continues to grow and evolve, the demand for compact and affordable housing options will likely remain high. Whether for personal or investment purposes, appeal of 3 Marla villas is set to endure in Lahore's real estate market.
To further stay informed about the latest developments regarding 'Why Are 3 Marla Villas for Sale in Lahore More Popular? 'We encourage you to stay connected with Royal Business Solutions, your trusted source for timely updates and valuable insights.